Seedtag Introduces Contextual Profiles Driving Performance Campaign Success Without Using Personal Data
by ExchangeWire PressBox on 14th Feb 2023 in News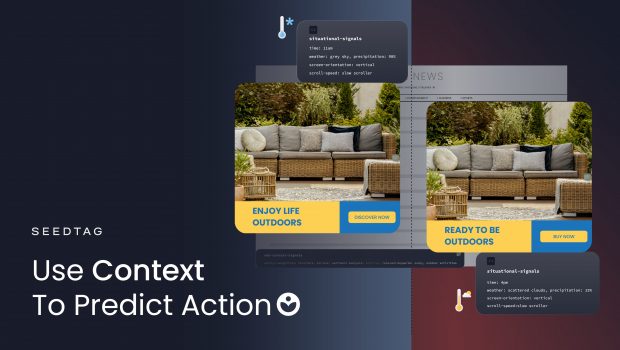 Seedtag, the leading contextual advertising company, introduced Contextual Profiles today, a solution allowing advertisers to deliver effective performance campaigns using real-time contextual signals without cookies or personal data.
As the amount of time people spend online has increased, so has consumers' awareness of the ways in which they are being tracked online. Most consumers don't feel they are receiving any value in return, meaning the possibilities of ads receiving attention and converting into sales are increasingly limited. By leveraging Seedtag's Contextual Profiles, brands can directly impact users at the right moment and in the most relevant content. This leads to improved immediate feedback, and ultimately, better performance.
Seedtag's Contextual Profiles combine two types of real-time signals to evaluate the likelihood of a user being receptive at that moment and thus taking action:
Web-context signals (human-like understanding of content based on AI-driven text and visual analysis).
Situational context signals (eg. location, time of day, weather or screen orientation, etc.).
When users are surfing the internet looking for something they are really interested in, the best chance for a brand to get users' clicks isn't serving them an ad related to what their browsing history suggests they might buy. The smart move is to serve them an ad that helps them choose something directly related to what they are searching for in real-time, that is where web-context signals play an important role.
But Seedtag contextual profiles go even further. Seedtag can comprehend what content users are viewing, and use the context of their actions to predict their habits and behaviours. By using advanced situational signals such as scroll speed, the weather or even screen orientation to not just serve a highly relevant ad, but ensure it is in the perfect spot on the page.
Combining these signals allows Seedtag to gain a better understanding of the users' interaction with the content they are consuming, to really know when the user is "in-context" ie. when they intend to take action based on the content they're currently engaged with.
For example, Seedtag has recently worked with the world's largest furniture retailer to help them increase awareness and drive sales of their new outdoor furniture collection. Seedtag was able to offer contextual profiling as a solution, allowing the client to know when the users were "in-context" and likely to visit the webpage. Seedtag analysed the impact weather had on the campaign and integrated the results in the activation as a key contextual variable. It was proven that web page views increased when there was bad weather and that people were more likely to buy outdoor furniture when the weather forecast was going to change from bad to more favourable conditions. This resulted in a 67% reduction in the cost per session and established the client as a leading provider of outdoor furniture.
Nathan Salter, UK head of performance at Seedtag, said: "With contextual, the game changes. We offer advertising solutions that are based on everything that is not related to who is behind the screen. We deliver ads based on all these web-context and situational signals so at the end of the day what really matters to us is what a user is reading and what this user is showing interest in real-time, not the persona behind the screen. We can therefore offer a more real-time targeting segmentation in order to create this contextual profile that is more likely to drive the action that we are looking for."
Integrating these contextual targeting capabilities will allow the industry to rise to the challenges brands and agencies are facing in driving decisions and action. Seedtag is now able to offer brands a full-funnel contextual solution that develops contextual profiles in real-time and in a non-intrusive way, driving improved performance without sacrificing efficiency.

Seedtag
Seedtag is the leading Contextual Advertising Company that creates highly impactful and engaging solutions for relevant premium visual content, powering targeting and returns for top publishers and the finest brands. The company's contextual A.I. a...
Powered by PressBox
AdvertisingContextualCookielessProduct Launch