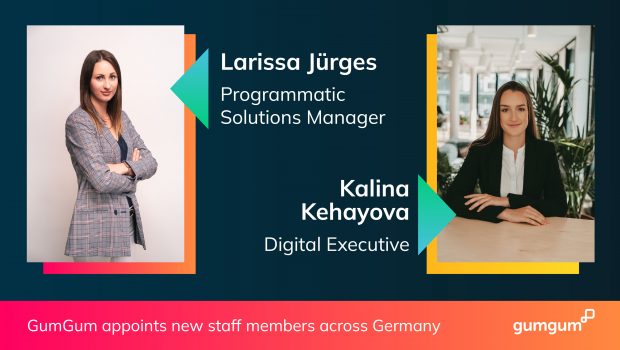 GumGum today (February 28th, 2023) announces new hires in Germany, with Kalina Kehayova joining as digital executive and Larissa Jürges as programmatic solutions manager, as the contextual-first, global digital advertising platform continues to attract strong interest from advertisers across the DACH region.
Previously account manager at Teads, Larissa has worked in the media industry for many years and has a BA in media management and an MA in corporate communications. Based out of Hamburg, she will provide clients and agencies with maximum support to run successful campaigns using GumGum's innovative technology.
Larissa comments: "I was attracted to the culture at GumGum as well as its excellent contextual intelligence technology, Verity™ which is gaining considerable traction in the marketplace, especially with the elimination of third-party cookies. My plan is to grow programmatic spend for the DACH region. Having worked both agency and vendor side prior to joining GumGum's impressive team, I have considerable experience in advising traders on how to set up and manage programmatic campaigns, including complex campaign setups across several DSPs."
Kalina, based out of Düsseldorf, will be focused on new client acquisition, establishing partnerships with existing clients and developing long-term collaborations. Previously campaign manager at OMD, Kalina has in-depth understanding of client ambitions and challenges around programmatic in the fast- evolving marketplace. She has a degree in international business from the Cologne University of Applied Sciences.
Kalina says: "I'm absolutely delighted to be able to share the GumGum magic with as many clients as possible, to continue my work with previous colleagues from OMD Munich and Hearts & Science, and to embrace this company's impressive culture and values. Before I joined, I was already a happy client - as a trader, we get to test many contextual providers, with GumGum always outperforming."
Simon Tritsch, commercial director, DACH, comments: "Both Larissa and Kalina are passionate about our industry, the people within it and its ongoing evolution. At a time when advertisers can target audiences safely and with unparalleled precision, they are both committed to building transparent and trustworthy solutions that will guide advertisers into the future, as growing numbers of clients partner with us to advance their strategies within the increasingly sophisticated digital media ecosystem."
AdvertiserDigitalHiresProgrammatic