Nick Barnett on TikTok's Lead Generation, Collective Bargaining by the CPA, and BuzzFeed's Lighthouse
by Grace Dillon on 7th May 2021 in Podcast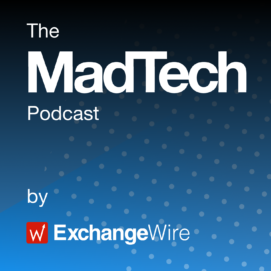 On this week's episode of the MadTech Podcast, Nick Barnett, independent consultant and contractor and Wires 2021 judge, joins ExchangeWire's Mat Broughton and Rachel Smith to discuss the latest news in ad tech and martech.
Together, they discuss:
– TikTok have launched a new first-party data solution, called Lead Generation, which will help businesses around the world to "reach customers and drive conversion with ease". The new offering works by giving users a basic form which they can use to provide their personal details (such as their name, email, and phone number) in order to indicate their interest in a specific product or service. Companies can then use this information to create tailored communications for their target customer segments, and then download or integrate the leads they accrue to their own CRM for immediate activation.
In a press release announcing its launch, TikTok were keen to emphasise that Lead Generation respects the sanctity of users' privacy. The ByteDance-owned company states that personal information will only be made available to the relevant advertiser, and that users will be presented with a Privacy Notice prior to providing their details, with links to TikTok's Privacy Policy and the advertisers' privacy policies included in the sign-up form.
Whilst TikTok stressed their commitment to safeguarding their users' personal information, they naturally expressed their excitement about the new offering and its place within their TikTok for Business division, promising that Lead Generation will help companies "reach, connect, and engage with their customers in a simple, seamless way". 
 – The ACCC have given members of Country Press Australia (CPA) permission to negotiate as a collective with Facebook and Google over content remuneration. The competitions watchdog has granted interim authorisation for bargaining over content from the 81 members and 160 regional newspapers represented by the CPA which is republished on the social media platforms. Whilst the body is yet to receive final approval for the measure, the publishers are free to begin discussions.
The ruling, which allows members to discuss ongoing negotiations amongst themselves, is integral to preserving regional news coverage, says ACCC chair Rod Sims, who added that the recently-passed News Media Bargaining Code was "intended to allow and encourage" this style of negotiation.
The move bucks the trend of publishers forming individual deals with Facebook and Google, the two largest platforms to be affected by the Code and, for the most part, its two largest opponents. Media giants and independent companies alike have signed up to Facebook News or Google's News Showcase (or, as News Corp did, both), giving the tech giants a stronger hand in payment negotiations. Acknowledging the current popularity of direct deals, Sims said that the ACCC "welcome the fact that both Facebook and Google appear to be successfully reaching voluntary deals with Australian news businesses," adding "The onus now remains on Facebook and Google to continue to negotiate in good faith with news businesses of all sizes."
– BuzzFeed have launched a suite of data services to help eliminate third-party data blindspots once the cookie disappears. Named Lighthouse and released in March, the solution gives brands access to BuzzFeed's first-party data on their 104 million monthly users.
Born of the need to find a way to sustain advertising revenue in a world without third-party cookies, Lighthouse has helped drive more than half of the publisher's 2021 ad buys, say BuzzFeed. Yet unlike BuzzFeed, many publishers remain unprepared for a first-party data-dependent landscape – according to a Forrester survey, only around half of all publishers have started developing a plan to monetise their first-party data, with only 28% having implemented an established strategy to do so.
Growing consumer distrust towards advertisers is a significant problem in and of itself, but it also brings the importance of cultivating first-party data into sharp relief, write AdWeek's Mark Stenberg and Ronan Shields. CPG brands who recognise this have launched new DTC ecommerce capabilities or brand-based engagement platforms to make up for their deficit in first-party data. Whatever shape it takes, brands' and publishers' ad strategies will be built on a foundation of first-party data.
TagsAustraliaDataFacebookGooglePodcastPost-CookiePublisher