Silverbullet's Sandy Ghuman on Ecommerce Advertising, the UK's DMU, and Contextual
by Grace Dillon on 4th Dec 2020 in Podcast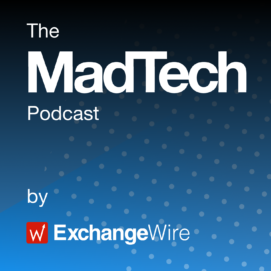 On this week's episode of The MadTech Podcast, ExchangeWire's Rachel Smith and Lindsay Rowntree are joined by Sandy Ghuman, SVP data strategy at Silverbullet, to discuss the latest news in ad tech and martech.
In this week's episode:
– Kroger and Walmart can use the ecommerce boom triggered by COVID-19 to establish themselves as leading online advertisers, writes Jinjoo Lee in The Wall Street Journal. The two retailers saw online sales balloon amidst the pandemic (Kroger by 127% and Walmart by 97%), with no signs of slowing under eased restrictions. Whilst the merchants can capitalise off of this trend by selling ad space and consumer insights, it's their respective forays into developing a third-party marketplace that could really stand to benefit them by drawing in a broader clientbase, asserts Lee.
eMarketer forecasts that Walmart will see its ecommerce ad revenue grow by 73% this year, bringing it to USD $849.4m (£637.1m), and hold 7% of total US ecommerce spending (around USD $2bn/£1.5bn) by 2022. Kroger, meanwhile, has asserted that revenue from its consumer-insights and ad platform is on track to more than double this year. Moreover, a Kantar study published in April found that the proportion of brands who already advertise through Walmart Media Group plan to increase their spend on the platform is the same as those looking to increase spend on Amazon (67%). For Kroger, the proportion is a slightly lower 50%. Whilst Amazon is likely to continue to dominate, the total value of ecommerce is growing, with ad spend on such channels expected to double from this year's levels by 2023 (eMarketer).
– The UK government has announced the creation of a new regulatory body that will be responsible for policing Big Tech. The Digital Markets Unit (DMU) will form part of the Competition and Market Authority, and is scheduled to be up and running by April 2021. The Unit impose a new code of conduct that will restrict the powers of dominant tech firms, whilst also providing users with more control over how their data is collected and used, including (possibly) by enabling them to opt-out of receiving personalised advertising. It's also understood that the new regulator will be able to block or reverse any decisions made by Big Tech firms, and to fine companies for non-compliance.
The DMU could have a significant impact on how companies, such as Amazon and Facebook, operate within the UK's borders and beyond, and could galvanise ongoing efforts from the EU and US DOJ to rein in Big Tech. Elaborating on the body's creation, the UK government said "there is growing consensus in the UK and abroad that the concentration of power amongst a small number of tech companies is curtailing growth in the tech sector, reducing innovation and potentially having negative impacts on the people and businesses that rely on them."
– Online publisher BuzzFeed has acquired HuffPost as part of a larger deal with Verizon Media. The move marks the latest in a spell of consolidations in the online media space, following Vox Media's acquisition of New York Media in September and Vice Media's purchase of Refinery29 in October. As an article from Digiday notes, the combination of the two publishers' audiences that could prove the most rewarding facet of the acquisition – with a larger and more diverse audience, the newly combined publisher has more of a chance against leading media companies and digital platforms, who currently claim the lion's share of ad spend. The new BuzzFeed/HuffPost, along with its fellow consolidated media publishers, could also stand to benefit from brands' growing confidence in advertising alongside news content, as well as their desire to work directly with publishers and to move away from larger digital platforms (which have been at the core of pandemic-related misinformation). An agency executive cited in the article states that "advertisers are starting to figure out that context really matters again," and that they are more willing to work with smaller publishers to avoid wasting spend on audience overlap.
TagsBig TechContextecommercePodcastPublisherRegulationTargetingUK