TheGamingEconomy's Mat Broughton on Amazon, AT&T, and Brian Wieser's Ad Spend Forecast
by Grace Dillon on 19th Jun 2020 in Podcast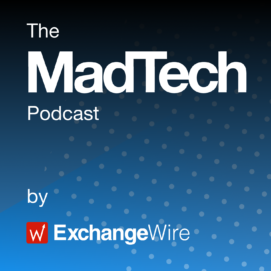 On this week's episode of The MadTech Podcast, ExchangeWire's Rachel Smith and Lindsay Rowntree are joined by Mat Broughton, editor at ExchangeWire sister publication TheGamingEconomy, to discuss the latest news in ad tech and martech.
In this week's episode:
– Widely covered in US media late last week, and discussed on the
MadTech Podcast last year
when initially out forward,
the EU is gearing up to bring antitrust charges against Amazon
in the coming weeks. It's expected that Margrethe Vestager, EU competition and digital chief, will claim that Amazon has used its dominant position in online retail to collect valuable information from competitors in order to push its own products to buyers. However, the prime focus of the complaint is believed to be that Amazon's position as both online store and e-commerce platform for other sellers. Critics remain skeptical that the charges will result in any fundamental or structural change that would force Amazon to operate differently (such as by separating or breaking up elements of the company), and doubt that the complaint will truly benefit the buyers and third party sellers affected by Amazon's practices.
– Media holding agency
AT&T is planning to sell the gaming division of its subsidiary, Warner Media
, with Electronic Arts, Activision Blizzard, and Take-Two all rumoured to be interested in purchasing the unit. With a speculated price tag of USD $4b (£3.2b), some view the sale as an effort to alleviate some of its USD $165b (£132.7b) debt. However, the potential sale raises questions around intellectual property (IP) rights associated with Warner Brothers and some of its popular gaming titles, including Game of Thrones, Harry Potter, and Lego. Furthermore, with gaming having proved immensely successful in the past few months, it is curious that AT&T are looking to shed a potentially profitable asset.
– Brian Wieser, business analyst from GroupM and former researcher at equity research specialist Pivotal, has
released his mid-year forecast for advertising spend for the remainder of 2020 and 2021
. Focussing on the UK, US, and French markets, the forecast indicates that the UK industry will experience decline across the board for the rest of this year, with modest upticks expected in 2021. However, caveats noted in the report include the assumption that a COVID vaccine will have been developed and made widely available by mid next year (or that something else happens that speeds up the decline of COVID's impact on daily life). Under such an assumption, the forecast is based on the expectation that lockdown and social distancing measure will continue to diminish, and that normal activities will be able to resume (such as, and including, the Olympics being able to go ahead in 2021).
The MadTech Podcast is also available on:
TagsAd SpendAmazonCovid-19ecommerceGamingPodcast