WireColumn: Programmatic Premium - Quality of Exposure Needs to Move to the Forefront Alongside Scale
by Romany Reagan on 17th Apr 2013 in News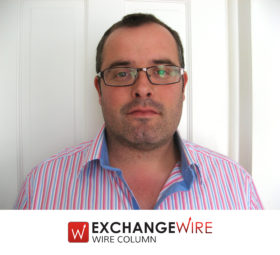 Simon Halstead is Director, Microsoft Advertising Exchange and Scale Display, EMEA, Microsoft Advertising
Disclosure – I have worked for agencies, sales house, networks and now work for one of the world's leading publishers and exchanges. Microsoft have a valued partnership with AppNexus in Real Time Bidding (RTB). All views expressed are my personal opinions, and don't necessarily reflect Microsoft strategy.
The topic of programmatic 'premium' or 'reserved' means a publisher, or SSP, needs to clearly define its programmatic goals. There are a number of functions that are currently fulfilled by RTB and the programmatic channel:
– Monetisation of unsold impressions
– Additional revenue not captured by a direct sales team
– Efficient selling processes
– Focusing direct efforts to custom/integrated selling
Currently, a number of publishers are exercising RTB as an additional revenue channel, whilst many are simply utilising RTB as a sweeping function. For a publisher who wants to extract maximum value from programmatic, they will need to redefine and evolve their strategy.
As we approach a programmatic evolution, we need to look to the long-term health of digital and advertising. Especially as we all expect to see more offline media spend move towards data-driven and programmatic trading models. In the recent past, I suggested that 2013 is the year people work out their strategy and approach to programmatic premium, with 2014 being the launching pad for significant premium programmatic trading across reservation and higher funnel execution within RTB.
Today, we are an ecosystem where efficiency of buying, and algorithmic decisions, are driving matching at scale, across a range of sites. Most parties enter the space via a performance offering, and are driving on cost efficiency and retargeting. Many then move up the funnel, utilising data and learnt insight of the consumer journey.
This has encouraged publishers to feed the beast of remnant, to create increasing amounts of inventory to be auctioned, in addition to placements with varied approaches to transparency. Success of campaigns are measured by post-view and last-click attribution, and so volume becomes a significant factor. Over 5.3 trillion display ads were served to US users last year, that's a trillion more than 2009. (according to comScore). We aren't discussing effective delivery of an audience, but ensuring attribution is placed for a publisher.
Post-view is an important metric, when considered as a brand recognition uplift indicator, but is corrupted by being tied and optimised to conversion. The last contact claims attribution, regardless of exposure, and so being, the last contact becomes key. Post-view only has value when actually viewed by a consumer, and to ensure greater viewability we all have to face challenges to our current approaches.
Challenge 1: Browser changes in cookie-acceptance and legislative review, in place or underway, in most markets present potential hurdles to the methods of trading and attributing used today.
Challenge 2: Multiple ad placements per page, with high-frequency per user masking true value by oversupply, and softened competition.
Challenge 3: Fair value relative to exposure and impact for an advertiser seen in returns to a publisher.
In order to break the cycle of more ad placements, and more clutter, we should encourage publishers to move towards fewer placements in larger formats either via publishers focusing on native/bespoke solutions, or large standard display sizes such as film strips and billboards. This will enable genuine audience reach and influence.
Imagine I am an advertiser and I want to tell my brand story. I want to leverage data I know about the consumer, that they have consented to share. I want to deliver a rich experience, with a large ad format and a single brand. TV and Radio can deliver this experience – when I am talking to my potential consumers, I want to ensure it is in an uncluttered environment, with a limited number of other commercial messages. I want to drive consideration and manage the conversation and story with the consumer across multiple connections and touch points.
Programmatic can help deliver these experiences, from brand to direct response, with consensual use of data and effective matching. But…
– Am I prepared to pay for this delivery experience programmatically?
– To tell the brand experience, I traditionally make sponsorship and direct buys, and chase attributed conversions via scale. Am I prepared to pay $10-15+ per thousand for an uncluttered, professionally-produced environment?
– Am I prepared to pay a fair value to encourage publishers to reduce multi ad spots and to only serve richer formats?
The trends in brand-focused activity are towards richer native experiences. This can be viewed as a trend towards a more controlled environment of higher-value engagements. Publishers are attracted to native as it creates control, but we need to keep sight of the benefit of efficient trading, using attribution and audience decision. Fewer ads, which are also more visible, maybe even a maximum of two per-page, enhance consumer experience and are better aligned to other media.
Sure, we may have to reset client expectations, technologies may need to rewrite bidding processes to focus less on price, the nature of scale will have changed, but we may have a more balanced ecosystem.
The potential reduction, or redistribution, of ad placements, and in-view ad placements, may bring some scarcity to volume for premium consumer contact, but will ensure better distribution of value. This isn't about the name or size of the publisher, simply about the quality of consumer engagement, and is as applicable to niche sites with well-defined audiences as to a large publisher. We need to proactively put the consumer at the centre of our decisions, and be respectful, engaging and add value to the advertiser via brand awareness and direct response. As other media drive to greater programmatic and digital trading and delivery, Is it time the industry delivered a clearer proposition.
Effective optimisation decisions are still the drivers behind returns and enhancement with programmatic, but we should all be working to engineer a cleaner ecosystem that brings greater value to both the consumer and the advertiser.
On all sides, we will need to move together. There is significant risk for early movers on the publisher side, although some are already underway in the US. They could gain significant advantage over other publishers, or simply see revenue reduced if the buy-side doesn't reward and recognise increased quality of exposure.
There is a massive role for programmatic trading and efficiency, but we fail today due to skewed focus on conversion attribution and price efficiency. We need to take a proactive view in putting the consumer at the centre of our decisioning, and be respectful, engaging while also bringing value to the advertiser via brand-awareness and direct response. In order to deliver against these promises, both the buy- and sell-side need to review our expectations around cost, and cost per acquisition. If publishers and buyers fail to change their behaviour, and reconsider quality of exposure alongside scale, then programmatic and display opportunity will be missed.