Now & Next: Programmatic Out-of-Home
by Sonja Kroll on 2nd Mar 2016 in News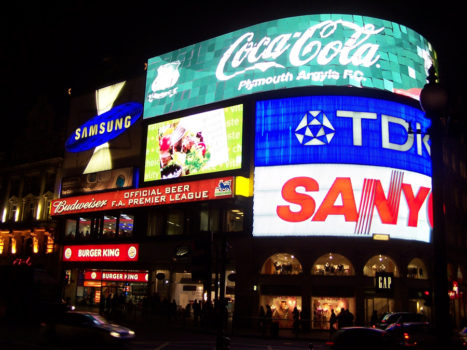 Now & Next is a feature written by the ExchangeWire Research team. Every three weeks, we review the latest research, provide impartial insight and analysis of current trends and provide predictions for the future of advertising and marketing technology. This feature focuses on programmatic out of home (OOH).
Programmatic, as a not-so-new concept for the trading of OOH advertising, has been in the industry's sights for quite some time now. Every year, OOH has been touted as the space to watch among the programmatic community – is 2016 the year when OOH will move from direct, negotiated buys and finally go full-on automatic?
The advantages of programmatic trading of OOH inventory are evident. As with everywhere else in the advertising ecosphere, the automation aspect and the efficiency of the programmatic targeting process speak much in favour of automated buying and selling of OOH ads. Programmatic makes planning and execution of brand campaigns easier and more reliable. On the sell-side, programmatic pushes optimisation, promising the sale of previously unsold inventory and, thus, driving revenue. It is a medium that is always on: You can't click away a billboard or a screen – there are no ad blockers for OOH ad display.
The potential physical proximity of OOH advertising to the actual point of sale adds to its effectiveness.
Digital OOH inventory on the rise
Current numbers reflect the growing interest in OOH. According to a study by Kinetic Worldwide, OOH advertising spend in 2015 grew by 15%. And, specifically, digital OOH inventory is predicted to grow by 40% between 2015 and 2020. In the UK, OOH's total share of media will rise from £880m in 2010 to £1.15bn by 2020, including digital revenues of almost £260m, which account for approximately 23% of the total OOH spend.
A study by PQ Media put the worldwide average weekly exposure time to digital OOH in 2013 at 14 minutes, forecasting a weekly exposure average of 20 minutes to be reached by 2017. Some markets have been already embraced digital OOH and broken the magic one-hour mark – Australia comes to mind. Major markets, such as the UK, are expected to reach the one-hour average for combined digital/analog OOH advertising by 2017.
And for buyers who need convincing, the effectiveness of OOH advertising has been studied by YuMe and IPG Media Lab, who found that consumers are 41% more receptive to advertising in public places than in the home. "Being away from home is highly impactful", YuMe/IPG Media concluded.
OOH complicated by being a one-to-many medium
So, what is holding the industry back? Programmatic trading of OOH advertising is complicated by a couple of factors. The lack of standardised industry data, which could make programmatic trading objective and more plannable, is a problem that is still unsolved for other forms of digital advertising, too. More specifically, OOH may also be hampered by the fact that its supply is not as extensive as the online supply of inventory. Add to that the limited number of tangible ad display opportunities (compared to the apparent infinite possibilities of online), and the fact that OOH has been difficult to buy (so far), and it becomes clear why the buy-side has not yet pushed stronger for a 'programmatisation' of OOH.
"The OOH market is a one-to-many communication platform and the audience data, whilst sophisticated, is a long way from being real-time", says Mungo Knott, marketing and insight director, Primesight. "There is currently no scalable mechanic for offering the equivalent of instant access through a momentarily served content page on a personal device. The OOH audience is qualified and predicted at a frame-level, creating a pre-defined deliverable. This means that much of the established mechanism around digital programmatic purchase will remain invalid within the OOH market for some years to come."
Vicki Lyons of the pioneering Australian consortium SiteTour qualifies: "It's important to note that OOH, in most cases, is a one-to-many medium, not a one-to-one; so the advertiser is buying bundles of impressions with every adslot purchase. Audience data supplied by media owners is currently based on trend data, but is moving towards real-time data with advancements in real-time data feeds, like facial recognition technology and beacons. But, again, it's aggregate data here that counts, not one-to-one targeting."
Yet, OOH-advertising has already reached new levels of technical sophistication with interactive digital screens and displays that can recognise gender and age of the passers-by and therefore target ads specifically.
Ad tech is getting ready
The ad tech community is already on it. New forms of OOH trading, incorporating measurable RT data and metrics, are being developed and tested. Google's DoubleClick made waves in November 2015, trialing the programmatic buying of premium billboard ads on its platform, integrating RT data about weather, time of day, audience, events etc. Other players in the market have developed their own offerings, i.e. Rubicon Project are partnering with Bitposter to sell OOH inventory through Rubicon's Orders platform; Adform is working with Dutch OOH-SSP MyAdbooker; TubeMogul integrates with SiteTour to buy ads on screens across Australia; Primesight is going 'hyperlocal' with Crimtan's targeting capabilities; and recently Xaxis launched Places, its RT-platform for buying OOH inventory.
The OOH industry has been busy readying itself as well, establishing SPACE, an inventory database that collates all pieces of UK OOH inventory in one place, and identifies the ad units within a standardised structure, laying the groundwork for an automated transaction process.
Where is OOH going?
Evidenced by the increasing number of programmatic OOH integrations and offerings, the future will see OOH brought in line with other forms of media buying. This should see demand – and prices – increase; but also offer new challenges in terms of the realisation of OOH RT buying/selling. New attribution models will develop, not only recording the coordinates of a consumer, but also their movements and activities while exposed to OOH advertising.
With digital OOH advertising comes the opportunity to react with ad copy to RT changes in weather, location, target group, events etc, allowing brands and advertisers to react out of home, but on the spot. As consumers continue to spend more time shopping and en route to leisure or work activities, exposure to OOH advertising will rise, as will the demand of advertisers to explore new routes of advertising through automated, easy-to-access processes.
AgencyattributionAustraliaDataDigital MarketingDisplayDOOHLocationMedia SpendMobileProgrammaticUKViewability