Weekly Focus: Alibaba Trials Blockchain for Supply Chain Transparency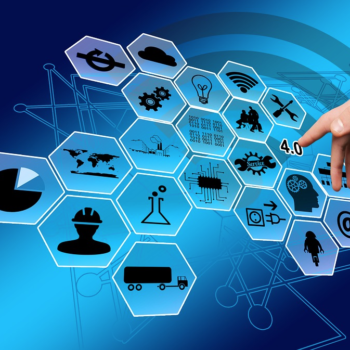 This week, the spotlight is on Alibaba Group's plans to use blockchain to better monitor and manage supply chains, kicking off a pilot in Australia and New Zealand through its Food Trust Framework.
The Chinese e-commerce giant said it was working with Blackmores and Fonterra to trial blockchain technology to improve traceability and transparency in shipments heading from the two countries to China.
This initiative would be the first from its Food Trust Framework initiative, which its Tmall Global subsidiary launched last year alongside Blackmores and Australia Post, as well as Fonterra and New Zealand Post.
The consortium's main objective was to tap an immutable central ledger, powered by blockchain technology, to obtain "end-to-end supply chain traceability and transparency". Through this, it hopes to boost consumer confidence and establish a "trusted environment for cross-border trade", the partners said during the launch.
The framework looks to incorporate standards and controls to manage processes across the supply chain, including the use of blockchain and product tagging with QR codes. These technologies were designed to authenticate, record, and provide constant reporting on the provision of goods and transfer of ownership as the products moved across the supply chain.
Alibaba added that consulting firm PwC was brought in to offer an independent perspective on the operation and application of the framework, as well as set up the underlying infrastructure that focused on ensuring product authenticity and creating a "safe and trusted marketplace" for consumers.
Under the trial, Australia's Blackmores would ship its Ordorless Fish Oil product line while New Zealand's Fonterra would do likewise for its Anchor dairy products to customers who purchased the items via Alibaba's Tmall Global online platform.
Upon its completion, and if proven successful, the pilot would be the basis for global deployment across all of Alibaba's e-commerce marketplaces.
Alibaba's general manager of Tmall import and export, Alvin Liu, said: "Food fraud is a significant global challenge, particularly with the growing 
complexity of supply chains. In response, we have created a co-ordinated, world-leading, and robust framework that involves stakeholders from across the supply chain to improve visibility and enhance the confidence of both end consumers and merchants."
Citing research from the Michigan State University, Alibaba said food fraud was estimated to cost the global food industry USD$40bn (£29.02bn) a year. In addition, PwC projected that 40% of food companies found fraud challenging to detect with current methods, while 39% believed their products were easy to counterfeit.
Noting that Blackmores's products must pass 30 tests and checks before they were released for sale, its CEO Richard Henfrey said: "We're exploring ways to leverage the technology and data that can provide our consumers with assurance that their trust in our products is well-placed. Our commitment to quality doesn't end in our distribution centre. We need to give consumers confidence in the products they purchase on e-commerce platforms."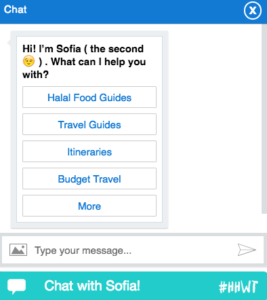 Singapore Chatbot Aids Search for Halal Food
A chatbot that goes by the name 'Sofia' has one key purpose: to help anyone find halal food at anytime of the day, from anywhere.
Its Singapore-based founder, Mikhail Goh, launched the service as an offshoot of a content site he – along with his wife and his wife's friend – set up in late-2015 to help travelling Muslims find halal food across the globe.
Called 'Have Halal, Will Travel' (HHWT), the site gathers recommendations from contributors worldwide who have either visited or lived in various cities for years and includes suggestions for prayer spaces. The site currently clocks more than nine million Muslim visitors from Singapore, Malaysia, and Indonesia each month.
To better assist users with their queries, Goh's team launched the chatbot with the help of Microsoft's Language Understanding Intelligence Services (LUIS) software, running on the vendor's Azure cloud platform. Systems integrator PleoData helped with the implementation.
Goh said: "We created Sofia simply because people have been asking us questions that we found could be answered largely through automation."
Responses and reader feedback then were fed back to the LUIS system for analysis and power the delivery of more personalised content for the site's visitors.
According to Microsoft, Sofia taps "a decision tree" that enables users to filter the answers they seek. This will be further simplified and become more intuitive over time, automatically answering questions with a deeper understanding without needing clarification, the software vendor said.
They added that, as the chatbot continued to run, HHWT would next tap machine learning to analyse the increasing datasets to develop contextual and personalised content.
Goh said: "One of the things we are seeking to improve for our chatbot is its search and response, to give us a better understanding of what people are searching for and, from there, better responses and better content."
Chinese Gen Z Purchase Online Every Week
China's consumers aged between 19 and 24 regularly visit and purchase from e-commerce sites, with 45.1% making at least one order each week.
More than 60% browsed online retail sites and 10% made a purchase on a daily basis, according to February 2018 figures from local market analyst, iResearch Consulting Group. It noted that these Gen Z consumers formed the largest user group of current e-commerce shoppers.
Some 28.4% of these Chinese consumers visited online retail sites more than three times a day, while 35.5% did likewise once or twice a day.This content was originally published in RetailTechNews.
AlibabaAudienceBlockchainChinaCustomer ExperienceDataE-CommercePersonalisationVoice assistant