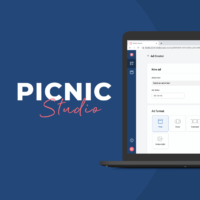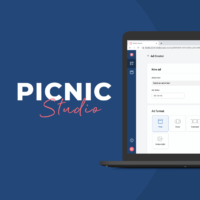 The Social Display Ad Marketplace debuts creative platform for premium social display ads in alliance with international publishers
Picnic Media, The Social Display Ad Marketplace, is putting the power of its social display advertising directly in the hands of publishers with the launch of its self-service Picnic Studio tool, which enables media owners to design and create custom ads in minutes.
Studio opens up Picnic's in-house creative platform to publishers for the first time. Whereas Picnic has traditionally designed and sold its social display ad formats on behalf of digital publishers, the new offering lets those publishers create and sell Picnic ads direct to their clients in return for just an ad-serving charge.
Picnic is trialling the new service with major publishers, including the UK's entertainment powerhouse LADbible and France's Group Cerise, whose stable includes lifestyle sites Ohmymag and Gentside. It expects to offer Picnic Studio selectively, with a particular focus on international markets. 
The launch of Studio is intended as a gesture of support to publishers, who battle hard for ad revenue in the face of competition from powerful social networks. Picnic works exclusively with creators of premium editorial content, delivering social display formats mid-article using Google's Accelerated Mobile Pages (AMP) technology.
Luke Orchard, programmatic account director at Ladbible says: "We've come to really enjoy working with the Picnic team and in particular around their studio product. The ease of using studio and speed of going from brief to mock ups and then getting live has been so helpful on campaigns we run with them. We've been most invested in the 'Swipe Right' format which has produced very high levels of engagement for a number of clients, meaning it has worked its way onto numerous proposals." 
Matthew Goldhill, CEO and founder, Picnic adds: "We value the content publishers create and we want to put a powerful new weapon in their advertising arsenal. Where previously we might have sold an ad against a publisher's inventory and they would have taken a share of the revenue, using Picnic Studio publishers can sell the same ad themselves and take a far larger share of the proceeds. Our self-service platform lets them create their own creative quickly and easily, and there are no upfront costs, just an ad-serving charge."

Picnic
Picnic Media is a leading premium mobile ad formats company, delivering high-impact, social-style ad formats on a unique marketplace of the highest quality mobile inventory. Their intuitively engaging advertising campaigns allow advertisers to increa...
Powered by PressBox
Digital MarketingProduct LaunchProgrammaticPublisherSocial Display