Adidas's Simon Peel on APS, Brands Listing Other Brands, and Consumers' Ad Attentiveness
by Grace Dillon on 9th Jul 2021 in Podcast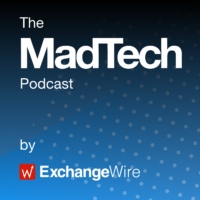 On this week's episode of The MadTech Podcast, Simon Peel, senior director, global media at Adidas, joins ExchangeWire's Rachel Smith and Lindsay Rowntree to discuss the latest news in ad tech and martech.
Together, they cover:
– Amazon are planning to become the "backplane" of online publishers' operations, per Digiday. Recent job postings reveal that the online giant are looking to build on their Amazon Publisher Services (APS) and are currently on the lookout for executives to develop a marketplace for media and ad tech vendors who provide services for publishers.
The tech behemoth are also seeking to bolster their standing amongst publishers in some of digital media inventory's fastest-growth areas, including CTV, OTT, and audio, reportedly looking to expand their workforces for these aspects and even poaching key figures from rival SSPs. In doing so (coupled with the impending introduction of their own identifier), Amazon hope not only to stand out from their competitors, but to turn APS into "an entry point to the entire programmatic advertising ecosystem".
Despite first offering header bidding services to publishers nearly a decade ago, it has taken some time for Amazon's publisher offerings to take off. APS only came to the fore in 2019, jumping eight-places to become the second-most used SSP after Google. Increasing demand for Amazon's unique inventory helped drive this growth, as did ASP's capacity as a centralised place for bids from multiple SSPs. Now, Amazon hope to expand APS to cater to a wider range of audience demand, with a specific focus on "non-endemic brands" (those that don't advertise within Amazon's own domain). The company's rumoured plans to enable publishers to connect with services providers and integrate solutions via the Amazon server could propel them further ahead of their competitors.
– US retailers Express, Urban Outfitters, and J.Crew have begun selling merchandise from other brands via their websites. The aim of the strategy is to accrue higher traffic and revenue by listing products from other sellers alongside their own catalogue. The move marks an effort to replicate the successful models of larger sellers who have already built third-party marketplaces – namely market leader Amazon and some "big box" domestic retailers, such as Target and Walmart. 
Whilst relatively smaller, more specialised chains have previously shied away from the technique for fear of losing their brand identity, some are beginning to realise its potential. Showcasing brands and items that appeal to their target audiences will help sellers reach more of their desired consumers, whilst more listings result in improved search result placements, larger orders, and fewer abandoned carts. Furthermore, host retailers make a commission from each purchase, supplementing their sales income without the costs or risks of handling or storing additional inventory.
However, the model still comes with challenges – host sites must consider how featuring other brands' products will affect the strength of their own, whilst third-party sellers will have to ascertain whether paying for the listing will be worthwhile. Furthermore, the model may create confusion amongst consumers, risking an unpleasant customer experience. To the first point, smaller brands have typically narrowed their new marketplaces to merchants who meet a specific criteria, a move that will prevent them from erasing their own brand identities by opening up their domains to any and every kind of company. Their adoption of this model could also benefit from independent merchants' growing desire to move away from selling on Amazon, which some say has become too expensive and too competitive for them.
– Consumers give just 1% of their daily attention to advertising, according to research carried out by Lumen as part of Ebiquity's "Challenge of Attention" report. The firm arrived at this conclusion in partnership with fellow "attention experts" TVision by comparing consumer attention data to media exposure information (or, in other words, the number of ads consumers actively looked at versus the number they could have seen). They then applied these insights to information taken from the IPA Touchpoint survey.
Data from Touchpoint indicates that UK adults spend around 6 hours each day with some form of commercial media, during which they are exposed to around 90 minutes of advertising. Of those, the research says, just 9 minutes and 30 seconds are spent actually looking at ads. TV, the most consumed media format among UK adults (126 minutes and 35 seconds per day on average), relents just 9% of airtime to ads, and only 43% of these are looked at (for an average of 13.8 seconds). 27% of social media (the second-most consumed) consists of ads, and users are typically less likely to ignore these. However, the total amount of time consumers spend looking at ads is shorter on platforms like Facebook and Twitter than it is on TV (2 minutes versus 3 minutes). Ads placed in newspapers also receive greater attention than those on social media, with readers viewing them for 11 out of 20 minutes.
Whilst noting that these findings may be demoralising to advertisers, Lumen assert that they offer positive insights. First of all, they pinpoint one of advertising's key weakness, and give some reason as to why "simple, visual, 'emotional' advertising" is more impactful than long-form, wordy alternatives. Furthermore, they can help marketers realise how "long term branding primes the mind to accept short term messaging", helping them shape their strategies towards winning their audiences' attention.
AdvertisingAmazonBrandsDSPecommercePodcastResearch