FCB/SIX's Fern Potter on Reach, a Facebook Break-Up, and Data-Driven Creative
by Grace Dillon on 15th Jan 2021 in Podcast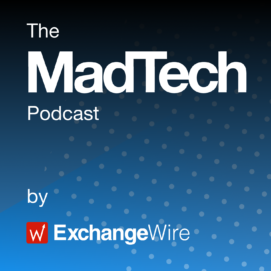 On this week's episode of the MadTech Podcast, Fern Potter, EVP and global strategy officer at FCB/SIX, joins ExchangeWire's Rachel Smith and Lindsay Rowntree to discuss the latest news in ad tech and martech.
In this episode:
– Reach has become the UK's 4th biggest source of online traffic in the UK. The nation's largest regional news media group trails only Google, Facebook, and YouTube, and says it expects profits to exceed analysts' expectations of £122m to land somewhere between £130m and £135m. The positive outlook comes in spite of the damage dealt by COVID-19, which saw the group cut 550 jobs as quarterly revenues and print sales slumped.
Despite these grim realities, the Daily Mirror and Daily Express publisher saw online revenues grow by 25% in Q4, up from 13% in Q3 2020. Chief executive Jim Mullen, who took up the task of transforming Reach into a coherent digital business less than 2 years ago, said that the group had "accelerated [their] strategy and we are ahead of where we expected to be". Part of this new strategy involves getting new readers to sign up to free accounts, and tracking them across the websites of Reach's respective titles.
– How would dissolving Facebook's empire impact advertisers? This is the contemplation of many, and the subject of an article by Eric Benjamin Seufert published on mobiledevmemo.com. The question comes after the popular social media platform was hit with a barrage of lawsuits accusing it of abusing its dominant position within the digital advertising space. Some suits also argue that the acquisitions of fellow tech firms Instagram and WhatsApp should not have been allowed, and are petitioning for Facebook to be forced to divest itself of them.
Seufert outlines how Facebook's purchase of Instagram "unlocked vast value" for advertisers by uniting the photo-sharing platform's capacity to garner ad impressions with Facebook's extensive (and extremely valuable) advertising infrastructure. If Instagram is forcibly released, then the platform (and those who advertise on it) will lose access to Facebook's centralised data, which it currently uses to deliver relevant ads (as opposed to click tracking or conversion measurement). This will leave Instagram in the unenviable position of having to build their own targeting infrastructure from the ground up, whilst stripping billions of dollars from the digital advertising economy, according to Seufert.
– S4 Capital has announced that it has acquired Shanghai-based creative agency Tomorrow, and will merge the firm with S4's own content practice, MediaMonks. The announcement comes hot on the heels of news that the Sir Martin Sorrel-helmed firm had added independent agencies Decoded Advertising and Metric Theory to its arsenal. Tomorrow will join Decoded Advertising in becoming part of MediaMonks, whereas Metric Theory has been subsumed by S4's digital media consultancy, MightyHive.
The merger will boost S4's APAC workforce to 500 staff, and bolsters MediaMonks' presence and capabilities within China. The market is the second largest for digital advertising, with Credit Suisse estimating that China's online advertising market is worth over USD $107bn (£78.2bn). The China Internet Sector 2021 report asserts that the country saw the market recover by 17.1% after the COVID fallout, and predicts that this growth will continue (+18.1%) in 2021.