As Budget Continues to Shift to Mobile, Adbrain CEO & Co-Founder Gareth Davies Outlines Their New Pure Play Tech Solution For Buyers
by Romany Reagan on 8th Aug 2013 in News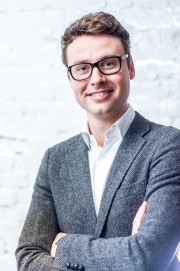 Mobile continues to be a strong growth area for independent tech and trading companies – all of which will be discussed at this year's ATS event. Problems remain, however, around lack of transparency. With this in mind, Adbrain (staffed with a raft of veterans from the industry) unveiled this week its new buying solution for mobile. Here, Adbrain CEO & Co-Founder, Gareth Davies discusses the new solution, the managed service versus tech option and the idea of multi-screen targeting.
Can you give some insight on the new mobile solution you are currently rolling out?
Adbrain is the industry's first transparent, real-time, multi-screen ad platform. Our mission is to tear away the veil separating advertiser and audience, allowing agencies and brands to create, manage and optimise campaigns in real time from a single, elegant, easy-to-use control panel, delivering only the most meaningful, intelligent and contextually relevant ads to their multi-screen consumers; no matter the device they're on.
Science and engineering sit at the heart of our business, and faith in data underpins everything we do, from identifying and targeting users to buying and serving ads. In a world of multiple connected devices, the Adbrain Engine creates a single customer profile by modelling billions of rich desktop, mobile and tablet data sets using advanced data science and machine-learning algorithms. This unified multi-screen customer view, coupled with intelligent real-time bidding, enables advertisers to reach their target audiences with only the most relevant and compelling messaging at the most efficient price.
We are currently in development and will be rolling out our beta platform in October 2013.
There has been much debate around managed service and ad tech. Is the Adbrain solution a pure tech play or will you be layering a mandatory non-transparent margin on top of managed service?
We are a pure-play technology business and are committed to offering buyer transparency alongside data ownership and security. This means we charge for our products based on the value they bring as opposed to chasing short term, high-margin revenue. That doesn't mean to say our agency client's can't integrate the Adbrain stack into their wider technology and service offering and charge advertisers accordingly, but our focus is on a purely tech model. That way our advertisers and agencies know exactly where we stand and we can focus on building market-leading technology solutions.
That said, I'm a big believer that service remains important in ad tech, just as it does in for any strategic enterprise client/vendor relationship, irrespective of the industry vertical. An agency or advertiser, whether running SaaS or a transparent managed service, needs great service and support to help them maximise the gain they get from their technology partners. Ultimately, success in data-driven advertising is about the careful blend of science and art. As clever as our algorithms are, you can't replace strategic media planning and analysis. This means that in addition to providing powerful and intuitive products, we need the relevant tech, data science and campaign management teams to support clients and speak credibly about how our technology can help them develop winning business strategies that drive their bottom line.
Are you positioning this as a fixed-fee SaaS service? What is the model?
At launch we will offer two solutions, a self-service SaaS license model and a fully transparent, non-arbitrage-led managed service. Both will follow a traditional 'cost plus' percentage of media fee model.
You and your founders have experience working with a number of industry-leading vendors and agencies, how has that informed the building of this solution? What's different from other competitive offerings?
Whilst there tends to be a lot of noise in the mobile space around programmatic, with many vendors claiming to offer RTB technology, there still remains a heavy bias towards traditional ad network models. It is our experience that many of the mobile DSPs still offer, or lean heavily towards, fully managed, arbitrage-led models reminiscent of traditional ad networks, preferring leverage data for their own benefit, whilst traditional desktop DSPs are perceived by many to still be too far off in terms of mobile targeting and optimisation. This is understandable given the level of maturity in mobile advertising, where the bulk of ad spend has traditionally been skewed towards performance-led in-app download campaigns, or where agency buyers have been happy to buy mobile clicks. Traditionally, mobile ad networks have owned both the buy- and sell-side relationships and, most importantly, the data. This is fast shifting as the mobile network space becomes increasingly crowded and the VC-backed players are increasingly being forced to deliver scalable technology-led business models. We've already seen networks like Adfonic pivot into the platform space, and expect many more to follow. Most importantly, however, we are seeing mobile buyers starting to demand visibility and control, whilst display-focused advertisers and trading desks are increasingly looking to expand their capabilities into mobile.
We're here to help accelerate this shift in mobile programmatic, and differ to our competitors on many levels, namely our technology, products, service and client-centric business model. What's more, a large part of our R&D and development efforts are focused on solving the multi-screen challenge, leveraging vast data sets and applying sophisticated machine-learning algorithms and statistical data techniques to build-out relationship models between devices. This helps us create a single customer view of a user across devices, and we believe will unlock significant opportunity not only for mobile-first advertisers, but for desktop players looking to extend their first-party data sets and cookie pools into mobile. Our goal is to bring transparency, control and value back to buyers.
Mobile has lagged in media spend, in terms of shifting audience use. Why has this been the case? Where is Adbrain plugging the gaps for buyers?
A large part of the puzzle, when you look at consumer time spent on mobile versus media spend, can be explained by the challenges around tracking. With no unified cookie solution for mobile, advertisers have, until relatively recently, lacked the necessary insight into mobile app and web. This, coupled with blind, network-led media buying, means the 'day in the life' of a mobile media buyer can feel much like that of his or her digital counterpart 10-12 years ago. Basic things we take for granted, such as cross-publisher or exchange frequency capping, retargeting and post-impression conversion tracking have been, until recently, impossible. Solutions like AD-X (recently acquired by Criteo and an interesting move I commented on in ExchangeWire recently), Apptimiser by Somo, HasOffers, etc., have been the first wave of players coming to market to solve these issues and offer mobile buyers the insights and tools to track app downloads and user lifetime value associated with post-download conversion events, whilst integrating with networks in a way that allows for basic campaign optimisation. They have been instrumental in helping large, mobile-first social gaming, gambling and travel advertisers to shift multi-million dollar monthly budgets to mobile. However, there's only so far you can go with this network-led approach, and savvy mobile advertisers are taking note that large chunks of their spend are being shifted by the networks to programmatic exchange buys, where partners, all on the same plan, are competing for impressions from the same handful of mobile exchanges, driving up the cost of user acquisition with little value add.
Adbrain is here to bring transparency, insight and control back into the hands of buyers. We believe that in a multi-screen world the mobile device allows advertisers to get closer than ever before to their consumers. Mobile, in turn, brings with it a wealth of rich contextual location and behavioural data that desktop simply cannot match. Therein lies huge untapped potential for buyers to develop smarter, data-driven media buying strategies, particularly as increasingly more in-app and mobile web inventory shifts across to the exchanges.
You say this is a multi-screen targeting solution. Can you give some insight on how Adbrain's solution would help users execute this. How does the process work?
Absolutely. As previously alluded to, our Adbrain Engine creates a single customer profile by modelling billions of rich desktop, mobile and tablet data-sets to create a unique, privacy compliant user ID. Web start by creating a single device ID that is persistent as users switch between mobile web and in-app environments. This in itself is no easy feat and allows advertisers the necessary insight into the user's complete mobile behaviour, whilst tying all mobile impression, click and campaign conversion data back to a unique user. Given the incredibly rich data sets available on mobile, we are able to take a number of device, location and behavioural characteristics into account when determining our algorithmic bid and optimisation strategies, offering a more detailed view of the user in real time.
The multi-screen secret sauce kicks in as we take a number of location and behavioural pattern data sets to run statistical analysis on device relationships, creating a single view of the user across smartphone, tablet and web. Ultimately this is a probabilistic model, and needs to remain as such in order to respect consumer privacy, but understanding the relationship between devices allows for significantly increased relevance for consumers, and obvious performance upside for advertisers. We see a number of exciting optimisation strategies arising from this technology and approach, both for mobile advertisers extending into desktop, and desktop advertisers mapping and extending their audience buys into mobile.
Long-term, we see multi-screen encompassing any internet connected device, including smart TVs and wearable devices, but for now our team are busy solving the challenges that the three dominant screens present.
Are you positioning this a regional solution (Euro-specific), or is Adbrain looking to roll-out globally?
We are in the process of building a global ad technology business. We are backed by EU- and US-based investors, headquartered in London and have just recently opened a New York office. Whilst a number of markets look attractive for us, we plan to focus on Europe and the US before wider territorial expansion, but we are plugged into global supply from the outset.