What Does the Future Hold for ATDs?
by Ronan Shields on 20th Jan 2015 in News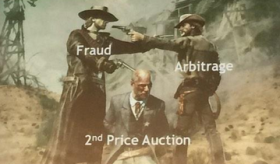 The rise of adtech has resulted in massive disruption of long-held dynamics within the advertising sector, not least because of debates around transparency, and its potential for resulting in 'disintermediation'. ExchangeWire examines the debate that quietly bubbles under the surface of ad tech.
Programmatic ad spend increased 200% in Europe last year prompted by marketers' desire to spend their ad budgets more effectively, making it the hottest property in advertising, according to the latest AdForm report.
The history of the power struggle 
However, with this growth comes a dual narrative of the shifting power dynamics of the media landscape. When we think that the world's biggest advertising holding group WPP last year claimed its 'trading desk' Xaxis (although don't let Xaxis CEO Brian Lesser hear you saying that), reportedly generated $750m of its annual $10bn in revenue, the lucrative spoils to be had in this tussle are clear.
This tussle began when agency holding groups – the traditional power brokers when it comes to media spend – began to encroach upon ad network spend by building their own agency trading desks (ATDs), in a bid to boost their bottom lines. Enter Publicis Groupe with Audience on Demand (AoD), WPP with Xaxis, Omnicom's Accuen, Aegis' Amnet, and Havas with Affiperf.
However, it was around 2012, or 2013, when this publication began to discuss the possibility of brands muscling in on this scene, either as media companies in their own right – a la Amazon – or taking their programmatic media buying in-house, as opposed to channeling their mission-critical data through an ATD affiliated to their their media agencies.
Increased focus on transparency

This debate was injected with renewed vigour last year when long-time ExchangeWire contributor and programmatic media trading mogul Mikko Kotilla penned a report for the World Federation of Advertisers (WFA) warning brands on the potential pitfalls of working with ATDs, with the report detailing issues around "money flow", namely the nature of arbitrage, and also explored the various media trading desk models on offer for advertisers.
The publication of the report and its major focus on transparency (see charts) was a cannonball across the bow of ATDs, and independent trading desks alike, and also helped fan the flames of the increasingly bitter debate between Publicis and WPP's respective programmatic offerings (see here for a video of the infamous Cannes bust-up between the pair.)

And with brands increasingly looking at programmatic media trading (see here for an interview ExchangeWire conducted with Heineken last year) the pressure has never been greater for media buyers to show advertisers exactly what they are getting for their money. For instance, the WFA survey found that 96% of the advertisers quizzed (all of whom collectively control over $35bn annually in media spend) were not totally happy with their ATD, and that use of such holding group services had dipped 15% year-on-year. Kotilla's report goes on to lay out the options available to brand-side marketers when it comes to how to organise their ad stack, and what model to apply to their own strategy (see chart below).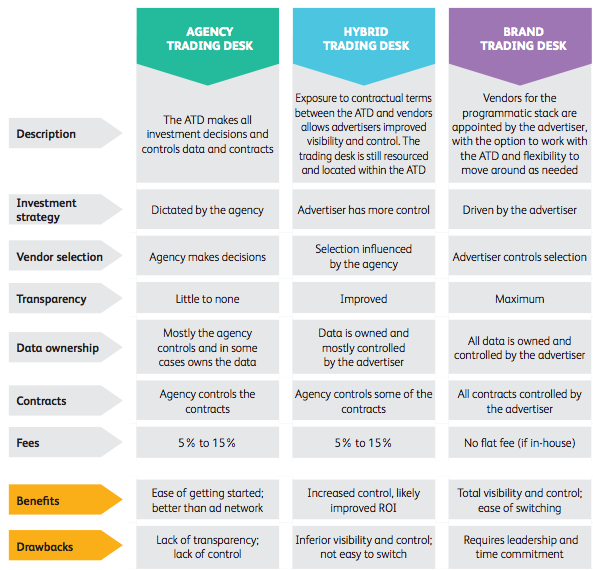 Brands explore alternative models
Increasingly brands are paying attention to these warning signs. Tier one brands including Unilever and Kimberly-Clark have quite famously have eschewed using WPP's Xaxis, in favour of licensing ad tech from from pure-play programmatic players, while retaining the services of their media agency to effectively operate the desk (see the "hybrid model" discussed above).
Meanwhile, GlaxoSmithKlein, Kellogg's and Procter & Gamble have reportedly opted to take more drastic measures by taking their programmatic media buying in-house in a bid to better protect their data, with ad tech firms such as Audience Science, Rocket Fuel, Infectious Media, Yieldr and Turn among some of the companies to profit from this trend.
Issues of conflict
Right now there is a land grab in the programmatic space happening right now and that is to become the go-to solution for an advertiser's programmatic needs. This is driven by many adtech players that fear that if they don't make the client-direct play now then they will never their share of the media budgets, particularly in light of the rise of ATDs.
Many of the adtech firms are carrying out the above by stressing the transparency issues (think fraud and viewability, nevermind transparency of pricing), and telling brands that their agencies aren't carrying out due-diligence across their media buying.
Obviously, this is much to the chagrin of agencies – many of whom say the adtech firms don't understand the work they put in for a client – and can often create a frosty atmosphere, and a dynamic that is hardly conducive to a productive working relationship.
So while the programmatic media trading revolution appears to have reached a difficult stage, this is not to say independent trading desks are a panacea for media trading. As ever in the adtech space, the option of brands pairing with "independent trading desks" is a multi-faceted one.
Putting 'transparency' under the microscope
The extent of brands' desire for alternatives to the ATD model was demonstrated in the WFA study when it revealed that use of ATDs among the surveyed respondents had declined roughly 15% year-on-year, primarily to the benefit of independent trading desks.

However, also participating in the WFA study was Dr Boris Mouzykanstkii, IPONWEB, CEO and chief scientist, who further revealed how the programmatic advertising space also meant that many of the players (ATDs, and third-party ad tech players alike) were often conflicted (see quote above) – a dynamic he covered in his most recent ATS keynote address.
Nathan Woodman, IPONWEB, general manager of demand solutions, explains this conflict further: "One of the things that we've realised is that when you try to optimise to improve click-rate [the aim of the ad tech intermediary], or towards margin [the agency's main concern], then those are conflicting margins.
"If you try to optimise towards conversion [the advertiser's ultimate aim], and you have an algorithm that is optimising towards click, then those are conflicting decisioning processes. Simply, the algorithms don't point in the same direction."
Many adtech firms are also quick to highlight how their interests are less vested than ATDs, especially since they have their 'own technology', but this is a claim often debated by sources within the industry.
Rob Webster, Crimtan, chief product officer, believes there are relatively few demand-side technology providers in the industry. "Many companies just license AppNexus, or [Gooogle's] DoubleClick technology, using it on a white-label basis," he says. "Those are the two big ones, and outside of that you have MediaMath, ourselves [Crimtan], Quantcast, Turn, and RadiumOne."
Furthermore, the independent trading desks usually have access to exactly the same third-party data providers and inventory as the ATDs – so there is little to differentiate them apart from the skills of the people who run them, he adds.
The massive challenge of operating brand trading desk
Speaking at the recent ATS Paris event, Sebastien Thomas, Air France, online display team, explained how his company established its own internal trading desk manned by three staff, which had enabled it to regain control of its investments in online media.
Ultimately, its own "brand trading desk" enabled it to achieve enhanced transparency on its media spend, and helped it to control data leakage (another concern often cited by those advocating this model), he claimed. But this brings with it massive organisational issues, not least hiring the right people given the dearth of talent in the industry, and keeping pace with innovation in the sector, to keep ahead of the curve in terms of keeping its proposition competitive with third-party offerings.
The durability of the scaled agency model 
Marco Bertozzi, president Audience On Demand EMEA and North American Client Services at VivaKi claims the issue of "in-housing" (i.e. where brands forgo the use of the ATD model, in favour of taking more proactive control of their programmatic advertising) is more of an issue in USA, compared to Europe, where smaller markets (differentiated by both language and culture), don't offer the same economies of scale.
Speaking at the recent ATS New York conference, he added: "In addition, there are further issues are brought up by the continued rise of walled gardens (by players such as Facebook, Google, et al.).
"So the real question is whether media optimisation really within the DNA of FMCG outfits such as Unilever and P&G, whose core competencies are more aligned into manufacturing and distributing bars of soap?"
Participating in the same debate, was Xaxis chief Brian Lesser, who strongly defended the existence of ATDs, and claimed much of the press reporting around the topic was vastly exaggerated, and confidently predicted the endurance of the ATD model, even if it is slightly altered from those that went beforehand.
"I like to delineate between what is actually happening, and what people think is happening. What is actually happening is actually a very good trend; and that's many advertisers getting smarter about programmatic, so they're saying that it's not good enough that media agencies can do all this without my knowledge," he said.
"So now you see a lot of them protecting their data, and taking out contracts with technology companies, and we encourage it. What's not happening, and there are countless articles about it, is that large multinational advertisers are taking their programmatic in-house. That's simply not happening! And it's for all the reasons listed above. Programmatic advertising is very, very difficult."
He added: "At WPP, we've built up a business of 800-900 people that sit and worry about issues like viewability and fraud, multiple data management platforms [DMPs], and inventory supply sources all day. All of that is multiplied by channel, and then multiplied again by major media market.
"For instance, doing it in China, is a lot different than doing it in the US, or in London. I'm very doubtful that large, global brands will run global trading desks in-house. But having said that, there probably will be a few ecommerce-driven, or data-driven advertisers that will figure it out and take it all in-house.
"When you read a lot about clients 'in-housing', it's about using a DSP to retarget display ads, using first-party data. As everyone who's been in this industry for a long time knows, that's the most basic thing you can do with programmatic. It gets much more complicated after that."
However, this publication believes that agency holding groups will have to evolve the role of their respective ATDs, to include a managed service level, that will enable them to differentiate themselves from pure-play ad tech players, eager to boost their bottom lines as they increasingly seek to exit on Wall Street (again, think Criteo, Rocket Fuel, etc.).
Increasingly, agencies (read MediaCom or Starcom MediaVest, etc.) are taking control of programmatic within the holding groups, and as a result ATDs are becoming more consultative and baked into the execution of buys, resulting in a decentralisation of the programmatic advertising within the groups. 
In one of the most popular articles to be published by ExchangeWire last year, CEO Ciaran O'Kane opined on the potential pivot of WPP's Xaxis to the supply-side.
He says: "WPP's internal ad networks and trading desks would have to compete against the rest of the market like other holding group agency trading desk (ATDs), retargeters, in-house buyers plus ad networks.
"Bid inflation means higher prices, which eats into margins. This is simply not the model they want to be involved in as it cuts out much of competitive pricing advantage they had built into already agreed trading deals – as well as adding another layer between it and the publisher which means more cost.
"In tandem with the trading deals negotiated by GroupM, Xaxis could aggregate chunks of 'programmatic' premium supply for its internal buyers, piping unused inventory back into the market or passing back impressions to publishers. This could well be something that Xaxis could roll out globally (maybe in the US where dynamics are a little different)."
TagsAd VerificationAdvertiserAgencyDataDigital MarketingDisplayM&AMartechMedia SpendProgrammaticTradingTrading DeskTransparency