Singapore Has Lowest Video Viewability in Region; Lack of Cross-Device View Distorting SEA Attribution Data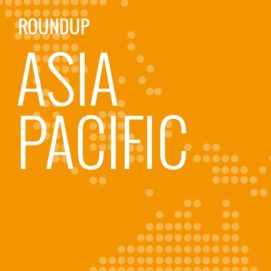 In this weekly segment, ExchangeWire sum up key industry updates on ad tech from around the Asia-Pacific region – and in this edition: Singapore has lowest video viewability in region; Lack of cross-device view distorting SEA attribution data; AdAsia secure £9.66m in Series A; Havas set up joint venture in Shanghai; Expedia unveil Singapore research lab; and data-driven marketing platform opens in Myanmar.
Singapore has lowest video viewability in region
At just 35%, Singapore has the lowest video ad viewability in Southeast Asia, compared to the highest at 75.2% in Vietnam and global average of 58.2%.
The Vietnamese market, though, had the region's lowest display viewability rate of 46.3%, according to a report from Integral Ad Science, which measured viewability as 50% of ad units in view for one second, 30% for large-format ads in view for one second, and 50% for videos in view for two seconds. Findings were based on 20 million impressions, covering 75 advertisers in Southeast Asia that purchased publisher direct and programmatic inventory in the second half of 2016. The analysis encompassed six markets in the region: Singapore, Indonesia, Thailand, Malaysia, Vietnam, and the Philippines.
Singapore's display viewability was 56.3%, above the global average of 53%, while Thailand boasted the highest viewability rate for display at 61.7% and the second-highest in video at 63.3%. Indonesia clocked 58.7% in display viewability and 55.3% in video viewability.
Malaysia was the only market in the region that had viewability rates that were below the global average, with display at 51.8% and video at 45.2%. The Philippines saw a comparatively high display ad viewability of 60.9%, but video performed poorly at 41.4%.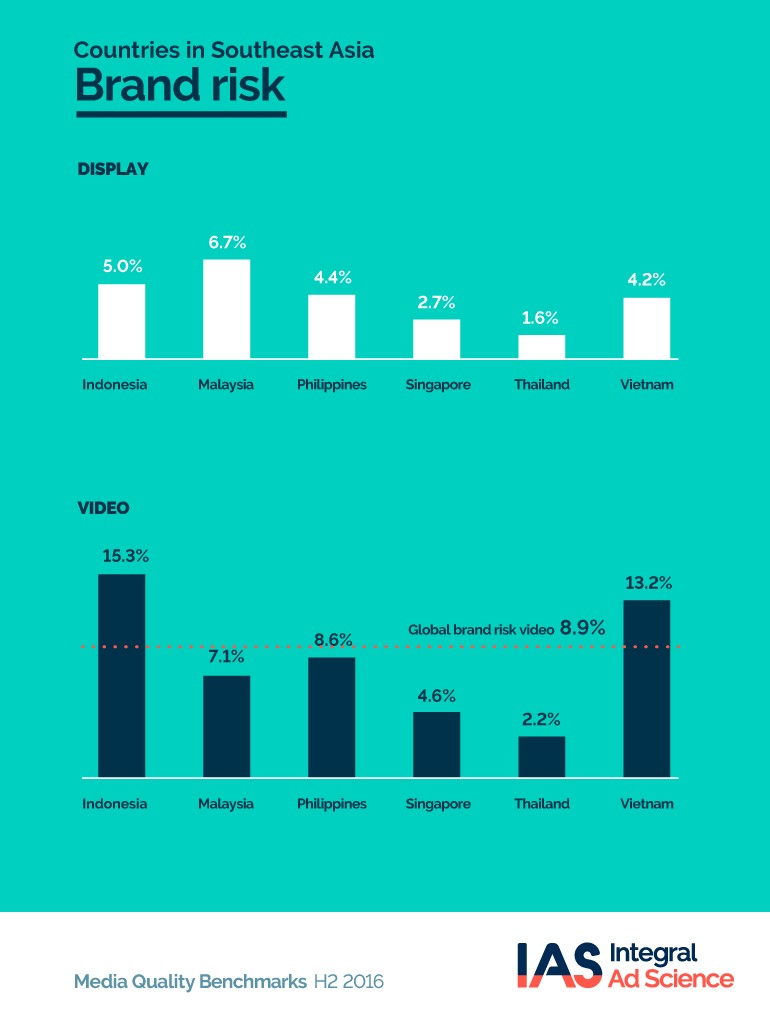 Despite its poor viewability in video, Singapore's online environment was the second-safest in the region, with only 2.7% of display ads and 4.6% of video ads found in unsafe environments. Leading the pack with the lowest brand risk was Thailand, where just 1.6% of display ads and 2.2% of video ads appear on unsafe websites.
Indonesia carried the highest brand risk for video ads with 15.3% impressions appearing in unsafe environments, while Malaysia had the highest risk for display ads at 6.7%.
Unsafe environments were categorised into seven areas deemed a risk to brand safety, including adult content, hate speech, violence, and illegal drugs.
Integral Ad Science's Southeast Asia managing director Niall Hogan said: "With the advent of fake news and increase in violent and extremist content, brand safety remains a critical issue for advertisers, underscoring the need for a solution to protect brand reputations."
Hogan said the report found that the majority of sites flagged for brand risk were illegal file-sharing sites.
The viewability figures also indicated further room for improvement in countries such as Singapore, to ensure campaigns were effective.
"These benchmarks provide a clear picture of the challenges brands are facing in Southeast Asia and highlight the need to optimise campaigns for greater performance to improve advertising effectiveness," he said. "There needs to be a collective push from every player in the advertising ecosystem to demand greater transparency, especially pertaining to brand risk."
Lack of cross-device view distorting SEA attribution data
A lack of cross-device view will result in an inaccurate measurement for up to 41% of online transactions in Southeast Asia.
This distorted view could lead to inefficient allocation of marketing spend among retailers in the region and, in turn, affect the quality of customer engagement and acquisition, revealed a report by Criteo.
The ad tech vendor said marketers that lacked accurate and scalable measurements could incur ad wastage. It estimated that more than two-in-five transactions might be wrongly attributed in the absence of cross-device measurement.
In Indonesia, for instance, e-commerce conversion rates were 1.6 times higher in cross-device environment than that observed in a device-centric approach.
According to Criteo, smartphones now accounted for 25% of online retail sales in Southeast Asia and pushed conversion rates by 19% as well as add-to-basket numbers by 49%.
"Consumers are using multiple devices in their buying journeys, from searching and browsing, to buying", said Criteo's Southeast Asia general manager, Alban Villani, who urged retailers here to move from "outdated device-centric marketing" towards a user-centric model.
Villani explained: "In today's competitive landscape, e-commerce businesses cannot afford to draw the wrong conclusions and waste money on the wrong channels. They must turn to cross-device measurement to ensure accurate attribution, before investing optimally in high-performing engagement and sales channels."
AdAsia secure £9.66m in Series A
The Singapore-based ad tech vendor has raised USD$12m (£9.66m) in Series A funding from a single investor, JAFCO Asia.
The funds would be used to drive their Asian expansion, increase their headcount, and support product development, according to AdAsia Holdings. They were looking to enter several new markets this year, including China, Japan, Malaysia, and the Philippines, as well as set up a product development facility in Vietnam. The company also was keen to integrate artificial intelligence and machine learning capabilities into their existing product portfolio and future launches.
In addition, the new investment would support AdAsia's target to increase their global headcount to 400 by end-2018, from their current 90 employees. Operational since April 2016, it currently has seven offices in six markets, including one in China, which would soon open its doors, the company said.
AdAsia's co-founder and CEO Kosuke Sogo added that they planned to establish a footprint in most markets in Asia by end-2018.
The startup's flagship offering, AdAsia Digital Platform, facilitated programmatic buying and reporting for display, video, and native ads on desktop and mobile. Their video and display ad networks currently include publishers such as Thailand's Sanook and Kapook, Taiwan's Apple Daily, and Indonesia's Kapanlagi Network.
Havas set up joint venture in Shanghai
Havas Group have formed a joint venture with Guangdong Advertising Group (GIMC) in a bid to expand into the Chinese market.
The French agency said they would hold a 51% share of the new entity, called Havas GIMC Advertising, which would serve as an integrated media and creative agency headquartered in Shanghai.
The joint entity would offer Havas customers access into China and GIMC's expansive footprint and scale in the local market; while the latter's clients could tap the knowledge base of Havas' global network.
Founded in 1979, GIMC currently employed 4,500 across China and provided communication services to more than 300 customers including China Mobile, Dongfeng Nissan, Midea Group, and Haitian Seasoning.
Havas Group CEO Yannick Bolloré said: "The Chinese market, one of the fastest-growing markets in the world, is now second in terms of ad spending, which offers outstanding opportunities for brands. Combining our strengths with [GIMC's] capabilities and talent pool, which is the largest in China, will guarantee Havas GIMC Advertising's clients the best service both in the Chinese market and globally."
GIMC Chairman Chen Tianlong added that the joint venture would be "the first China-based agency" with a network that supported the globalisation of Chinese companies.
Expedia unveil Singapore research lab
The US travel brand operator have set up a research facility in Singapore to better understand consumer behaviour and use these insights to optimise their websites and apps.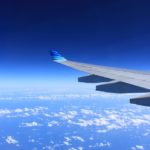 Expedia said the new centre was the first innovation lab in Asia and would use proprietary scientific methods to gain insights of online and app travel search and booking behaviour. These, then, would support the company's future technology developments globally.
The research facility adopted two primary technical capabilities (eye tracking and electromyography (EMG) technology) to determine how travellers engaged with Expedia's websites.
Using a 'test-and-learn' approach, the company said, the insights would enable a deeper understanding of why consumers behaved a certain way and drive improvements for websites and mobile apps. These, then, could lead to higher booking confidence and customer satisfaction, said Expedia, adding that they implemented 1,450 tests involving site and app improvements last year based on traveller insights gleaned from the scientific approach.
Expedia's president and CEO Dara Khosrowshahi said: "The launch of the Expedia Innovation Lab in Singapore marks a significant milestone for our business in the region. Similarly, we believe that capability building through a firm commitment to our local ecosystem, new innovations, and knowledge sharing, will fuel the local economy in the travel, tourism, and technology industry."
Singapore served as the Asian headquarters for Expedia, which also operated two other innovation labs in London and their Bellevue global headquarters.
Data-driven marketing platform opens in Myanmar
AdsMay has launched their data-driven marketing platform in Myanmar and appointed Seine Lai Mon to the newly created role of commercial director for the local market.
The ad tech vendor platform supported various ad formats, including video and native, that are designed for a mobile-first consumer environment.
Noting the lack of data and creativity in the local digital landscape, Seine said: "We want to give brands the opportunity to move beyond Facebook-based advertising and embrace video, native, and innovative rich media creative. [There are] 22 million people online in Myanmar, across apps and websites, and these consumers spend more than 60% of their time outside social media channels, so the potential for marketers who get it right is huge."
The executive was responsible for driving the development of the marketing platform around data and creative, as well as building AdsMy's client relationships. She previously was deputy commercial head at local e-commerce startup, Shop.com.mm.
Citing industry information, AdsMy said Facebook currently was the top online advertising platform in Myanmar, accounting for 90% of ad spend.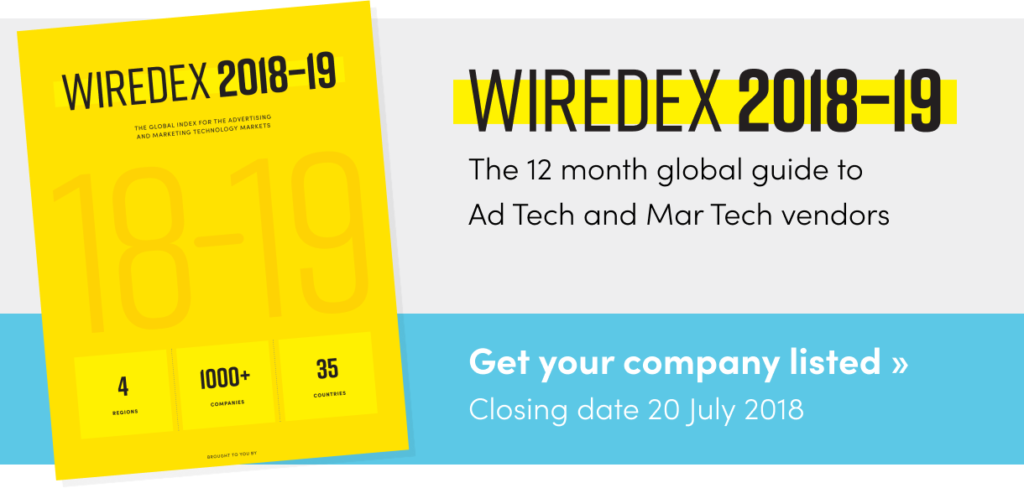 TagsAd TechAdvertiserAgencyAPACBrandingChinaCross-ChannelCross-DeviceMeasurementMobileProgrammaticSingaporeTargetingViewability