Mobile Drives SEA Digital Ad Spend; E-commerce Accounts For 30% of China Online Ads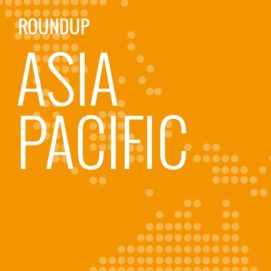 In this weekly segment, ExchangeWire sums up key industry updates on ad tech from around the Asia-Pacific region – and in this edition: Mobile drives SEA digital ad spend; E-commerce accounts for 30% of China online ads; AdAsia buys Japanese publisher trading desk; New AU agency to tap voice experience; Dentsu turns up Amplifi in Malaysia; and Oracle unveils AU audience-data offering.
Mobile drives SEA digital ad spend
Mobile ad spend across six Southeast Asian markets is expected to more than double over the next year to exceed USD$2.2bn (£1.64bn).
It would account for almost 69% of overall digital ad spend by 2021, according to eMarketer. The market researcher added that digital ad spend would grow by double-digits in 2017 and 2018 across the six markets, including Singapore, Malaysia, Indonesia, Thailand, Vietnam, and the Philippines.
Vietnam and the Philippines, in particular, would see mobile ad spend double this year, fuelled by strong smartphone adoption, while Indonesia would clock an 80% growth.
eMarketer added that high e-commerce growth would drive digital ad spend in Thailand, where this sector would account for 18.5% of all media ad spend in the Asian market. This figure was expected to climb to 28.7% in 2021, it said, adding that it revised its forecasts upwards for Thailand following plans from e-commerce players, including Alibaba and JD.com, to invest in the country.
Weak consumer spending in recent years had slowed Singapore's overall media growth; but eMarketer said the market would improve as the local economy recovered. Digital was projected to account for 23.8% of total ad spend in the country this year, growing to USD$520m (£388m) by 2021. Mobile ad spend then would contribute 81.7% of overall digital expenditure.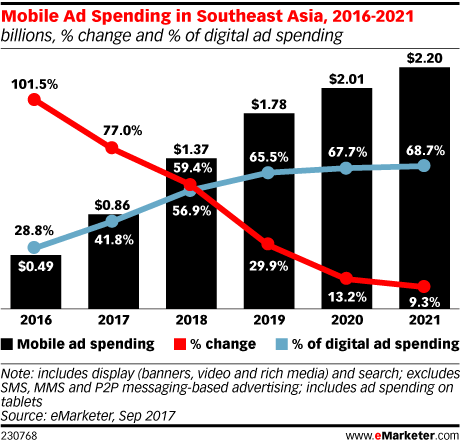 Noting that Southeast Asian markets were "well placed" to become Asia's high digital ad growth markets, eMarketer's senior forecasting analyst Shelleen Shum said: "These economies reap the gains from a 'development catch-up' with favourable demographics, increasing smartphone adoption, expanding internet access, and declining data prices.
"Undoubtedly, e-commerce will be a key driver in the years to come, as investments from global giants pour in to shape Southeast Asia's e-commerce scene and merchants determine how best to win the attention of a new generation of digital shoppers", Shum said.
E-commerce accounts for 30% of China online ads
Online retail ads accounted for 30.5% of total online ads in China for the second quarter of 2017, up 5% year-on-year.
Revenue from online ads reached 86.16bn yuan (£9.67bn) in the quarter, according to local market researcher, iResearch. It noted that, while the Chinese market saw slower growth, revenue still was 23.3% higher than the previous quarter and up 28.5% year-on-year.
It explained that advertisers were tweaking their spend to keep up with global changes and exploring different forms of ad placements.
Media platforms also were seeing significant developments, it added, noting that new ad options had emerged in news feeds. "Outstream ads in short videos and live streaming also saw rapid development", iResearch said.
Newsfeed ads accounted for 14.8% of the online ad market, while search contributed 25%, which was down slightly from the previous quarter, but up 15% year-on-year.
For the second quarter, mobile ad revenue climbed 30.9% from the previous quarter to churn 60bn yuan (£6.73bn).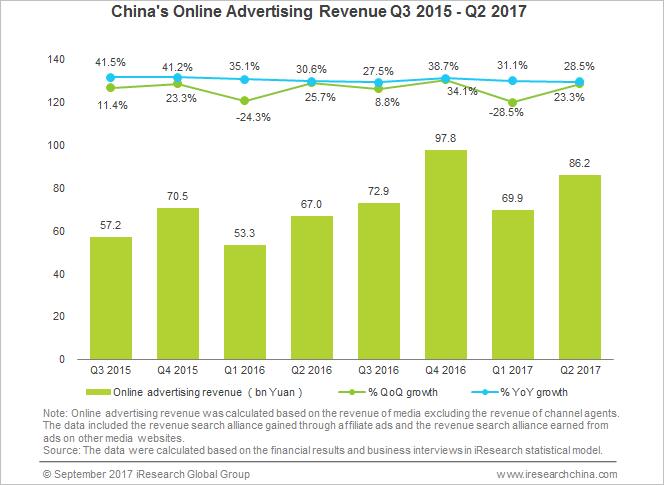 AdAsia buys Japanese publisher trading desk
The Singapore-based ad-tech vendor has acquired FourM in a move, it says, will offer customers access to private deals with Japan's premium publishers.
FourM's publisher tools also would enable it to better match advertisers to publishers across the region, said AdAsia Holdings' CEO and co-founder Kosuke Sogo.
The Japanese publisher trading desk's FourMCloud platform would be integrated with AdAsia's own publisher solutions to form a new portfolio, AdAsia Digital Platform for Publishers.
FourM was founded in 2009 and connected to more than 100 publishers in Japan, pushing out five billion impressions a month.
Its CEO and founder, Isamu Takahashi, said both companies would be looking to "scale our combined solutions for publishers" across the Asian region.
No financial details were provided regarding the acquisition deal, which came just a week after AdAsia said it had secured an additional USD$2.5m (£1.87bn) and wrapped up a total USD$14.5m (£10.82bn) in Series A funding.
It said the funds would go towards overall product development and, specifically, the development of an artificial intelligence (AI)-based matching engine, touted to connect advertisers to publishers, as well as influencers to brands.
Sogo said: "We believe AI will become an omnipresent and essential part of daily lives, and we'll look to bring AI that drives businesses and industries into the future. Of course, our product strategy will still be the same, [focusing on] empowering industries through easy-to-use and integrated offerings."
New AU agency to tap voice experience
A new agency has been launched to help brands connect with consumers through voice experience (VX), touted to be the "first enterprise-level" to do so in Australia.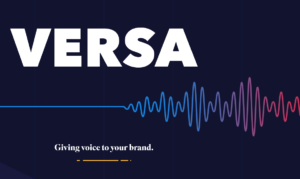 Called Versa, it was jointly set up by Australian digital experience and design agency, Deepend, and US-based VX agency, RAIN.
The fledgling agency's team comprised creative technologists, speech coders, and voice scripting and experience specialists. Together, they would create offerings that could be delivered across voice-centric devices such as Google Home and Amazon Alexa.
Deepend's Melbourne managing director, Kath Blackham, said the agency had been prepping for "the rise of conversational user experience" over the past year.
"You only have to look at global growth predictions for an indication of what's to come", Blackham said, noting that 33 million "voice-first devices" would hit the market in less than two years.
"Working in partnership with RAIN over the last year has enabled the team to have access to a unique skillset – one that truly understands the complexity of VX at the enterprise level", she added. "It's not simply about the technology, but more about adding the human element – the true voice-interface component."
RAIN's founding partner and managing director, Andrew Howlett, said voice activation was "about to revolutionise" Australia. He pointed to the recent launch of Google Home as well as the impending launch of Amazon in the local market.
"It's clear that voice experience will be key for connecting with customers over the next five years. It's where consumers will shop, eat, travel, and engage with your brand", Howlett said.
Dentsu turns up Amplifi in Malaysia
Dentsu Aegis Network has launched Amplifi in Malaysia, which marks the eighth Asia-Pacific market, and 39th globally, where its media investment arm now operates.
Amplifi would actively engage the group's 13 media, digital, and communications agencies across the country. This also meant bringing together Dentsu Aegis Network's media trading and investment management, media partnerships, programmatic buying platform Amnet, and content capability functions from The Story Lab, into a consolidated unit and tapping data as its foundation.
Amplifi's Asia-Pacific president Sunil Yadav said: "Our regional office has been working with the Malaysian teams on several initiatives, which gave us a cursory look into the market readiness and its potentials to further drive convergence through media.
"In this respect, we are only touching the tip of the iceberg in terms of what we can do for clients and media owners in Malaysia", Yadav said.
The local outfit would be headed by managing director, Hasnain Babrawala, who joined Amplifi Malaysia from IPG Mediabrands Malaysia, where he was head of media trading and innovation.
Babrawala said: "Investments in areas like content, programmatic, data, new technology, and artificial intelligence are set to increase, hence, it is critical for trading units to be equipped and manage this continuous investment fragmentation smartly. I also believe that trading will not only be limited to price guarantees and will start, if not already, to feature as a measurable function for its overall solution in all agency evaluations and contracts."
Oracle unveils AU audience-data offering
Oracle has launched an audience-data solution in Australia, offering more than 400 local audience segments and access to local user profiles.
The Australia-specific audience segments were generated using Oracle's technology and data science capabilities and based on online interest, demographics, and online intent data across the 64 million local device ID profiles.
Available on the tech vendor's audience data marketplace, Oracle Data Cloud, the new local offerings were touted to match consumer profiles based on Australia's local culture, language, and interests, and tap user data from more than 15 million global web domains. They also offered specialised audience profiles based on 12 interest and industry groups, including automotive, financial services, B2B (business-to-business), retail, and travel.
Oracle Data Cloud's international vice president and general manager, Brandon Paine, said: "Marketing success in the digital age depends on reaching the right people, at scale, with the right message… Oracle Audiences are designed to incorporate the culture, language, and interests of Australian consumers, so marketers reach the right local consumers with the right messages, thus, driving more effective campaigns and better results."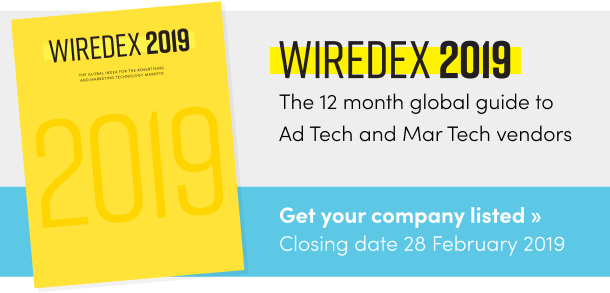 TagsAd TechAdvertiserAgencyAnalyticsAPACArtificial IntelligenceAustraliaChinaDataMedia SpendMobileProgrammaticPublisherSoutheast AsiaTargeting