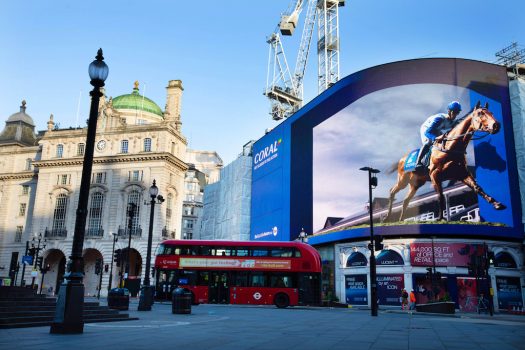 On the eve of this year's Cheltenham Festival, Coral is bringing horse racing to Central London, bringing racing fans closer to the excitement, thrill, and drama of the sport like never before with the launch of a mesmerising and captivating DeepScreen™ activation at Ocean Outdoor's world-famous Piccadilly Lights, just 100 miles from Cheltenham.
In a first for the bookmaking sector, the activation, devised by Coral's lead creative agency, Bartle Bogle Hegarty (BBH), sees four horses and their jockeys jostling for a position in a race. Moments into the action, riders, and horses dissolve away, leaving the viewer with one horse which then leaps out of the screen in slow-motion. Coral is the first ever brand to fully utilise both the front and back technology of the DeepScreen™, using it to show the speed and motion of the racehorses.
The sensational 3D spectacle debuted at Piccadilly Circus and appears on rotation once an hour for one week, throughout the Cheltenham Festival.
A media campaign planned and executed by the7stars, includes an OOH takeover of Cheltenham Spa station, social media, digital audio, digital, and print activity. Racing fans across the country will also be able to view the creative from the Coral's campaign at several further Ocean locations across the UK, including Liverpool, Manchester, Birmingham, Nottingham, and Southampton.
Chris Brocklehurst, Coral's head of brand marketing says: "Never before has horse racing been given this sort of treatment, and this show-stopping spectacle truly brings racing fans closer to the action. It's based on the premise that when it comes to racing, the only horse that matters is the one you've backed. We're proud to be the first betting brand to use this 3D poster technology and to showcase horse racing like never before."
Melanie Blood, senior project manager, Ocean Labs, said: "DeepScreen™ is all about scale. The biggest screens create the best experiences and Ocean's large format screens make these campaigns even more prominent. The epitome of them all is Landsec's iconic Piccadilly Lights. With its curved screen, it's the ultimate for all 3D experiences."
Guy Hobbs, associate creative director at BBH, says: "This piece is based on the simple insight that when you're watching a horse race, the only horse you're really seeing is the one you're backing. So our idea was to remove everything else on the racetrack except one single horse. And to do it in the most epic way possible using the DeepScreen. We're super excited to show racing in a new light."
Lewis Watson, client lead from the7stars says: "the7stars have worked with Coral to carefully develop an impactful and innovative media campaign that utilises a range of media channels to bring audiences closer to the action. Coral has a firm commitment to creativity that is perfectly illustrated by the Piccadilly Lights activation, becoming the first bookmaker to utilise Ocean's DeepScreen™ 3D templates. This activation is the result of putting creativity at the heart of the planning process, and is testament to Coral's ambitious approach to brand growth. This is a truly exciting campaign and an unmissable tribute to horse racing in the week of Cheltenham Festival."

the7stars
the7stars was set up in 2005 by co-founders Jenny Biggam and Mark Jarvis. Our reasons then are our reasons now. Fundamentally, we think that media is too important to be commoditised by big buying networks. We believe that advertisers deserve better ...
Powered by PressBox
AdvertisingAgenciesCampaignOOH