Anzu & Amelore Partner to Bring Programmatic In-Game Advertising to PC Hit Slappyball
by ExchangeWire PressBox on 27th Apr 2022 in News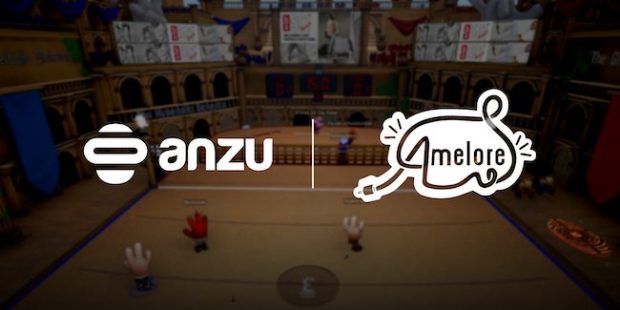 Anzu.io, the world's most advanced in-game advertising company, today (27th April 2022) announced its successful integration and ongoing partnership with Amelore, the game developer behind Slappyball. This means advertisers can now programmatically run non-disruptive in-game banner and video ads within the free-to-play PC hit.
In Slappyball, players compete against each other in a volleyball game, with each player represented by a giant animated and comically playful anthropomorphic hand. Players can join teams, negotiate salaries, move up the rankings board, and create unique characters with cosmetic skins. 
Anzu's in-game advertising platform allows brands to run ads via non-disruptive in-game placements that form part of the gaming environment, enhancing the experience and reaching a diverse range of players. Slappyball's competitions take place inside a stadium atmosphere, so, like many sports-themed games, its environment lends itself well to in-game ads as they are inserted in places where you would expect to find ads if you were to watch a real-world sporting event.
"Although we have some in-game micro-transactions, we wanted a way to make our games sustainable and keep them free-to-play, but it goes against our ethos to take a predatory approach to monetisation and user engagement. In-game ads in a stadium-based game made sense to us," said Mackenzie Denker, Amelore's lead programmer and designer.
"Anzu's ads respect users and their privacy and aren't distracting, which is paramount to us. We have had great feedback from players so far, and Anzu's close partnerships with third-party AdTech vendors provide full confidence in their measurement and reporting capabilities."
Anzu works with trusted third party vendors including Nielsen, Kantar and HUMAN, to provide the metrics that matter most to advertisers when they are running in-game campaigns, such as fraud detection, audience verification, and brand lift measurement. Anzu also recently announced its first-to-market viewability measurement for in-game ads with Oracle Moat.
"We deeply respect game developers like Amelore who offer free-to-play content and are pleased that our platform can be used to help them monetise their games and diversify their revenue streams. Slappyball's gameplay keeps players coming back and our ad placements which surround the stadium are great in helping advertisers reach an engaged and diverse audience of players in a non-intrusive manner", said Alex Yerukhimovich, VP of games at Anzu.
AdvertisingCustomer ExperienceIn-GamePartnershipProgrammatic