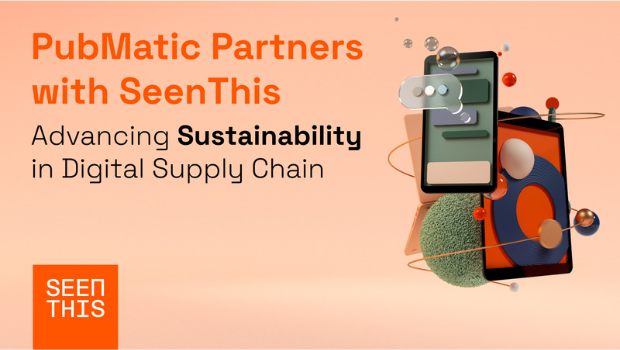 PubMatic has agreed a new partnership with adaptive streaming specialist, SeenThis to deliver high-quality digital advertising while minimising carbon emissions. This initiative will give brands and agencies around the world a simple, efficient way to shift their buying behaviour in favour of more sustainable media, without compromising on advertising performance.
SeenThis' proprietary video streaming technology allows advertisers to stream high-resolution video content rather than relying on publishers to download video creative files. Compared to running the same quality creative using conventional technology, this results in lower data usage, lower energy consumption, and a smaller carbon footprint.
The partnership between PubMatic and SeenThis provides advertisers and agencies with a simple and effective way to run scaled, carbon-efficient video campaigns across the breadth of the premium supply on the PubMatic platform. Campaigns can be easily activated via a Deal ID, and buyers can access the full suite of curation tools available through PubMatic.
"SeenThis' technology is incredibly efficient, delivering video experiences that are lightweight and fast," says Emma Newman, CRO EMEA, PubMatic. "Combined with PubMatic's expertise in supply path optimisation, agencies and advertisers can now identify the most effective channels and partners from a commercial perspective and seamlessly execute programmatic deals across all channels, while ensuring carbon emissions are minimised. With more sustainable solutions, brands and agencies will be better equipped to meet the increasing consumer demand for environmentally conscious advertising campaigns."
Thomas Houge, CCO at SeenThis, said:"We are very excited to be partnering with PubMatic on this initiative. We believe that all businesses, us included, are accountable for the emissions from their operations, and also have a responsibility to minimise the climate impact throughout their value chain and industry. By working together, we have a greater opportunity to make a meaningful contribution towards a more sustainable future for digital advertising." 

PubMatic
PubMatic (Nasdaq: PUBM) is an independent technology company maximising customer value by delivering digital advertising's supply chain of the future.PubMatic's sell-side platform empowers the world's leading digital content creators across the...
Powered by PressBox
AgenciesBrandsPartnershipStreamingVideo