Do Marketing Clouds Mean Stormy Weather Ahead For Ad Tech?
by Ronan Shields on 28th Aug 2014 in News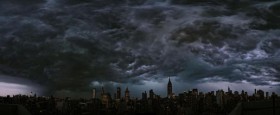 This year's ATS London will focus on some of the emerging trends in the contemporary ad tech space, as well as gaze into the near and distant future in an attempt to forecast the challenges facing the 'traditional' ad tech players.
Multiple ExchangeWire sources note how the emergence of large enterprise software companies (read 'enterprise', or 'marketing cloud' players) will affect companies that have previously solely offered advertising services.
One of the key panel discussions at this year's ATS London will focus on just this point, plus how it can potentially affect the digital advertising landscape in the coming five years. Essentially there are two key issues to address here (read below).
Here representatives from companies such as Adobe, Oracle, and SalesForce will discuss just what the emergence of such players means for advertisers (brands in particular) as they look to manage disparate elements of the marketing stack (email, CRM, social, search, paid and earned media) using their software-as-a-service (SAAS) model in a bid for further efficiencies, as marketing budgets.
What does it mean for ad technology?  Will ad tech be ultimately subsumed into greater marketing stack?  How do agencies play within the enterprise cloud?  Will the open API approach of the big enterprise players help usher in an age of innovation.  Can SAAS models really thrive in media buying?
Another key question for marketing cloud players to answer is that although their proposed efficiencies are already a well-established phenomenon in the US (where the economies of scale posed by a unified language and currency make it ripe for said efficiencies) how will such a proposed strategy will play out in fragmented markets like Europe?
Ad tech players acknowledge marketing cloud
Indeed, speaking recently with ExchangeWire, Richard Lloyd, Xaxis, VP, platform, acknowledged the potential disruption posed by enterprise software players, acknowledging that their ability to leverage brands' 1:1 customer relationship management (CRM) systems to improve media buying efficiencies.
"That's the big unknown, form an agency perspective, it's the [industry] trend that's the most concerning," he added.
Xaxis itself is keen to distance itself from the traditional 'agency trading desk' (ATD) tag, with Lloyd pointing out that its data management platform (DMP) Turbine makes its media-buying a more intelligent platform (as opposed to the more opaque traditional ATD model).
"Structurally we're similar to ATDs, but GroupM has taken a different tack by building its own proprietary tech," he added.
Equally, Brian O'Kelley, AppNexus, co-founder and CEO, acknowledged the favour such companies have with financial backers, recently in a conversation with ExchangeWire when discussing his company's bumper investment round, which valued the company at $1.2bn.
Speaking about the recent turbulence experienced by publicly listed ad tech companies such as Rubicon Project, he said: "I feel that a lot of the markets don't get ad tech, so when there's a bump in the road, which is inevitable when the industry is evolving this rapidly, they overreact."
He went on to add: "That's why it was good to be valued like a SAAS company [by investors]."
Disintermediation ahead?
Of course, the key concern of just about every tier of the market is whether or not such companies will mean they get struck off a brands' media plan, although such marketing cloud providers are actively courting brands directly with messages of "audience engagement" methods, their message to ad tech players is less overtly threatening.
Tresilian Segal, Adobe, head of marketing, Northern Europe, said: "The client's needs determine the route to market, and we support both direct or agency relationships, and often a mix.
"We are all aware of the shortfall of digital talent in marketing so many of our enterprise customers have a mix of in-house talent and agency partners. We don't see this radically changing in the near future; most enterprise customers don't want to do everything in house.  Similarly, few enterprise customers outsource everything."
Similarly, Nicholas Spyer, Social.com, Salesforce ExactTarget Marketing Cloud, general manager, EMEA, does not state that marketing cloud players are not out to dominate the ad tech sector.
"Salesforce has strong relationships with both camps, [traditional media agencies as well as directly with brands], often marrying agency and client-side working practices. Neither is right or wrong – it is dependent on the set-up of the individual business. Our technology is designed to meet the needs of agencies and brands alike," he said.
It's all about breaking down silos
However, both are equally keen to highlight how their respective marketing cloud offerings can help brands identify audiences relevant to their offering by welding the vast swathes of data they have – which often sits in silos – to improve how they engage with consumers.
SalesForce's Spyer added: "Marketing in this highly social world is about understanding the identity of the user and tailoring the advertising to them. Driving results using identity-based media requires a strong pool of data.
"Our marketing cloud services let companies combine traditional digital channels like email, mobile, social, and the Web to drive buzz, engagement and ultimately loyalty around any conceivable product – from toothbrushes to cars."
Adobe's Segal added: "By doing the integration work up front, we are helping marketers break down not just the data silos, but the organisational and workflow silos that prevent an enterprise from quickly identifying and responding to problems or opportunities."
Segal and Spyer are both adamant, that their focus is on the need of marketers, and while they both concede that while it is still undecided as to whether ad tech will be subsumed by a wider marketing stack, they are adamant that their respective firms have the best technology on the market.
Spyer said: "It is not about being subsumed into a greater stack, it's about bringing together all of the vital pieces that play a role in the ad buying process."
Segal added: "Ad tech is ever changing, so it is hard to think that all of it will be subsumed into a greater marketing stack. The technologies that prove most stable or useful will certainly get a good long look in terms of integration into the marketing cloud, but this will also be heavily influenced by client needs and requests.
"Agencies will always play a critical role in the marketing cloud, providing not just the talent and expertise needed for implementation and getting the most out of the client's investment in the marketing cloud, but in guiding strategy and how to deploy the marketing cloud to best support that strategy."
TagsAdvertiserAgencyAnalyticsATSBrandingCross-ChannelDataDigital MarketingDMPEnterpriseExchangeIndustry InfrastructureMartechMedia SpendTechnologyTrading Desk