Why AppNexus is Betting on the Power of Programmatic Direct
by Ronan Shields on 18th Mar 2015 in News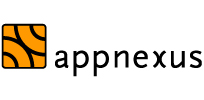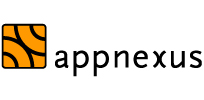 AppNexus has confirmed its purchase of publisher forecasting and programmatic-direct company Yieldex, in a deal rumored to be valued at $100m, as the ad tech firm continues its acquisition spree, and prepares for the rise of programmatic-direct.

The integration of Yieldex into the AppNexus platform supports the ad tech company's vision of offering an integrated, full-stack publisher solution – this deal comes just five months after AppNexus bought Open AdStream (OAS) from WPP – and also positions the company to create a comprehensive open marketplace for the direct, programmatic sale of online inventory.
Yieldex is headquartered in New York with its principal products including a publisher forecasting tool, Yieldex Analytics (a tool used by over 50 major publishers), and Yieldex Direct, an inventory management tool that lets media buyers directly book campaigns in guaranteed deals, which counts Hearst Newspapers and PGA Tour among its user base. (See video below for further details.)
The purchase of Yieldex also mirrors Rubicon Project's dual purchase of iSocket and Shiny Ads for a reputed $30m, as it seeks to offer advertisers and publishers an alternative to real-time bidding (RTB).
AppNexus claims programmatic direct is a growing share of online advertising – be that through automated guarantees, private marketplaces, or preferred deals – citing research from eMarketer asserting that such deals will account for 42% of the $20bn US programmatic advertising market next year (see chart).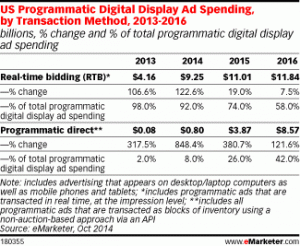 Speaking with ExchangeWire, Nigel Gilbert, AppNexus, VP strategic development, said: "In 2015, we expect to hear a great deal about mobile and video, both of which stand to encompass a growing share of the market. What you may hear less about – but what you should be thinking about – is programmatic direct.
Gilbert further forecast that in total, over two-thirds of display ads will be sold by programmatic direct within two years; and that it is increasingly important for publishers to have an alternative to Google when it comes to ad tech (given that its interests are conflicted, as it also sells media).
He added: "When you combine the power of the AppNexus publisher platform with Yieldex, the result will be a comprehensive, open marketplace for programmatic direct.  That's an important piece of the puzzle not only for AppNexus, but for an industry participants interested in buying and selling Class 1 inventory.
"We've taken the liberty of preparing a short primer for those interested in the power of programmatic direct. Expect to see and hear more from us in the coming months."
AppNexus is circulating the below graphics to help aid its promotion of programmatic direct.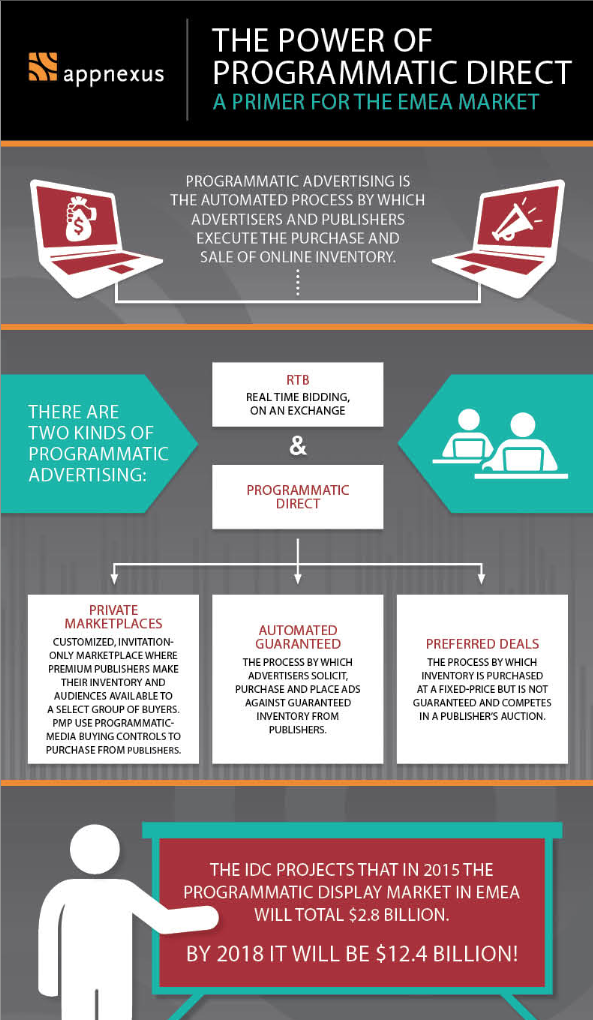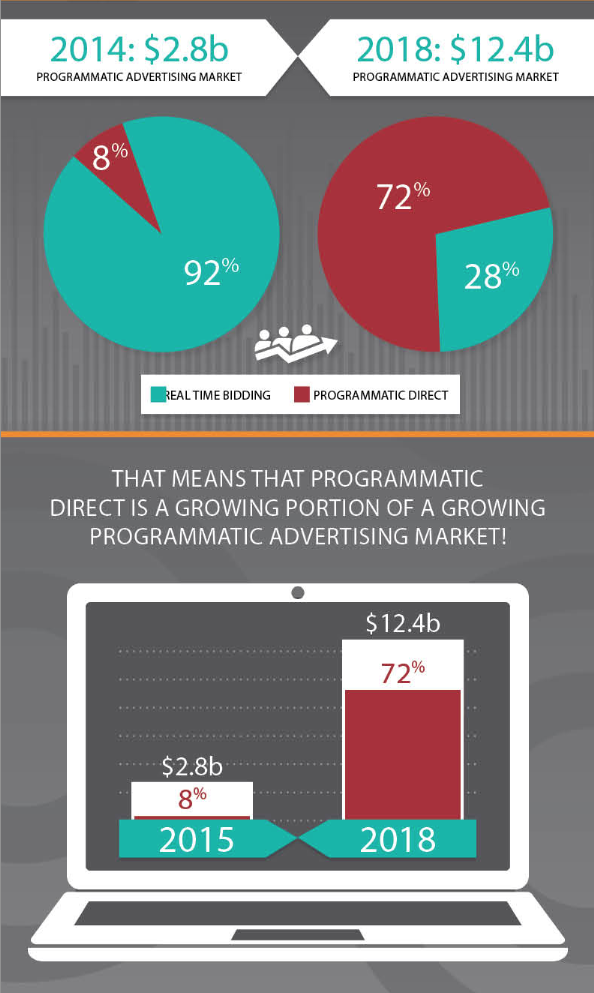 Ad VerificationAdvertiserAutomated GuaranteedDataDigital MarketingDisplayM&AMedia SpendPerformanceProgrammaticPublisherTargetingTechnologyTrading