2014, the Year of Consolidation in Ad Tech, and What it Means for the Industry...
by Ronan Shields on 20th Nov 2014 in News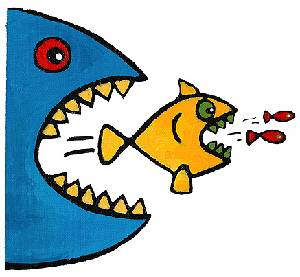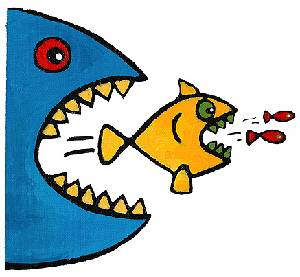 A number of deals involving some of the industry's biggest names, including MediaMath, Rubicon Project and, closer to home, Ve, have taken place in the last week, each of them signifying wider shifts in the ad tech and marketing sectors. ExchangeWire places them under the microscope. 
Ve buys GDM Digital
Firstly, let's round-off the facts about the latest deals. This week VE announced the acquisition of fellow UK-based outfit GDM Digital in a $12m deal, that will see all 42 of the latter's staff transfer to Ve as it expands its digital advertising division.
Ed Stevens, GDM Digital CEO, will join Ve as commercial director, with GDM staff transferring to Ve, although they will continue to trade as GDM Digital in the short term. In the mid term, GDM will be absorbed into the VeAds offering.
Stevens added: "Together we'll be able to offer online businesses a more comprehensive digital advertising service and be a leading player in the global ecommerce and ad tech industries."

Ve, first made its foray into the ad tech sector with the acquisition of AdGenie and its proprietary technology, but this purchase provides it with further scale, according to David J. Brown, CEO and co-Founder of Ve.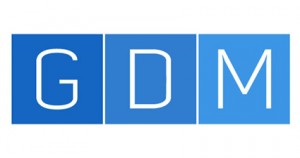 The UK-founded – and self-styled 'ecommerce conversion company' – can justifiably be defined as a martech firm, and with the purchase of performance-based real-time bidding (RTB) specialist GDM Digital is expanding its portfolio of services, bringing its client-base to over 6,000 businesses.
As a result of the deal GDM, whose clients include Microsoft, Coral, Lufthansa, IBM, Virgin Active and Audi, will offer the VePlatform, including VeGenie, plus other aspects of the VeAds proposition.
Brown added: "Digital advertising is becoming a big part of our business because of the natural affinity it shares with our other online conversion apps."
He continued: "Ve will be a one-stop-shop for digital advertising, retargeting and a complete suite of website performance tools. It is now the broadest digital advertising offering in the market place."
The benefits of using a more comprehensive platform is that it naturally de-dupes customer data ensuring the merchant only pays once for retargeting, or remarking, and not twice as they would if the solutions were offered by two different vendors, according to Brown.
He added: "This is significant – why would anyone use a remarking provider without retargeting in the same technology group and vice versa?"
Ad tech and march converging
Martech firms buying their way into the 'traditional' ad tech space spells major competition, on the horizon for both pure-play ad tech firms, as well as agencies, according to sources.
In a dialogue with ExchangeWire about who this deal brings them into competition with, Brown claimed retargeting firms, specifically name-checking Criteo.
He continued: "We see the major retargeting providers in the market place that clumsily deliver ads without tracking a purchase, thus delivering ads to customers that already purchased. Ve's technology tracks the whole journey and is thus able to rely on deeper data.
"Ve's technology, developed with AdGenie, has custom product data feeds as standard. Ve was unique in bringing these feeds to China. The depth of GDM's ad sophistication will help us expand this offering."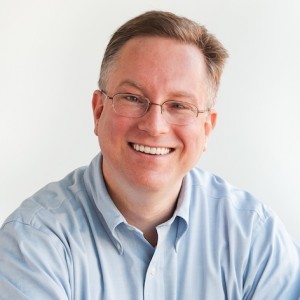 Marketers are increasingly heeding the call to adopt a more holistic approach to their practise, including using comprehensive customer data repositories to direct their activities (this also includes their programmatic advertising).
A recent joint report from the CMO Council and Tealium – entitled "Quantify How Well You Unify" – explores the effects that digital marketing technology has on businesses and found 44% of CMO respondents have now integrated a technology strategy.
Of this number, 59% reported more targeted, efficient and relevant customer engagements, with 42% claiming they see greater business impact than those who do not.
This increasing convergence of the ad tech and martech worlds was arguably best demonstrated earlier this year with the gargantuan $2.3bn purchase of Conversant – the ad tech firm formerly known as ValueClick – by Alliance Data, to offer its services as part of its end-to-end marketing suite Epsilon, making it one  of the biggest deals in ad tech history.
Writing in ExchangeWire, ahead of his ATS London keynote presentation, Scott Brinker, of ChiefMartec fame (pictured above, left), wrote: "The massive expansion of marketing technology operated inside brands is steadily transferring power and responsibilities from agencies to brands. In-house teams are growing faster than budgets allocated for agencies
"Innovation in marketing technology is outpacing most companies' — and, frankly, most agencies' — ability to absorb it. The future belongs to those who can develop the next generation of organisational and human capital fastest to harness these new capabilities.
Rubicon Project acquires iSocket and Shiny Ads
Meanwhile, Rubicon Project began the week with the announcement of the dual acquisitions iSocket and Shiny Ads for under $30m, in a move that enables the company to offer the industry's "first-and-only full-stack direct orders solution for display".
The exact details of the deals were not fully disclosed, but the transactions are reported to be "largely in stock", with ExchangeWire sources noting that the combined $30m price-tag for the pair represents great value for Rubicon Project. 

The dual-acquisition also brings real consolidation to the programmatic guaranteed sector (Australia-based AdSlot being the other 'significant provider), which is forecast to surpass $8bn in the US alone by 2016 according to figures quoted by Rubicon Project. Both the iSocket and Shiny Ad's technologies will now be combined to offer a "full-stack" programmatic guaranteed offering, adding to Rubicon Project's existing auction-based offerings. 
Occasionally referred to as "automated guaranteed", this method of buying, media is prevalent in the television market, lets media owners set prices for guaranteed audience impressions, and buyers to discover and buy those guaranteed audiences.
This method is reported to return CPMs that can be up to 10-times that of RTB prices for media owners, and in return delivers greater access to premium inventory for media buyers.
In an earlier piece for ExchangeWire, Ben Trenda, then iSocket CRO, explained the benefit of programmatic direct deals, ahead of ads sold via RTB.
He added: "When a user loads a page, the browser calls the publisher's ad server and essentially says, "give me an ad". So that ad server has to choose between serving a guaranteed ad that was sold by its direct sales team (probably to a high-value brand advertiser where there is a personal relationship on the line)—or call the SSP, exchange, DSP, or network ad tag and hope they sell the impression in an auction environment.
"If it does get sold, the publisher loses a lot of control and transparency, and usually price. It's a bird in the hand versus one-tenth of a bird in the bush."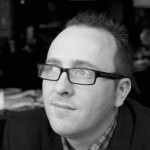 More recently, Ciaran O'Kane, ExchangeWire, CEO, also explained how  finding alternatives to auction-based trading models – namely programmatic direct deals – also benefited holding groups' media buying arms.
He argued: "Bid inflation means higher prices, which eats into margins. This is simply not the model they want to be involved in as it cuts out much of competitive pricing advantage they had built into already agreed trading deals – as well as adding another layer between it and the publisher which means more cost." 
Programmatic direct achieving scale
A recent eMarketer report documented media owners' growing willingness to explore selling their media outside of using RTB auctions, instead opting for "programmatic direct" deals in the US.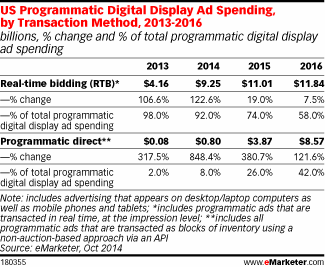 Although RTB will remain the dominant transaction method, accounting for 92.0% of programmatic ad dollars, or $9.25bn, in 2014 (see chart).
But from next year, eMarketer additionally forecasts that media trading using programmatic direct transactions will hit $8.57bn in value (or 42% of all US programmatic expenditure), representing 42% of the market.
Rubicon was unable to formally respond to ExchangeWire's queries on the move by time of publication, but well-placed sources claim the real value for Rubicon Project will be enabling it to tap into new geographic markets, especially in small- and mid-size markets where premium publishers may find it difficult to scale.
For instance, think of premium publishers in a market where the local population-size is limited, the automation of selling their premium inventory (potentially at a global scale through platforms such as Rubicon Project, or AdSlot) could enable them to significantly boost their bottom line.
For instance, Ad News reports that Australia (a country with a population of under 25 million) is one of the most progressive markets in the world for programmatic media, with programmatic direct trading models driving uptake among media owners.
In the press release announcing Rubicon's purchase, it was reported that neither company will contribute significantly to its bottom line within this quarter, but appealing to publishers in small-to-midsize territories such as Australia, etc, could significantly scale-up its operations, and bolster revenue.
MediaMath acquires Rare Crowds
Similarly, MediaMath reported the purchase of cross-screen audience matching provider Rare Crowds earlier this month in a bid to further its abilities beyond RTB, and retargeting, by boosting its ability to enable advertisers to better target new audiences.
Rare Crowds' open source technology, OpenAdStack, uses machine learning algorithms to find targeted media opportunities that are as close as possible to meet with a marketer's campaign goals and will be integrated into MediaMath's TerminalOne offering. Under the terms of the deal, Rare Crowds cofounder Eric Picard will take up the role of MediaMath VP of strategic partnerships.
In a record year for consolidation in the ad tech sector – an earlier report placed the number of ad tech deals at 209 in the first half of 2014 – each of the three latest deals represents significant tectonic shifts in the market.
To sum these trends up: Martech is encroaching upon ad tech; Publishers are more-or-less forced to embrace ad tech in the face of declining revenue;  And blind retargeting of users simply won't cut it any more, especially as online audiences leave their desktops in favour of wireless devices.
AdvertiserAgencyAnalyticsAPACattributionAustraliaAutomated GuaranteedCross-ChannelDataDigital MarketingDisplayEMEALATAMLocationMartechMedia SpendMobilePerformanceProgrammaticPublisherTargetingTechnologyTradingVideo