ExchangeWire on Grab's SPAC, Selling Streaming Logins, and China's "Excessive" Data Ban
by Grace Dillon on 16th Apr 2021 in Podcast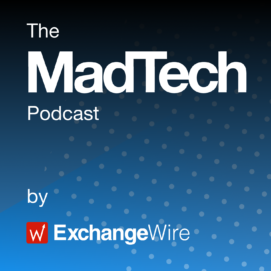 On this week's episode of the MadTech Podcast, ExchangeWire senior editor Mat Broughton is joined by head of content Lindsay Rowntree, and global head of partnerships Anne-Marie Sheedy to discuss the latest news in ad tech and martech.
Together, they cover:
– Southeast Asian 'super-app' Grab are going public in the US via a special purpose acquisition company (SPAC). The merger, backed by Altimeter Growth Corp., will give Grab a pro forma equity value of USD $39.6bn (£28.8bn), making the deal the largest of its kind.
The move will make Grab the most valuable SEA-based company to trade in the US. The Singapore-based firm began as a ride-hailing platform before transforming into a "super-app" that now provides services ranging from food delivery to ecommerce logistics and beyond. As noted by Axios, such apps are yet to crack the US market, where comparatively greater access to faster broadband makes "super-utility" platforms less essential than in SEA.
The move is puzzling to some who say Grab would have had as much (if not more) success by pursuing a traditional IPO, particularly considering that global authorities have become increasingly wary of SPACs. That said, there are yet to be any dramatic regulatory changes governing SPAC deals, and going public through such means still affords companies the benefit of selecting their own key investors without having to rely on investment banks. 
– Some consumers are experimenting with selling their streaming service login details. A survey of 1,000 adults conducted by advertising intelligence and brand protection company Red Points has found that 40% of respondents have sold their details login information, with 66% of 18-30 year olds admitting to having purchased someone else's details.
Social media platforms proved the most popular location for these exchanges, with almost 70% of sellers using them to flog their details. Ecommerce sites (64%), online marketplaces (56%), and end-to-end-encrypted messaging services (also 56%) also proved common places for such transactions, according to the findings.
Whilst doubtlessly going on for years, password-sharing has become a matter of growing concern for premium streamers, and is estimated to cost SVODs USD $25bn (£18.2bn) every year. Netflix (who are estimated to lose $6bn/£4.4bn a year from the practice) have announced their determination to stamp out account sharing by introducing measures to limit individual accounts to a single household. Yet many remain doubtful that the issue can be tackled so easily, and wonder how feasible it would be for Netflix and other streamers to police their users' details.
– China will ban apps from collecting "excessive" personal data from users from 1st May. Formerly a common practice within the country, developers will soon no longer be permitted to force users to disclose sensitive information, such as financial and biometric details, in order to access their services.

The move was announced with the publication of a document from four of the country's leading regulators – the Cyberspace Administration, the Ministry of Industry and Information Technology, the Ministry of Public Security, and the State Administration for Market Regulation – late last month. Whilst the change sounds dramatic, so far no details regarding how the new rules will be enforced, nor the penalties that developers should expect to face if they disobey, have emerged.

That said, the move compounds domestic tech companies' fall from grace with the Chinese authorities, with former national titans such as Tencent and Alibaba now finding themselves under increasing governmental scrutiny. The ruling Communist Party imposed tighter restrictions relating to data collection last December, as well as new antitrust laws to curtail the country's "platform economy", and derided Alibaba and Tencent as "anti-competitive" after Ant Group's disastrous IPO.

More curiously, however, is that the move comes as the state-backed China Advertising Association (CAA) lead efforts to bypass Apple's new ATT framework with their workaround, CAID. With this in mind, one might reason that this move may not truly be based on user privacy.
TagsAd TechChinaDataPodcastSPACStreaming