Ad Tech's Dilemma: Fragmentation vs. Consolidation
by Ronan Shields on 1st Sep 2014 in News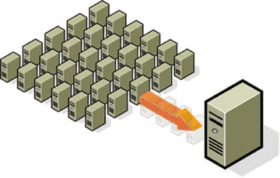 One of ExchangeWire's 'inside sources' shares their views on how the fragmented LUMAscape means  media teams cannot possibly evaluate suppliers in every category, plus the commonality of the history of ad tech and the rail network, including how consolidation under large media owners, or 'cloud' providers, could have a similar affect to nationalisation.  
There's no denying that the online advertising landscape has become increasingly fragmented over the past 10 years.  Arguably, it is within programmatic buying that we have seen the most fragmentation.
The LUMAscape
The display advertising LUMAscape details hundreds of companies, divided into 23 categories. Among those categories are the highly publicised agency trading desks (ATD), demand-side platforms (DSP), supply-side platforms (SSP), data management platforms (DMP), ad networks, measurement and analytics tools, verification and privacy tools, attribution solutions. 
These companies, such as Rocket Fuel, AppNexus, Criteo, Google, Amazon and TubeMogul all receive significant column inches in the trade press and occasionally make an appearance in the national press as online advertising becomes a topic of interest to the masses as well as media professionals.
The problem that has arisen is primarily that media teams cannot possibly evaluate all suppliers in all 23 categories.
Detailed evaluations of multiple solutions are usually confined to the parts of the media buying, measurement and analytics process that involve significant investment of budget and resources, that is, management platforms, ad servers and tag management/attribution systems. 
However, media buys are approached much more whimsically. All too often, choices are based on personal preference, previous relationships and hurried sales pitches. Media planners and buyers know that if campaign performance doesn't meet expectations, there is always another supplier round the corner who is willing to take the place of the incumbent. 
Recently, there have been hushed conversations about the need for consolidation of this vastly fragmented landscape. Consolidation would bring benefits including; economies of scale, simplicity and centralisation of data.
Why ad tech is not unlike the rail network 
However, there would be drawbacks too, such as; lack of choice, reduced innovation and a lack of transparency. There are many examples in history of industries going through cycles of consolidation and fragmentation, one that comes to mind is the British Rail network. 
From 1830 the first public railways were built and operated privately, they served as local transport links between towns. 
The rail industry saw rapid growth and within 20 years the majority of towns and villages in Britain had one or more rail connections. During the First World War the entire rail network was bought under government control and in 1948 following increased legislation and competition from road transportation systems the railways were nationalised. As usage increased the network became profitable. 
But by 1955, under increased competition from the road transportation system and having undergone costly regeneration works to replace steam power with diesel and electrical power the rail network was once again unprofitable. The desire for profitability meant a reduction in the network, many branches and networks were closed and unsurprisingly throughout the 1950s, 60s and 70s passenger numbers dwindled. 
Innovation, in the form of high-speed intercity trains in the 1970s and 1980s led to a revival in passenger numbers. The rail network had become more cost-effective for the operators. However, in order to increase passenger services further, the rail network was once again privatised, the movement being completed in 1997. Privatisation has led to an increase in passenger numbers, improved safety and increased services. 
Online advertising is today, where British railways were in 1914, essentially privatised. This freedom allows new companies to enter the market with innovative but often competitive solutions compared to those already on offer to marketers.
Although it is unlikely, nigh impossible that online advertising will experience privatisation in the same way as the rail network, we could see significant consolidation through acquisitions from the big players.
Will ad tech consolidate under the 'cloud' or media owners?
The most likely candidates to lead the charge are media owners and marketing cloud platforms. A topic discussed at length in this publication, and one that will be debated at this year's ATS London.  
Google has acquired DoubleClick, Spider IO and recently, Adometry. Yahoo has taken a more content driven approach acquiring Flurry, Xobni and Tumblr. Whilst Facebook has taken a more scattered approach recent additions to their stable of companies include WhatsApp, Atlas and Instagram.
We should not discount more traditional technology companies such as Oracle, IBM, Adobe and Salesforce, all of which have made several acquisitions in a bid to create 'Marketing Cloud Platforms' which have the power to significantly reshape the online advertising industry.
Oracle now has under its umbrella Responsys, BlueKai, Compendium and Eloqua. Salesforce has welcomed to the family Exact Target, Radian6 and Pardot. IBM now includes Silverpop, Unica and Xtifty. Adobe's shopping list has included Neolane, Efficient Frontier and Auditude. 
The idea of a 'Marketing Cloud Platform' is to centralise the management of marketing data and create personalised marketing campaigns, which is an extremely attractive proposition to marketers, but in reality extremely difficult to execute well as there are significant challenges to integrating numerous pieces of independently built software so that they work seamlessly. 
What way now?
Whatever happens, the online advertising industry is set to continue to grow and evolve – what direction that evolution takes is yet to be seen.
Marketers need to ensure that they continue to evaluate the opportunities that are available to them and make wise choices about the vendors they partner with. A successful partnership always begins with a common understanding of goals and truthfulness from all parties involved about their ambitions and capabilities. 
TagsAdvertiserATSCross-ChannelDigital MarketingDMPEnterpriseFacebookGoogleMartechMedia SpendProgrammaticTargetingTechnologyTrading