Viewability Record in UK; IAB Tech Lab Acquires DigiTrust
by Sonja Kroll on 27th Apr 2018 in News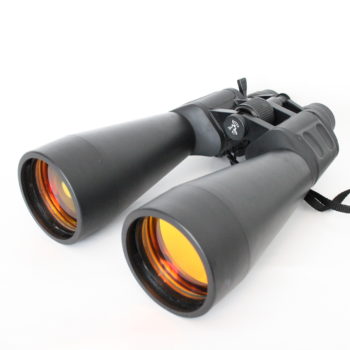 ExchangeWire rounds up some of the biggest stories in the European digital advertising space. In this week's edition: New Viewability Record in UK; IAB Tech Lab Acquires DigiTrust; MetaX Releases adChain Whitelist; USD$8m (£5.7m) Funding for Appodeal; and Fraudlogix & PubNative Partnership.
New Viewability Record in UK
Ad-viewability rates ​​in the UK have reached new heights, according to the latest quarterly benchmark report by Meetrics. In the first quarter of 2018, viewability rates increased from 56% to 59% with a view time of 25.8 seconds. For display advertising, half-page ads are the most effective, reaching 66% viewability at an average view time of 25.5 seconds.
"It's the highest level since our records began; and four straight quarters of growth is a reliable indication that the industry's efforts to tackle viewability are paying off", comments Max von Hilgers, CEO and co-founder, Meetrics. "Alongside this, campaigns are increasingly being optimised towards viewability and we've seen a drop in the number of impressions. This suggests a move towards more careful placements – a case of quality over quantity, not something the industry has historically been renowned for, but an encouraging sign for the future."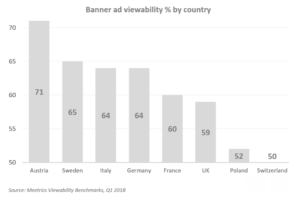 No time to rejoice just yet though: UK viewability figures rank only fifth when compared to other European markets. Austria leads the ranking with 71% viewability in the first quarter of 2018. Other major markets, such as Germany and France, rank just above the UK with 64% and 60% viewability, respectively. Lowest banner ad viewability was recorded for Switzerland at 50%.
IAB Tech Lab Acquires DigiTrust
The IAB Technology Lab has acquired industry consortium DigiTrust. The nonprofit, ad-tech collaboration body is responsible for a real-time standardised identity service that replaces the multitude of proprietary tracking mechanisms used on web pages.
The DigiTrust team will integrate into the IAB Tech Lab organisation, including Jordan Mitchell, founder and CEO, DigiTrust, who will concentrate on promoting DigiTrust and integrating the system into IAB, and returning back to where DigiTrust was initially conceived: "DigiTrust was born out of an IAB working group that I co-chaired and I'm thrilled to combine our efforts in support of this important initiative", says Mitchell. "Together we have a broader, more capable team, along with a more complete technology stack and governance model, to drive value and benefit across one combined global membership model instead of two."
"Both IAB Tech Lab and DigiTrust exist to create standards and software that benefit members worldwide", agrees Dennis Buchheim, senior vice president and general manager, IAB Tech Lab. "Audience recognition is central to ad relevance and effectiveness, privacy and consent, measurement, attribution, anti-fraud efforts, brand safety, and more. Our vision is to bring together Tech Lab's expertise and technical standards portfolio with DigiTrust's footprint, storage mechanism, and real-time services, to help move the industry forward in audience recognition, privacy controls, and more." Hence, the IAB Tech Lab is planning to implement DigiTrust technology and operations across its own standards, software, and services for the digital advertising and marketing ecosystem.
In his new role as senior vice president of membership and operations at IAB Tech Lab, Mitchell will additionally be responsible for the combined organisation's business development, member services, compliance programmes, and other operations.
MetaX Releases adChain Whitelist
Blockchain experts MetaX are suggesting a community-vetted and controlled whitelist of verified publisher domains to help clean up the programmatic ecosystem from fraudsters. Having tested the adChain Registry in beta for more than a year, the new blockchain-based mechanism is now live.
The idea behind the registry is that a whitelist provides advertisers with the names of safe websites. To vote on which publishers are allowed onto the registry, interested companies will buy and use adTokens. The information shared about safe domains is accessible to all. Advertisers will also have access to the contextual data surrounding each domain in the registry, allowing them to choose buy-side partners in real time.
MetaX says that the initial public candidate release period will last several months, giving the company time to monitor the system and receive user feedback.
USD$8m (£5.7m) Funding for Appodeal
More research and development for Appodeal: the app-monetisation platform has just received USD$8m (£5.7m) in funding. Led by ad-tech-focused venture capital fund Impulse VC, this is the second capital round since Appodeal's launch in the US in 2015.
With the new capital, Appodeal wants to tackle one the biggest issues in the industry and provide more transparency for mobile app developers, says Pavel Golubev, CEO and founder of Appodeal: "The ad-tech market is built in favour of advertisers, so our priority is to give the advantage to app developers who work hard to create awesome products, and should be rewarded for their efforts." Further investment is going into a new development office, which Appodeal is planning to establish in Minsk, Belarus.
Appodeal is an offshoot of Golubev's earlier game publishing company. Internally developing optimisation solutions for the company, Golubev eventually decided to provide his app-monetisation product to external developers as well.
Fraudlogix & PubNative Partnership
Mobile monetisation platform PubNative is teaming up with Fraudlogix in a bid to tackle ad fraud on PubNative's exchange. Bolstering their existing, internal measures with additional protection from Fraudlogix, PubNative wants to fight invalid traffic from fraud sources such as bots, malware, data centres, and compromised devices.
Fraudlogix' solutions are deployed pre-bid, filtering all traffic, Hagai Shechter, CEO, Fraudlogix, tells ExchangeWire: "Within the RTB programmatic ecosystem, in both desktop and mobile environments, there's been a push for transparency and improved quality throughout the supply chain. And it makes the most sense to fight ad fraud from the supply-side of the chain – the area closest to the source of fraudulent activity where large amounts of invalid impressions can be filtered out before they disburse into advertisers' campaigns."
Shechter is appealing to the supply side to clean up traffic. "It's much more effective and efficient to plug an oil spill at the source than to try to clean the individual rocks on the beach, which is what advertisers have been trying to do. Platforms and exchanges like PubNative – that have a lot of traffic running through their systems – are in a unique position to improve the overall quality of the ecosystem."
"As the ad spend on mobile overtakes desktop, and more brand advertisers make the shift to mobile, it is imperative to push towards a more transparent and brand-safe ecosystem", agrees Shreyansh Tewari, head of BI & Yield, PubNative. "At PubNative, we want to position ourselves as one of the safest and cleanest exchanges in the market. Continuing in our fight on ad fraud, we are happy to partner with Fraudlogix."
Ad FraudAd TechBlockchainDisplayEMEAMobileProgrammaticTransparencyViewability