Carolyn Bollaci, Country Manager for MediaMind Australia & New Zealand, On How Display Ads Can Deliver Performance And Efficiency
by Ciaran O'Kane on 23rd Feb 2012 in News 0 Comments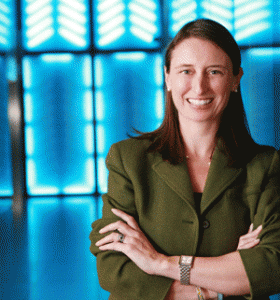 Carolyn Bollaci, Country Manager for MediaMind Australia & New Zealand shares some case studies on the effectiveness of data optimisation – a critical, but less known, factor behind the success of display ads. She also highlights how using data has shown an average lift in CTRs of 73%.
After years in the advertising doldrums, pulling meagre average click through rates (CTRs) of around 0.06 percent, it's interesting to see certain digital ads now regularly storming CTRs in primary and even double digits.
Data optimisation is a critical, but less known, factor behind the rebound of display ads. From our benchmarks as a global ad server, we regularly see that data usage for targeting and retargeting lift CTRs by an average of 73 per cent. Actual conversions increase by an average of 40 per cent, with as much as 389 per cent for some advertisers.
Data optimisation technologies work by calculating the many factors that determine a display ad's success, or failure. Like a race car's cockpit team, data optimisation technology can tinker and tweak with a live ad in order to nudge up its results, often significantly.
For instance, data optimisation technologies can detect which versions of an ad's creative are attracting the highest CTRs and optimise on those versions in real time. It can capture the characteristics of browsers most frequently clicking on an ad and dynamically refine the exchange media buys to mirror those. It can determine if certain ads perform better by region, by demographic or by media, or a combination of these, and optimise accordingly. Syncing data optimisation algorithms to ad serving technology is powerful and makes a real difference to the results of many ads.
Using data optimisation for retargeting can further boost results. Here, once browsers click on a banner or display ad through to the advertiser's website, ad server technology observes individual browsing patterns. With this data, it can re-serve ads personalised to individual browsing interests or buying intent to increase the chance of conversion.
So, if a user searches a Bali holiday through an online travel retailer, data optimisation picks up that purchase intent and serves the user display ads featuring latest Bali holiday deals from the travel retailer, if they leave the site without making a purchase. Once the consumer books a Bali holiday through the travel site, the ad server technology can adjust to serve display ads promoting complementary purchases, like deals on Bali hotels, local tours or travel insurance.
Essentially, data optimisation injects intelligence into ad serving to help deliver ads that are more likely to be relevant to people that view them. And this works to give display ad CTRs a real and much-needed boost.
Let me share some case studies.
Tourism Australia's global campaign 'There's nothing like Australia' allowed Australians to share their favorite local place or experience with potential tourists. The campaign developed multiple creatives but instead of distributing all creatives evenly, Tourism Australia used MediaMind optimisation algorithms to identify the best performing ad and then serve the winning ad the majority of times to encourage an even higher level of response. The result? The optimised placement achieved a CTR of 0.82 per cent while a similar non-optimized placement in terms of creative, publisher and size, recorded a CTR of 0.15 per cent — an improvement of 447 percent.
In another example, Goodlife Gyms' display ads to drive new memberships to its 40 gyms across Australia had recorded dismal CTRs for years. In 2011, the health club group ran an optimised campaign with MediaMind to only serve ads to people browsing health and fitness related sites who lived within a five-kilometer radius of a Goodlife Health Club location. Creative was customised by location, so users only saw display ads offering a free three-day pass to their local Goodlife Health Club. The result? Goodlife's online acquisition activity is 75 per cent more efficient and generates a far greater volume of new member sign-ups online than ever before.
MediaMind sees many case studies like these where data optimisation has improved campaign results. To us, this provides growing proof that display and banner advertising really can return to a new phase of profitability. This can only help encourage advertisers to invest more in creating compelling, relevant ads that lift results even further.
Carolyn Bollaci will be speaking at the ExchangeWire Ad Trading Summit (ATS) event in Sydney on March 13.
Learn How Media Buying Is Changing at ATS Sydney March 13 – EarlyBird Tickets Now Available to ATS Sydney March 13
Follow ExchangeWire APAC on @ew_apac
Join us on Linkedin: ExchangeWire: Ad Trading, APAC
TagsAd ServerAdvertiserAgencyAPACATSAustraliaCreativeDataDigital MarketingDisplayDSPMeasurementMedia SpendProgrammaticTargetingTrading DeskVideo