'Où sont les talents?' French Programmatic Survey Reveals Skills Gap Impeding Growth
by Ronan Shields on 28th Oct 2014 in News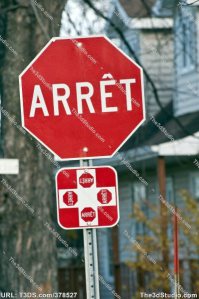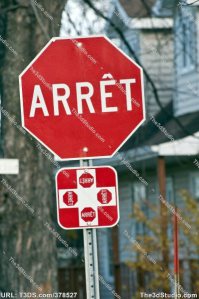 The French programmatic advertising sector is in buoyant health, spurred by a growing awareness of how data-led strategies can improve the efficiency of media trading, but a skills shortage prevents it from developing further, according to a survey ahead of this year's ATS Paris. 
The data comes in the first ExchangeWire European Programmatic Survey*, which offers insights into key industry trends for the following 12 months, and highlights the use of data, ability to formulate cross screen ad campaigns, and video inventory as important issues for the market.
Trends
In line with a lot of other Western European markets, advertisers' increased desire to conduct mobile and video ad campaigns across multiple devices is spurring the programmatic market, with data widely recognised as fuelling this drive.
When asked to suggest what they thought some of the key themes for the next 12 months would be, 21% of responses claimed 'mobile', while 20% claimed 'data', with 13% answering video (see chart, above). Other notable trends include 'transparency' with 9% of responses claiming this would play an important role in how the programmatic industry is shaped over the next 12 months.
This is probably explained by the existence of "Loi Sapin" in France (a statute requiring all companies that act as media sellers to inform the end-advertiser of the exact cost of media) extended from off-line media to include online transactions as well.
The results also indicate  a difference of opinion in the role that native ads (effectively commercial ads treated to look as similar to a publication's editorial content as possible, which itself raises debate over 'transparency') with 5% of responses citing it as a key theme for next year.
However, when asked directly if native advertising will be a "big thing" over the next 12 months, 50% said "no", while 42% responded "yes", with the reaming 8% undecided.
Appetite for data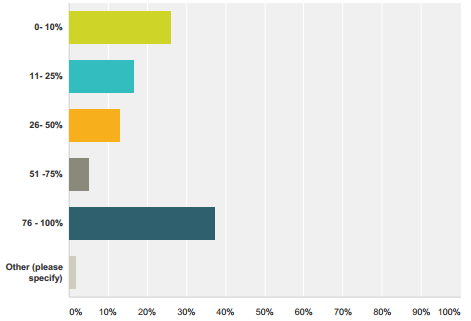 The survey – conducted earlier this year among a host professionals from different tiers of the industry – also reveals some disparate attitudes to programmatic. For instance, although the majority of advertisers in France participate in programmatic media buys, certain parties are still yet to buy into the technology.
Over a third (37%) of respondents claim 76-100% of their media buys are programmatic, but the next largest category of respondents, revealed that just over a quarter (26%) of French advertisers claim that 0-10% of such transactions are programatic (see chart above, right).
Similarly, 38% of respondents claim they do not sell or buy third-party data, whereas over two-thirds of respondents say they currently trade in third-party data. A further breakdown of the figures reveals that 28% buy third-party data, while 23% both buy and sell, with 16% claiming they sell third-party data (see chart, left).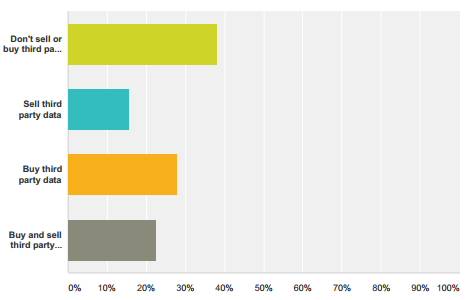 When asked if data will be an important part of their company's strategy over the next 12 months, almost half (49%) replied that it will play a "very important" role, with 30% claiming it would be "important" (see chart). The remaining 20% were less positive about how important a role data will play in their media trading strategies, with 2% claiming it was "not important".
Skills
This split in how each tier of the market works with third-party data can perhaps be explained by organisations' ability to set up organisational structures to make themselves primarily programmatic trading houses, as well a strong emphasis on protecting roles in the French media sector?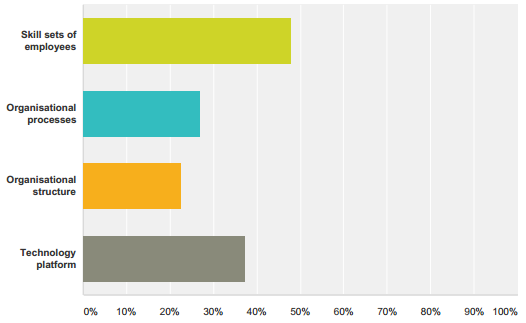 Almost half (48%) of respondents said said skills shortages were the biggest barrier to the optimal programmatic trading environment, with 37% responding to the same question answering technology platforms (see chart, right). Meanwhile, a combined 60% said that organisational processes (23%) and internal structures (27%) were the biggest hindrance.
The emergence of programmatic media trading technologies has previously been seen as a synonym for jobs cutbacks, with direct sales roles often seen as the media trading house's first casualties (i.e. larger teams of swashbuckling sales execs on lucrative bonus schemes, are slowly replaced by a more condensed team of IT engineers and data scientists).
Given that France is a famously protectionist mark, it is perhaps not surprising that 78% of respondents said direct sales teams will still exist within five year's time, and a further 8% saying they were undecided, with the remainder (13%) claiming they would not.
These findings were complemented by over 90% of respondents claiming that direct relationships with their trading partners as 'very important' (75%), or 'important' (17%), with the remainder placing less of an emphasis on them.
ATS Paris
Each of the issues highlighted above will be discussed at this year's ATS Paris scheduled to take place on 13 November with François-Xavier Pierrel, Facebook, Atlas, regional manager, southern Europe, discussing cross screen targeting without the use of cookies.
During a separate panel, Fabien Magalon, La Place Media, CEO, and Virgile Rault, Smart AdServer, demand partner manager, will discuss how programmatic technology, and data are reshaping digital advertising business models.
Meanwhile, a separate panel discussion will see Anne de Kerckhove, Videology, managing director, EMEA, and Grégoire Peiron, Google, head of media buying solutions, France, and AdX Buyside, SEEMEA, discuss the opportunity of using video ad units for branding.
The full ATS Pais agenda can be read here, tickets are still available but selling out fast. click here to avoid disappointment. 
*The survey results are based on the online responses of 115 participants; 35% of whom claimed to have been from ad tech vendors; with 29% claiming to be media owner; while 20% were representatives of trading desks; 6% were from direct advertisers; while 4% were from agencies; 7% claimed to have been from 'other' outfits.
Ad NetworkAdvertiserATSCross-ChannelDataDigital MarketingDisplayDMPEMEAExchangeMartechMedia SpendMobileNativeProgrammaticTargetingTradingVideo