JICWEBS & TAG Cooperate; German Authorities to Probe Ad Tech Providers
by Sonja Kroll on 2nd Feb 2018 in News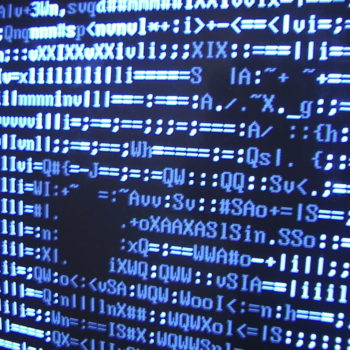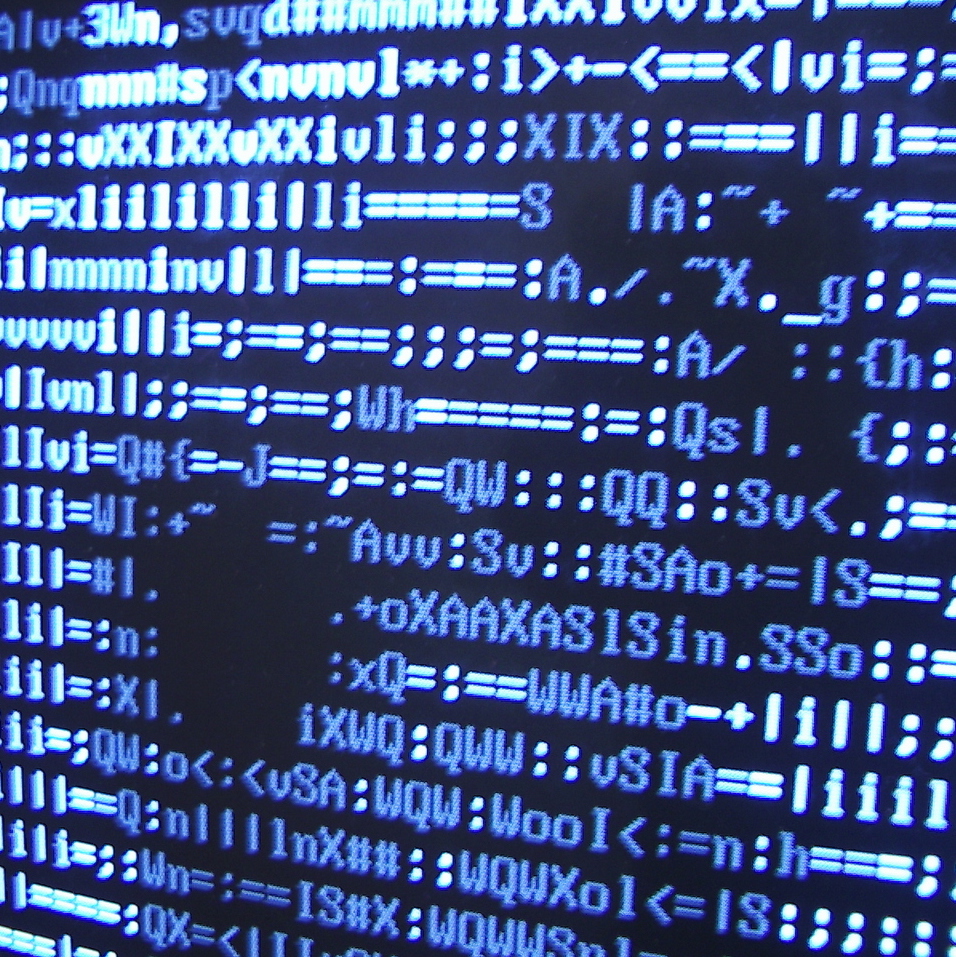 ExchangeWire rounds up some of the biggest stories in the European digital advertising space. In this week's edition: JICWEBS and TAG align for brand safety and antifraud initiatives; German anti-trust probe; Ads.txt on OpenX exchange; UK is largest data market in Europe; and Funding for ContentSquare.
JICWEBS & TAG Join Forces for Brand Safety & Antifraud Initiatives
The cross-industry standards bodies in the UK and US are combining forces in order to tackle brand safety and antifraud issues of the online advertising industry. JICWEBS and TAG are aligning their activities with JICWEBS continuing to lead brand safety efforts in the UK, while TAG is tackling thought leadership on fighting fraud, malware, and piracy.

Richard Foan, chair, JICWEBS, comments: "JICWEBS and TAG are both committed to raising standards in digital advertising, so it makes sense to create a consistent approach across the UK and US, which is what many from both the buy and sell side want. Initially, the partnership will offer a practical way for companies operating in the UK market to buy and benefit from both TAG's and JICWEBS' products, with the ultimate aim to fuse the best bits from both approaches to create a 'super' programme that maximises brand safety and minimises fraud."
"By working together, TAG and JICWEBS can ensure that UK advertisers have a clear and consistent approach to building brand safety while fighting fraud, malware, and piracy", Mike Zaneis, president and CEO, TAG, adds. "By reducing redundancy and harmonising the existing efforts, TAG and JICWEBS will be able to expand their efforts, increase adoption, and further protect the digital supply chain worldwide."
The cooperation is planned in three stages which will see JICWEBS offer TAG Registration in the UK market. JICWEBS' existing antifraud programmes will be merged into TAG's Certified Against Fraud programme by the end of 2018. Lastly, the two industry bodies' brand safety initiatives will be aligned by 2019. Until this combined programme is in place, TAG will endorse and promote the JICWEBS version to all existing and future members trading or seeking to trade in the UK.
German Anti-Trust Authorities to Investigate Online Advertising Sector
The German anti-trust authority has Facebook and Google in its sights. Considering the considerable market volume of online advertising in Germany alone, the Bundeskartellamt is to probe the ad tech sector with regard to the market structure and market opportunities, and whether walled gardens like Facebook and Google are distorting the online advertising market and creating unfair advantages.
Andreas Mundt, president of the Bundeskartellamt, comments: "Due to the great economic importance of this sector for advertisers and content providers active on the internet, and in view of discussions about the difficult competitive environment in this market, we have decided to examine this sector. Today, online advertising is a complex system of very different forms of advertising that is highly technical. One example of this is the fully automated real-time trade in advertising space. At the same time, large single companies with considerable market relevance like Google or Facebook have emerged that, in the view of some market players, have been able to set up closed systems, so-called 'walled gardens'. The issue of access to, and the processing of, data is also highly relevant from a competition point of view."
Starting with discussions with industry companies, the Bundeskartellamt plans to survey market participants and later publish a final report on the sector inquiry. The authorities are also planning to scrutinise the significance of technical service providers that offer visibility measurement, data collection, and fraud prevention, as well as ad exchanges etc.
OpenX Enforces Ads.txt Compliance
OpenX announces it will weed out unauthorised reseller traffic by applying strict ads.txt compliance to its exchange. Unless inventory is authorised by ads.txt files, reseller traffic that is not validated will automatically be blocked from the exchange.
"Ads.txt is bringing the industry one step closer to being fraud-free; and the rapid adoption of this initiative highlights the need in the market for solutions like these, while building confidence in the value of programmatic overall", says John Murphy, head of marketplace quality, OpenX. "We encourage publishers and advertisers to push for mass adoption of standards, like ads.txt, that allow them to hold their technology partners accountable."
According to OpenX's data, ads.txt adoption rates on their exchange are up from just 7% in August 2017, and now amount to more than 50% of the comScore top 1000 publishers. With mandatorry ads.txt compliance enforced over the coming weeks, OpenX warns that all unauthorised reseller traffic will be automatically blocked from the exchange from the end of Q1.
UK is the Largest Data Market in Europe
The UK data market is forecast to reach £1.1bn this year, according to OnAudience's 'Global Data Market Size' report. The continuing growth comes on the back of a 26.1% increase in the UK's data market value from £0.7bn in 2016 to £0.9bn in 2017.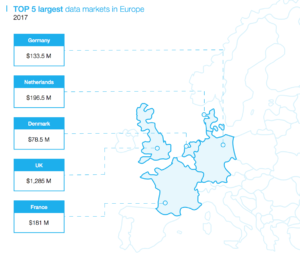 Compared to other European markets, the UK provides the biggest share of the data market: in 2017, the European data market was worth USD$2.4bn (£1.7bn) and is now slated to reach USD$3.2bn (£2.2bn) by the end of this year. With its projected value of £1.bn, the UK will be responsible for almost half (47%) of the total data spend in Europe in 2018. The second-largest data market is France (expected 2018 value: more than USD$247m/£173m), followed by the Netherlands, with USD$229m (£160m) in value. Germany comes fourth (USD$203.4m/142m£).
Together, the European data markets are expected to generate USD$18.2bn (£12.7bn) in data spend, which equals 18% of the total data spend worldwide and a projected value of USD$3.2bn (£2.2bn). The biggest data market remains the US, which On Audience expects to generate USD$11.4bn (£7.9bn) in 2018.
"Data has become the currency of 21st century. On the data market, there is a significant upward trend that we can notice at least since 2016. We can say that the need for data is growing simultaneously with the rate of digitalisation", says commented Maciej Sawa, chief commercial officer, OnAudience.com. "In highly developed countries, such as the UK or the US, there is a big awareness of benefits from the processing and monetising of data. This is why firms are more likely to buy and sell data – they are aware of profits generated thanks to the information collected."
ContentSquare Receives USD$42m Series B Funding
Tech provider ContentSquare receives investment to the tune of USD$42m (£29m) in its second financing round. Led by Highland Europe and new investors Canaan, Eurazeo, and H14, the new funding now brings ContentSquare's capital to USD$62m (£43m).
ContentSquare says the money is earmarked for further investment in AI-enabled technologies to help marketers, e-commerce professionals, and retailers gain insights into the buying behaviour of potential customers. This is also to help the company expand operations in Europe and North America.
The financing will be used to further expand ContentSquare's operations in Germany, Austria, and Switzerland in the shape of new offices, new hires, and new UX technologies. Speaking with ExchangeWire, Jonathan Cherki, founder and CEO, ContentSquare, details the plans: "We want to continue investing in technology, using data and AI to make it very easy for digital teams, not only to get insights, but to also prioritise and to focus on the right items to improve the customer experience, conversion, and engagement. Our focus is to turn something very complex into something simple, automated, and usable by every digital team member. We see the demand for our solution everywhere and we need to expand our operation especially in North America and other parts of Europe."
Ad FraudAd TechAds.txtBrand SafetyDataDMPEMEAExchangeInvestmentProgrammaticUK