Time To Reframe The Industry: Digital Media & Commerce Ecosystem
by Ciaran O'Kane on 27th May 2021 in News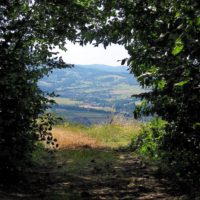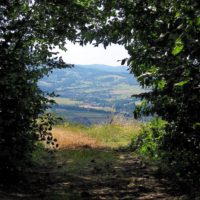 Facebook, Amazon and Google are unbeatable; just go and work for them. This is what the evolved part of your brain tells you on a daily basis. And, to a certain extent, it's not wrong given how many senior ad tech people are finding refuge with the monopolies. It's an easy life with free food - a place where you can coast until you are ready for your retirement. Yawn.
Now here is the counterpoint. Yes, in display advertising these three companies are an unbreakable economic barrier, capturing all the growth in our industry. But people need to understand that the addressable market for ad tech is so much bigger than these monopolies.
In the conclusion of my three-part series, I take a look at the final section of our new-look ecosystem map, namely the digital and commerce landscape - and why there is upside beyond the aforementioned companies. If you haven't already read parts one and two, or seen the map, you can find them here:
Part One: The Service Layer
Part Two: The MadTech Middleware
I could easily do a post on each of the areas listed below - and I probably will over the course of the year. It is important to add a caveat to these posts: these are just some areas where I think there is either untapped growth or a reasonable chance for independents to build good businesses. There's always a chance I might have overlooked an important area of the ecosystem. If so, get in touch.
First-party publishers, platforms, and the meta-walled garden
Any platform that has first-party data at scale is going to be a strong proposition for marketers. From the likes of Ozone, to Asian super apps, to as-yet-unknown-utility-publishers, this segment is going to attract that 20% of spend.
- Meta walled gardens
There is a growing realisation that buyers are looking at a walled-garden-first ecosystem. We have all read the editorials which state that the walled gardens are closed systems, where data goes in but very little comes back. The industry is going to have to get used to more closed systems, as third-party identifiers and cookies get blocked by browsers and platforms. I see the emergence of walled gardens within walled gardens that either leverage a first-party device ID or lean heavily on logged-in data. iOS is now a walled garden. With the introduction of ATT, it is restricting third-party app buying. The graphic below illustrates what a meta walled garden will look like.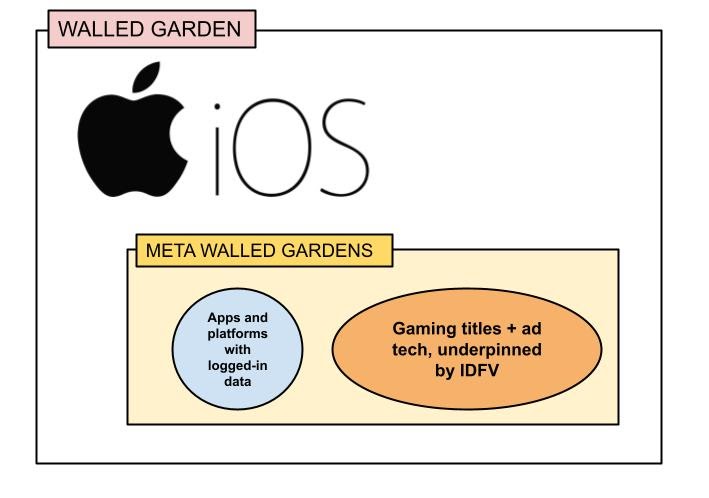 The FLoC web
For most, this will become the only way to buy and sell ads on the anonymous web. I think people will find it impossible to wean themselves off Google's measurement and targeting offering. Most won't bother. And who could blame them. But there are always inherent dangers of just focusing on a Google-owned metric. Especially when the same company is your competitor. It must also be remembered that this is Google's view of the anonymous web. Can you really ignore a sizeable portion of the web not logged into Google products?
Commerce media
Amazon is the 800lb gorilla that has a vice-like grip on the online commerce space. But, outside of the US, there are a huge amount of ecommerce platforms and marketplaces. It's an untapped ecosystem for service layer and madtech middleware companies alike. Measurement, targeting, custom creatives, and first-party media aggregation will be big opportunities for all.
Gaming
I don't think gaming can be bucketed into a channel, given that it is just as affected by cookie- and ID-deprecation as everyone else. ATT is going to affect gaming marketers, taking its toll on third-party buying. I do see three key areas for gaming growth:
- In-game advertising
This is arguably the hottest area of ad tech, with a lot of VC cash being invested in companies looking to scale the in-game opportunity. It has unique challenges with regard to brand safety, targeting, and measurement. But these are good growing pains to have as this burgeoning channel looks to attract brand spend. If vendors can make measurement and performance work for marketers, it will scale big.
- The CTV gaming opp
As platforms like Roku look to build out content, gaming could easily become the killer app for AVOD. I think sub-prime TV content, such as the so-bad-it-is-good Hunter, will not attract the type of scale necessary to realise the lofty ambitions of CTV. Casual gaming apps could become a mainstay - all monetised by ad tech.
- Beyond IDFA and the Google ID
Third-party buying across iOS - and very soon, Android - will become all but impossible this coming decade. Instead we will see exciting first-party solutions emerge. These new offerings will be significantly scaled, bringing together first-party data assets, gaming titles and ad tech.
Google
It is the ultimate walled garden, leveraging its tech assets to crush all. I don't need to list Google's core media properties as we already know them in detail. Its USD$100bn (£71bn) ad business keeps growing. But it has headwinds - it is under intense scrutiny, and is the subject of a number of antitrust cases. It will be hard going, especially in the current privacy push. Thankfully, it is weak in a number of new channels, but it's still hugely important to everyone - particularly for YouTube, search, and anything third party in display advertising.
Facebook
The walled garden everyone loves to hate will remain strong, and will use ATT as an opportunity to leverage its owned-and-operated properties to build more media hooks for users. You will probably see more gaming companies hosting their games inside Instagram and Facebook to get better yields on targeted ads. Like Google, the company is in the spotlight, but its biggest existential threat comes from new solutions, like TikTok, that are stealing the next generation of Facebook users.
Amazon
As more brands look to sell online, Amazon becomes the perfect mouse trap, offering a scaled online marketplace with a marketing platform to push sales. The perfect attribution system.
Apple
You cannot ignore the Apple ecosystem. It remains the home of the most affluent consumers on the planet. You need to figure out how to navigate iOS ATT rules. And FLoC will not be the silver bullet.
TikTok
The company has been mired in controversy for the last three years. But it hasn't stopped growing. The go-to Gen Z platform is now reaching beyond this demographic. It's the biggest challenger to Facebook's global dominance - as its user base ages and matures beyond UGC. If I were in the service layer, this is the platform I would be wholly focused on.
CTV
The shift in spend from legacy TV to CTV has begun. A multi-billion dollar/pound/euro move is underway as consumption habits change. Google is shunned by most broadcasters because of its CTV competitor, YouTube.
DOOH
The OOH future is very much a data-driven one. Most inventory will go digital. Again it is an ecosystem that will undergo huge transformation. Another Google-free zone.
Audio
Like TV and OOH, audio is a legacy space that is experiencing transformation. Spotify is trying to own the digital audio segment but legacy players will also have a compelling offering for users. Again for the most part, a Google-free zone.
Emerging Channels
There is always an emerging media channel somewhere. In-gaming ads seem to be in vogue right now. But keep an eye on the VR and AR space. It might well develop into something bigger in the coming decade.
China
China's ad ecosystem is unique. It is dominated by a number of major China-only platforms with different local metrics. There is no way to buy via a traditional Western DSP. Instead you need to partner with either a local ad tech solution like iPinYou, or with an array of Chinese walled gardens. This isn't a simple plug-and-play option. There is a huge managed-service element to it. China is the biggest market opportunity of the decade. Every agency will likely have a China media plan for big clients. If you feel a pivot coming on, China would not be a terrible option.
Telcos
This might seem like a ridiculous addition here, but I still feel telco data has a role to play in powering some part of the privacy-first ecosystem. There are a bunch of companies working with telcos to bring this to next-gen measurement and targeting solutions. There are likely to be very few ad tech acquisitions by telcos - given the poor track record for these types of deals. Partnerships will be the mantra for this decade; not big ad tech rollups.
---
The current view of the digital media and marketing ecosystem is outdated, failing to reflect the wider opportunities for everyone. There is far too much focus on web-based display and video - as well as a stifling obsession with Google and Facebook.
At ATS London this year, we will be reframing the future of this industry with discussion and presentations over two days, going into more detail about the proposition I've sketched out in this three part series. We ask you to join us in November for our biggest, and most important, ATS event yet.
AppleCTVDOOHE-CommerceFacebookGoogleIDIdentityPost-Cookie