The Promise of Cross-Device Attribution
by Rebecca Muir on 8th Dec 2016 in News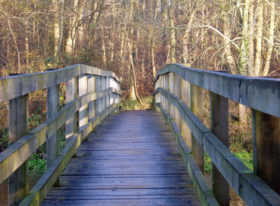 Cross-device tracking and attribution has been a problem for marketers ever since smartphone and tablet use became mainstream. The conundrum that markets face is how to allocate budget across desktop, tablet, and mobile channels when they cannot calculate ROI accurately. Without cross-device tracking on a user-by-user basis, brands may well be targeting the same person many more times than they realise. Not only is this costly, it's annoying. 
According to research published by GlobalWebIndex, the typical digital consumer now owns 3.64 connected devices. The infographic below shows variation across different demographic segments.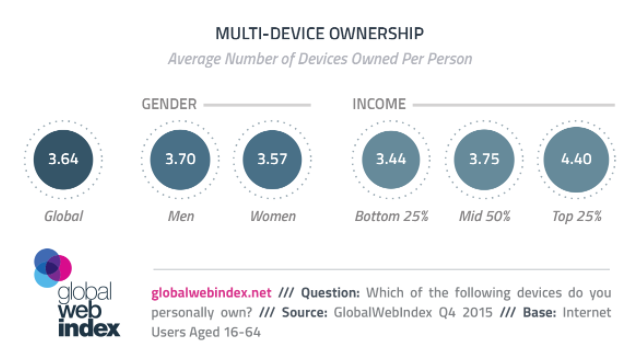 Various studies have teased out the extent of the shift in consumer behaviour that has led to the need to solve the problem of cross-device attribution sooner rather than later.
– 89% of agency employees say that "not being able to track cross-device campaigns is holding back the growth of mobile", according to IAB Mobile Agency Snapshot Study, 2015.
– The average UK consumer shifts their attention between their smartphones, tablets, and laptops 21 times in one hour, found OMD UK's Future of Britain report.
– 50% of e-commerce transactions worldwide involve a cross-device purchase journey.
– 44% of US users who use multiple devices in the path to purchase convert via smartphone. This compares to 46% via desktop and 43% via tablet.
– 46% of UK e-commerce transactions come from mobile, according to the Q3 2015 State of Mobile Commerce Report by Criteo.
Success for Monarch Airlines
Monarch Airlines, the global flight operator, have seen a 35% lift in display ROI using cross-device marketing technology solutions powered by a new partnership between Flashtalking and Tapad.
The partnership incorporates Tapad's Device Graph into Flashtalking's fractional attribution modelling platform, Encore. Through this seamless integration, Flashtalking is delivering new insights to cross-device marketers and their agencies. The partnership delivers a unified view of the customer journey and the ability to efficiently optimise the process. At a time when cross-device is on the radar for many brands, the partnership is already delivering valuable cross-device insights for forward-leaning marketers.
Robert Foulkes, senior digital and marketing manager, Monarch Airlines said: "Both desktop and mobile play important roles in the customer journey. As such, the need for accurate, cross-device insights is critical. By analysing the cross-device customer journey, we can measure and optimise media investments with even greater confidence."
The benefit of combined capabilities
By combining probabilistic device ID with Tapad's Device Graph, the technology companies have been able to build a complete graph of proprietary IDs. This graph becomes a tool for multi-touch attribution, a must-have for today's brand marketing professionals seeking the ability to attribute performance across devices at the user level.
Monarch Airlines have seen the following benefits from this approach:
– 42% of converters were matched to the Tapad Device Graph
– 61% of matched converting IDs were bridged (>1 browser ID)
– Among converters, there were 2.0 browser or device IDs per user
– Unifying data resulted in a 35% lift in Display ROI*
"Tapad's cross-device technology will allow Flashtalking clients to measure the consumer journey in a unified way across devices", said Pierre Martensson, GM of Tapad's data division. "As Monarch deftly has illustrated, a fully-integrated cross-device strategy can have game-changing effects on understanding the customer journey."
"We're thrilled to deliver this solution to both Flashtalking and Tapad clients", said Steve Latham, GM, Encore by Flashtalking. "Integrating Tapad's Device Graph into Flashtalking's platform enables us to deliver cutting-edge, cross-channel insights that, until today, have been beyond the reach of most brands.'
TagsAd TechAdvertiserAnalyticsattributionBrandingCross-DeviceDigital MarketingDisplayMeasurementMedia SpendMobileProgrammatic