Mobile & Video Fuel AU Ad Spend; Sports PMP Opens Up in SEA Markets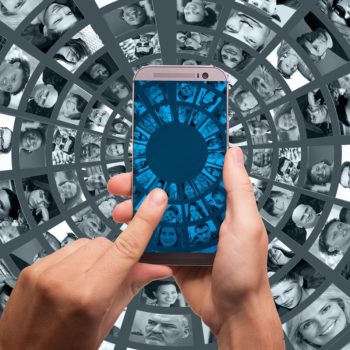 In this weekly segment, ExchangeWire sums up key industry updates on ad tech from around the Asia-Pacific region – and in this edition: Mobile & Video Fuel AU Ad Spend; Sports PMP Opens Up in SEA Markets; IAS Acquisition Will See Continued APAC Investment; Data-Sharing Platform Opens in Singapore; and JWT Takes Verve to Indonesia.
Mobile & Video Fuel AU Ad Spend
Online ad revenue in Australia hit AUD$2.1bn (£1.19bn) in the first quarter, fuelled primarily by video and mobile.
Mobile and video ad revenue climbed 39% and 38%, respectively, over the same quarter last year, according to the latest figures from IAB Australia and PwC's Online Advertising Expenditure Report.
Mobile ad spend, though, dropped in the quarter to AUD$909.1m (£515m), after registering a record growth in the previous quarter during the holiday retail period.
Total digital ad revenue grew 13% year-on-year, with video churning AUD$320m (£181.28m) and accounting for 42% of the General Display ad category.
Overall, General Display ad revenue increased 20.3%, while Classifieds grew 11.2%, and Search climbed 8.8% year-on-year.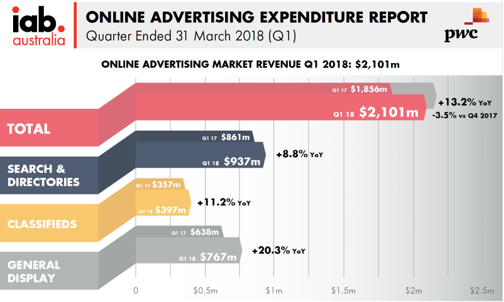 IAB's director of research Gai Le Roy said: "Our market is chameleon-like, mirroring the significant shifts in consumer behaviour towards mobile and video; so it's little surprise to see an increased investment in these formats. While it's likely we will see a continued softening in some of the more established digital ad revenue streams, we fully expect mobile and video advertising will continue to surge as marketers explore and challenge the possibilities of digital to build trust and reputation for their brands."
Automotive advertisers in Australia remained the largest spenders on digital display ads, contributing 18.3% of overall expenditure. The FMCG sector grew its contribution in the video ads segment to account for the largest share at 12.2%.
Search and Directories accounted for the largest share of Australia's online ads, at 45% and AUD$937m (£530.8m). General Display contributed 36% and AUD$767m (£434.5m), while Classifieds accounted for 19% and AUD$397m (£224.9m)
Sports PMP Opens Up in SEA Markets
PubMatic and Publicis Media have launched a private marketplace (PMP) across five Southeast Asian markets, focused specifically on sports audience segments.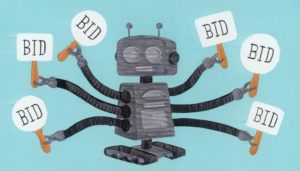 Initially available in Singapore, Indonesia, Thailand, the Philippines, and Vietnam, the platform would be expanded to include other markets in the region, according to the two partners.
The launch was aligned with the upcoming World Cup in Russia, which is expected to usher in a flurry of marketing activities.
Publicis' Asia-Pacific managing director Jonathan Mackenzie said: "While programmatic private marketplaces offer greater assurances of better-quality inventory, they still need to improve to gain the confidence of advertisers and planners alike. Whether it is more reliable pacing and delivery, or greater scale when combining inventory and data, there is still a bit of a way to go."
The agency's Asia-Pacific product director Janet Leung added that the partnership would offer advertisers "exclusive data" as well as "contextually relevant" sites.
IAS Acquisition Will See Continued APAC Investment
Vista Equity Partners' acquisition of Integral Ad Science (IAS) will continue to drive the latter's investment in Asia-Pacific, says a regional company executive.
Noting that the industry in the region, as well as worldwide, faced challenges related to brand safety, viewability, and ad fraud, IAS's Asia-Pacific managing director Stephen Dolan said: "Asia-Pacific has been a huge source of growth and investment for the company. With Vista's support and resources, IAS will be able to continue to invest in the Asia-Pacific market and build solutions that can help protect and grow customers' brands."
A private equity firm, Vista this week purchased a majority stake in IAS, adding another to its investment crop of ad-tech and martech companies that include Marketo and Mediaocean.
The transaction is expected to close in the third quarter.
Data-Sharing Platform Opens in Singapore
Australian data-sharing platform Data Republic has set up a new office in Singapore as part of its expansion into Asia-Pacific.
The new outfit would enable organisations in the city-state to license the vendor's Senate Platform, it said, referring to its flagship product touted to enable businesses to keep track of data moving in and out of their organisation. With the platform, companies could establish approval workflows for internal and external users, govern data requests, and customise visibility of datasets.
Data Republic's co-founder and CEO Paul McCarney said: "Our technology is already trusted by some of Australia's largest banks, airlines, and governments to effectively govern privacy and data-security risks while sharing data; but we recognise that maintaining this balance between data liquidity and privacy is a global challenge. Given our growth, and the demands of our global clients, expanding to Singapore makes sense."
JWT Takes Verve to Indonesia
J. Walter Thompson (JWT) has launched its PR agency brand, Verve, in Indonesia, which will be led by managing director Harry Deje.
The move was made to support growing demand in the country and came after the integration with JWT Bangkok, the company said.
JWT's Indonesia group CEO Marianne Admardatine added: "As part of JWT Company's transformation, and in the spirit of collaboration within the group, we complete our holistic service offerings by introducing Verve to the industry. This is a milestone for JWT Company in Indonesia, to have a PR arm for the very first time since its establishment in the country."
Deje, who reports to Admardatine, was previously business director of Edelman Brands Indonesia.
Ad TechAdvertiserAgencyAPACAustraliaDisplayMeasurementMedia SpendMobilePMPProgrammaticSingaporeSoutheast Asia