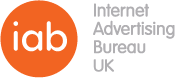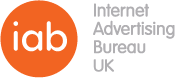 ExchangeWire Research's weekly roundup brings you up-to-date research findings from around the world. In this week's edition: IAB Digital Ad Spend study finds 23% of digital is spent on mobile; Millennial Media's SMART report; Nielsen's Digital Landscape Survey; Tribune Media VP study finds division among publishers; Pulsepoint's Programmatic Intelligence Report.

IAB finds advertisers priorities mobile & social
The IAB's UK arm this week published its annual ad spend study, revealing that mobile accounts for almost a quarter (23%) of all digital spend, and up to 56% of all spend on paid-for social media.
The survey, conducted by PwC, examined advertiser budgets in the second half of the year, and found that mobile helped propel social media ad spend to increase 65% year-on-year during the period, with total UK digital ad spend amounting to £7.2bn, according to the study. This total ad spend figure represents an increase of almost £1bn (£936m), compared to a year beforehand.
Search marketing is still the biggest paid-for digital ad format, climbing 8.7% to hit £3.77bn during the period, with online display advertising accounting for 26.4% of total digital ad spend to hit £2.27bn during the period.
Meanwhile, investment in content and native advertising spend hit £509m, as spend on video ad units surged 46% to hit £442m during the period, while mobile video alone grew 142% to hit £154m.
Tim Elkington, IAB, chief strategy officer, UK, said: "Display advertising's record share shows marketers are increasingly seeing online as a viable 'brand awareness' ad medium – as with traditional media – not just one for generating an immediate 'direct response'. The internet has been characterised as the latter since the start due to its unrivalled measurability, but this shows online advertising has come of age."
'Brand awareness' is the chief goal of mobile advertisers
Similarly, this week also saw mobile ad network Millennial Media unveil observations of trends on its network from 2014 via way of its 2014 SMART report, which revealed that advertisers are starting to see mobile ads as an opportunity to build brand awareness, not just drive traffic to their websites.
The figures show that last year was the first time that 'building brand awareness & engagement' was the chief priority among advertisers that booked a campaign on its network, with 37% of campaigns booked to achieve this goal, according to the study.
This represents an increase from 22% the year beforehand, when driving 'site/mobile traffic' was chief among advertisers' aims. This has been driven on the whole by advertisers' eagerness to capitalise on the growing number of consumers' engaging with media-rich ad formats – such as videos – on their mobile devices (both smartphones, and tablets).
Consumers Who Watch Mobile Video
Growth in watching video on mobile devices is coming from mobile users of all ages, but the largest year-over-year growth was seen from those 35-64, which increased an average of five percentage points from the previous year, according to the study (see chart, right). As a result, 59% of ads served on smartphones last year employed video, according to Millennial Media.
Nielsen identifies competition for eyeballs goes cross-screen
The Nielsen Global Digital Landscape Survey was unveiled earlier this month revealing how in a multi-screen world, users are consuming media on their own terms, rendering the traditional 'broadcast models' increasingly redundant, as almost two-thirds (64%) of respondents claiming they now watch 'time-shift' programming.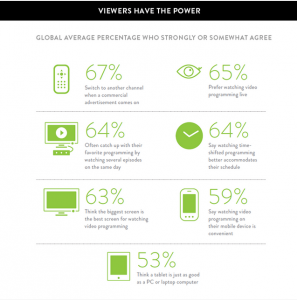 The survey, which polled over 30,000 consumers online across 60 different countries around the globe, found that (76%) of respondents in a Nielsen online survey of digital attitudes and behaviors say they enjoy the freedom of being connected anywhere, anytime.
However, while this flexibility can be a benefit to us, it represents a huge challenge for brands and content providers vying for increasingly fragmented audiences' attention (see graph for further findings).
Academic study finds divided opinions over programmatic impact
Bill Ammerman, Tribune Media, VP, this week discussed insights gleaned from primary research for his MA study with AdExchanger, revealing that 46% of publishers surveyed 'felt mixed', or 'didn't know' about the impact of adopting programmatic media buying technologies on their bottom line.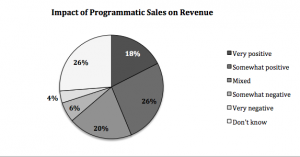 The findings (see chart) found that overall, publishers were positive about programmatic on the whole, with nearly 44% claiming that programmatic was having a very positive or somewhat positive impact on their revenue, compared to only 10% who responded either somewhat negative or very negative.
The study reads: "Small publishers were most likely to choose 'Don't know' followed by 'Mixed' as their top choices, making them the most ambivalent group. They still leaned either very or somewhat positive (22%) versus very or somewhat negative (13%).
"Medium publishers skewed the most positive, with 75% either very or somewhat positive versus only 6% very or somewhat negative. 71% of large publishers were either very or somewhat positive, with none on the negative side."
Pulsepoint: 'Programmatic ad spend rose 141% in 2014'
PulsePoint this month released a whitepaper based on activity on its network finding that mobile programmatic inventory and ad spend increased significantly in 2014 and will continue to grow exponentially over the next three years.
The company's findings state that in 2014, programmatically traded inventory and overall digital ad spend increased 72% and 141% respectively, and additionally claimed that as Europe and Asia ramp up programmatic buying, they have the benefit of learning from early challenges and innovations made in the US, including targeting options beyond the cookie. (See chart below for additional insights.)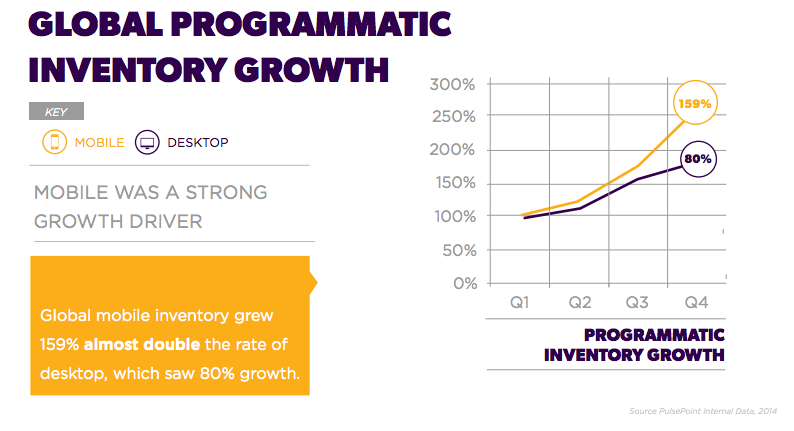 AdvertiserCreativeCross-ChannelCross-DeviceDigital MarketingDisplayEMEAExchangeWire ResearchMedia SpendMobileNativeProgrammaticRegulationSaaSSSPVideo