Google's 'Blatant' Walled Garden Must Come Down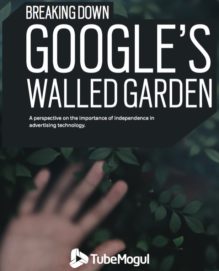 No ad tech vendor should stop advertisers from exercising their right to know how their money is being spent; and to use the necessary tools to measure the returns on their investment.
This is why Google's attempts at building a walled garden in the advertising realm must be stopped, according to TubeMogul. The video ad services provider last week launched a global campaign, dubbed 'Independence Matters', detailing how Google was building walls to "secure its financial future and position of influence".
"Google's regime is protected by implementing procedures and software that strictly control the data they let into their platform and, more importantly, the data they let out", TubeMogul said. They added that the Mountain View-based tech giant had made a "conscious decision" to cordon itself off from the rest of the industry.
While it acknowledged that Google had a right to do as it pleased; TubeMogul was hoping to galvanise advertisers and steer them away from using the former's platforms through its global campaign.
So, why pick on Google, when some in the industry have pointed to other walled gardens in the industry? Because it was the "most blatant" in its efforts to build one, said Ryan Levitt, TubeMogul's global communications manager; pointing to how Google restricted the use of third-party ad verification tools, for instance, to monitor on-target audience data and fraudulent traffic.
Speaking to the media in Singapore, after the launch of the company's campaign, Levitt said there should be a clear line between Google's role as an ad tech vendor and a publisher. "That's why we don't own any inventory", he added, referring to the company's sole focus on the buy-side.
According to TubeMogul, advertisers on Google's platforms were limited in the types of first-party data they could port and use to target audiences. Google also limited access to inventory sources, such as social networks, which made cross-channel campaigns, retargeting, and frequency capping outside its networks difficult.
"Google's walled garden complicates true cross-channel advertising by limiting access to important inventory sources and compartmentalising data", it noted. "Open ecosystems were built with the dream of fluid cross-channel campaigns that share data and launch the industry forward. The two philosophies could not be more opposed."
Advertisers prefer to participate in open ecosystems
Another vocal proponent of open environments is AOL, which espouses openness as one of four key traits driving the organisation.
"This [industry] isn't a walled garden", said Graham Moysey, AOL's head of international, who was speaking at the launch of the company's '2015 State of the Video Industry' report last week. He noted that an open, modular platform would enable advertisers to plug in any component they choose – even if some of these were not offered by the platform provider.
Asked about his thoughts on TubeMogul's campaign against Google, Moysey said it was the former's prerogative to embark on such initiatives. Speaking to ExchangeWire on the sidelines of the event, he was careful against affirming any direct support for the campaign; but noted that TubeMogul's objective was to help advertisers make decisions in an environment that was not closed.
"Obviously, we subscribe strongly to this philosophy of openness and believe data is the currency we should focus on", he said. "Our experience has been that there's a lot of momentum among advertisers that want to participate in an open, rather than closed, environment."
Alex Khan, AOL International's Asia managing director, added that there was a level of understanding among agencies and advertisers in the Asia-Pacific region that there were other options outside Google's ecosystem, which would allow them to create campaigns that fit their requirements.
100% viewability a 'myth'
Whatever those objectives may be, marketers should avoid being lured into promises of 100% viewability.
According to Levitt, any claims of 100% viewability were nothing more than "a mirage or myth", and should itself be verified. He said there were ways to game the system to clock that figure; such as configuring video ads to autoplay on a website, or play silently at the bottom of the page where it remained out of the viewer's eyeline.
Rather than 100% viewability, brands now were asking for the industry standards on viewability to be reviewed and determined, he noted.
According to AOL's 'State of Video Industry' report, CTR remained the most popular measurement among respondents in Southeast Asia. Conducted by Hall & Partners, the online study polled agencies, publishers, and brands in Singapore, Hong Kong, Indonesia, Malaysia, and Thailand.
Some 64% of media buyers in the region relied on CTR to measure the impact of their digital video ads, compared to 52% in the US.
Brand lift, however, ranked as the second most popular measurement among Southeast Asian respondents, compared to fifth in the US.
Noting that this was a positive step forward, Khan said companies in the region were finally starting to recognise the importance of brand lift and audience engagement, as opposed to whether someone had clicked on their ad.
Google did not respond to ExchangeWire's request for comment.
TagsAdvertiserAgencyAnalyticsAPACCross-ChannelGoogleMedia SpendProgrammaticPublisherTargetingVideoViewability