India Consumers Still Stuck on Traditional Media; IAB AU Take On US Podcast Ad Metrics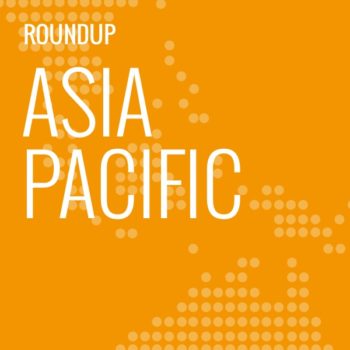 In this weekly segment, ExchangeWire sum up key industry updates on ad tech from around the Asia-Pacific region – and in this edition: India consumers still stuck on traditional media; IAB AU take on US podcast ad metrics; Tencent 3Q2016 online ad revenue hits £869.56m; Omnicom tune into audio ads in AU; Dentsu snap up e-commerce services provider; BBDO offer free services to Chinese startups for a year; and ironSource open up in India with OMG partnership.
India consumers still stuck on traditional media
Indian consumers still prefer traditional media to digital, with the average adult spending 2.5 hours a day on non-digital platforms including TV, radio, magazines, and newspapers.
In comparison, they spend on average 1 hour and 6 minutes a day on digital media, according to estimates from eMarketer.
The marketer researcher added that while the amount of time spent on digital media was increasing, this was unlikely to be on par with traditional channels within the next couple of years.
The figures, though, might not accurately reflect actual time spent online since India's population remained largely offline, eMarketer said, noting that only 29.4% in the country used the internet on a monthly basis.
"So, while the average adult spends just 46 minutes each day with the internet, the average internet users spends 2 hours and 25 minutes – that is almost as much time as the average adult spends with traditional media each day", it said.
eMarketer's forecasting analyst Chris Bendtsen added: "Among those who have access to the internet, time spent rises sharply but still falls behind other advanced nations. As internet speeds and connectivity improves in India, we expect that time spent on the internet will eventually rise to the levels seen in other countries."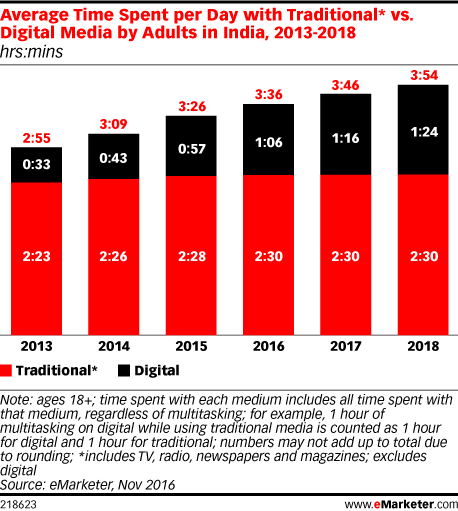 IAB AU take on US podcast ad metrics
After a review, Interactive Advertising Bureau (IAB) Australia have announced their endorsement of the US bureau's guidelines for podcast ad metrics for the local market.
This would offer better guidance for the Australian ad community, where 40% of agencies already have tried out podcast advertising and another 30% are planning to do so in the next 12 months.
IAB Australia CEO Vijay Solanki said: "Podcasting isn't just a global phenomenon; it's an Australian one with a growing number of podcasters and millions of downloads a month.
"Currently data and analytics is in its infancy, but companies like Omny and others are helping to change that and the growth of audio programmatic will make it easier to drive commercial value from podcasts", Solanki said. "As this commercialisation expands, the IAB will be doing more around developing best practices for audience measurement and ad metrics."
By standardising the way podcast ads – online and offline – were measured, the guidelines aimed to improve overall quality and establish stronger buyer confidence, IAB Australia said. This also would offer advertisers "a closer parity" to data extracted on other mediums.
Tencent 3Q2016 online ad revenue hit £869.56m
The Chinese internet giant saw their third-quarter 2016 online advertising revenue grow 51% year-on-year to reach 7.45bn yuan (£869.56m).
Their performance-based ad revenue increased 83% to 4.37bn yuan (£509.9m), fuelled largely by higher ad revenues from their social media feed Weixin Moments, mobile news app, and Weixin Official Accounts.
Brand display ad revenues climbed 21% to 3.08bn yuan (£359.66m), pushed by growth in Tencent's mobile platforms, including Tencent News as well as spillover impact from the Rio Olympic Games.
The Chinese company said their location-based feature in Weixin Moments had been gaining popularity among local advertisers across verticals such as real estate and auto dealerships. They also recently introduced Weixin Moments canvas, "a full-screen and instantaneous loading advertisement format", which Tecent said supported media-rich storytelling using a mix of images and videos.
Dentsu snap up e-commerce services provider
Dentsu Aegis Network have acquired Shanghai-based e-commerce solutions vendor, Blucom, which will be rolled into the group's digital agency Isobar China Group.
To be rebranded Isobar Commerce, the merged entity would boost the agency's commerce capabilities and work with their mobile commerce unit, Vertstar.
Bluecom, founded in 2012, specialised in building and implementing e-commerce platforms and services for multi-channel stores in Asia-Pacific. They also operated offices in Singapore, Hong Kong, and Ho Chi Minh City.
Their managing directors, Patrick Deloy and Florian Legendre, would join Iosbar's leadership team and drive business development for Isobar Commerce. Both executives would report to Isobar Asia-Pacific CEO Jane Lin-Baden.
Lin-Baden said: "The e-commerce market in China is experiencing rapid growth, resulting from a fundamental shift in consumer shopping behaviour, a trend we are seeing throughout Asia. Bluecom presents a rare opportunity with a strong track record of working with leading software providers. Their existing multi-market footprint with particular strength in China is an ideal combination for supporting further growth for Isobar in the region."
Omnicom tune into audio ads in AU
Omnicom Group (OMG) have introduced audio advertising services in Australia, launching programmatic ad trading for the Spotify platform.
The agency group said they had kicked off campaigns for several brands on the ad-supported category of the music streaming service.
Powered by The Trade Desk, the programmatic audio platform would allow marketers to deliver to a targeted audience based on the "personalised nature of Spotify curated playlists", said OMG's Sydney-based programmatic director, Tom Fryett. They also would be able to have better control of ad frequency, he said.
"Our brands understand from traditional broadcast radio that audio is a powerful and emotive medium", Fryett said. "We are now seeing the traditional strengths of audio as a channel are only bolstered when you combine this with a programmatic approach, as you are able to send highly relevant and personalised messages to specific segments within that overall target audience."
BBDO offer free services to Chinese startups for a year
The ad agency is marking its 25th year in China by offering their services, pro bono, to 25 local small companies and startups for a year.
The initiative would be jointly led by local internet giant, Alibaba, which would help identify and work with the most promising companies on its Taobao e-commerce platform. BBDO would guide the small businesses in strategic market positioning and the development of creative work to help expand their presence.
BBDO Greater China CEO Tze Kiat-Tan said: "We will measure results in terms of strong and stable business growth and on the quality of our strategic and creative solutions for these clients; 25 years is a major milestone for BBDO in China, and we could think of no better way to celebrate than by helping build strong China brands for the next 25 years and beyond."
ironSource open up in India with OMG partnership
The Israeli ad tech vendor has established an office in Bangalore, India, where they also have formed a partnership with OMG Programmatic.
The tie-up with the agency group would provide their clientele access to in-app, video, and mobile web inventory through a PMP, ironSource said.
Their India and Southeast Asia managing director, Omri Henkin, said: "Whether it's a video campaign for brand awareness with engagement built-in, or a large-scale app install campaign, we're working to help our partners connect with the Indian consumer in effective ways that drive awareness, engagement, and measurable ROI."
Ad TechAdvertiserAgencyAPACAudioAustraliaBrandingChinaIndiaMedia SpendMobileProgrammaticTraderTalk TV