Faced with Unresolved Complexity, APAC Marketers Stick to Proven Walled Gardens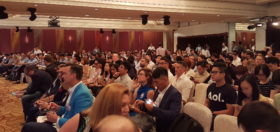 Programmatic remains too complex to deploy and manage, and challenges related to cross-channel measurability and disparate tools are putting marketers off in Asia-Pacific, who then prefer to work on proven platforms – even if this means perpetuating the presence of walled gardens.
For one, there were still major issues on the mobile front and agencies were not always able to come up with workable solutions for their clients, noted Janice Chan, Asia-Pacific senior director of digital marketing at Starwood Hotels & Resorts.
"It's still really complicated for brands", she said during a panel discussion at ExchangeWire's ATS Singapore 2016, on whether the ad tech industry needed a new approach for mobile, which had yet to take off despite years of projected growth.
Chan noted that marketers in the region had just grasped the mechanics of online marketing, but now had to attempt to understand another new channel. She urged industry players to make mobile simpler for brands to manage and clearly demonstrate how media metrics could be translated for mobile ads. She added that, while there were many tools available in the market, few were able to interoperate or talk to each other, making it tedious for brands to measure their mobile initiatives.
She pointed to the need to deploy 10 different SDKs into Starwood's mobile app in order to measure its performance across devices.
With such complexities still prevalent, ultimately, it often would prove easier to work with the likes of Facebook in the mobile space – even if such platforms were deemed walled gardens, Chan said, noting that mobile accounted for more than 40% of her company's digital revenue.
"There's still a huge challenge with cross-device measurement", she added. Such metrics were necessary to properly track conversions, especially for the travel industry where consumers typically would browse for service options on mobile devices, but preferred to complete the transaction on a different channel.
The marketer said she would be willing to spend more on mobile if its ROI could be more clearly established. She noted that agencies she worked with on performance marketing initiatives were unwilling to spend more on mobile, primarily because they would not be able to measure the success of such campaigns.
On another panel that discussed programmatic video, Hemant Chauhan, Carat's Asia-Pacific regional digital director, also echoed challenges related to measurability on mobile platforms, as well as video ad formats, that were not well designed for viewability. He pointed to instances where video ads could be playing in the background, but were not easily visible to mobile users.
With metrics that were available for desktop ads not adaptable on mobile platforms, Chauhan said this lack of measurement often led to uncertainty over whether mobile ad placements were actually served on quality inventory or viewed by actual eyeballs.
Fellow panellist Vikas Gulati, Opera Mediaworks' Asia managing director, acknowledged that market players could do a better job simplifying their technologies, such as attribution, for marketers. He noted, however, that the mobile ad ecosystem was still relatively young, having just emerged five years ago.
Gulati added that the ecosystem was growing and evolving rapidly, with new technologies introduced in a matter of months. In comparison, TV and print had been around for decades.
Asked if more innovation was needed to help drive mobile adoption, Blis' Asia managing director Regina Goh instead highlighted the need to piece together existing technologies and ensure these were able to work together to offer brands a more compelling solution.
Chan added that, while there were several interesting features available today to enhance users' mobile experience, it would be costly to integrate all of them. Brands typically had limited budget to work with and could not afford to spend all of their resources on one campaign. She added that her team would then look at ways to expand on one campaign idea and apply this across multiple channels to achieve better scale.
Lack of inventory & data also big challenge
Scale, though, often would be lacking in Asia. Several delegates noted the lack of inventory and, hence, data among publishers in the region, particularly in Southeast Asia. This, they noted, further cemented demand for walled gardens, such as Google and Facebook, which were able to offer the needed scale and data to drive campaigns.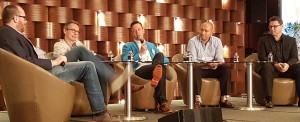 Publisher co-ops were then offered up, as they had been in previous discussions, as a way to plug the gap and peg the increasing presence of walled gardens.
AdForm chief revenue officer Jay Stevens said the establishment of co-ops paved the way for data of all participating publishers to be made available in "one master file".
Jonathan Mackenzie, Asia-Pacific head of data, technology, and innovation at Publicis Groupe, concurred, championing the need for more first-party data to be enriched and made available, particularly since third-party data currently lacked scale.
Shuba Krishnan, Innity's business development director, added that, with publishers in the region often lacking scale, pulling together and sharing their audience databases would give them the "power" to compete with bigwigs such as Google and Facebook.
Others expressed scepticism that publisher co-ops could be successful, pointing to the unwillingness among publishers to work alongside and share valuable audience data with their competitors.
Rick Mulia, Rubicon Project's Japan Asia-Pacific managing director, however, said the rationale for co-ops was to make programmatic buying as frictionless as possible and offer access to as much premium inventory as possible.
Pointing to the success of co-ops, such as Kiwi Premium Ad Exchange (KPEX), he stressed the importance of having a good mix of founding publishers as well as the need to build a robust model to support the co-op.
A separate company should be set up to run the co-operative, with a dedicated team managing it full-time, Mulia said. Proper governance should also be established so every decision, including pricing, would be validated within the board, he explained.
He added that such co-ops could eventually lead to data alliances, but stressed the need to keep the size of such consortiums manageable with fewer than 10 publishers or partners. Co-ops also would not be ideal in some environments, particularly, where the media markets were highly fragmented, he said.
And, while there was a common desire to reduce dependency on walled gardens, some delegates noted the reality of the current market landscape and need to include the likes of Google and Facebook in order to better drive marketing campaigns.
If they provided easy access to data and good attribution, SAP's director of integrated media Travis Teo said he was open to working with walled gardens, but stressed that this did not mean other players would be excluded. He added that working with multiple providers enabled his team to achieve scale and reduce resources to support campaigns, as well as improve their effectiveness.
The same could be said for the China market, according to Kuaizi Founder and CEO Winder Chen, who quipped that if there was a garden, there would be a wall. The question then was how high the wall stood and the ladder that was needed to scale the wall, said Chen, who advocated the need to understand and work within the infrastructures of the various walled gardens.
Noting that there were several smaller walled gardens in China, apart from the big three (Baidu, Alibaba, and Tencent) he said there were close to 50 apps in the Chinese market with more than 10 million daily active users. Most of these developers were keen to monetise their inventory on their own platforms, resulting in a more fragmented market and, inevitably, more walled gardens.
The country's unique landscape further underscored the need for foreign players looking to enter the market to first understand its data infrastructure, traffic, and quality.
They also would need a well-thought-out business model with strong value proposition and to have a highly local strategy, he said, where it would not be enough to simply have a local ops team. Market players would need a team of local hires who were connected to the local industry and able to do local productisation.
TagsAd TechAdvertiserAgencyAPACAustraliaChinaCross-ChannelDataFacebookGoogleMartechMedia SpendMobileProgrammaticPublisherViewability