£4.5m for PowerLinks; Weve Launches Location Verification Service
by Sonja Kroll on 16th Feb 2018 in News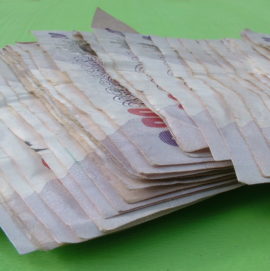 ExchangeWire rounds up some of the biggest stories in the European digital advertising space. In this week's edition: PowerLinks Receives Funding; Weve Launches Locate; Bitposter Adds New Buyers to OOH platform; and Survey of Native Ad Formats.
Series A funding for PowerLinks
Following a year of expansion with significant revenue growth, PowerLinks announces new capital from their Series A funding round. The new investment, to the value of £4.58m, comes from Foresight Group, as well as angel investors and PowerLinks management.
The new capital is earmarked for PowerLinks' expansion in the U.S. The company is hoping to expand their sales, client services, and technology teams, as well as partner with global customers, to roll out support in new markets. Powerlinks recently opened new offices in Amsterdam and Berlin.
Kevin Flood, CEO, PowerLinks, comments: 
"PowerLinks is poised to drive exponential growth for our customers, by meeting the challenge of automating relevant, personalised advertising to busy consumers who are overwhelmed with choice. This investment will accelerate our expansion and innovation plans."
As part of the investment, Alex Rahaman joins PowerLinks as chairman, while Mickey Christodoulides takes up a new position as finance director.
PowerLinks' portfolio of vendors comprises 56 partners, with new cooperations planned to bolster the transparency and automation available to customers. In particular, PowerLinks is planning to add AI and cognitive solutions to its context-focused Personal Relevance Platform, providing granular targeting and brand safety, whilst complying with the incoming European GDPR data laws.
Weve Launches Location-Verification Service for Advertisers
O2-owned Weve launches their proprietary location-verification technology. Dubbed 'Locate', the solution compares app publisher GPS signals against O2's cellular network, enabling advertisers to reach and attribute against target audiences.
On the basis of anonymised and aggregated O2-owned audience data, Weve and location specialist partner Axonix are comparing the aggregated scores for app publisher GPS signals with the location of phones connected to any of O2's UK cell towers. That way, location accuracy can be verified – and ads supplied to the relevant audiences.
Martin Weller, managing director of Weve, says: "Marketers have for some time heralded the importance of mobile location in their ad campaigns, alongside a rising industry trend of mistrust in the accuracy and efficacy of location-based data sources. Other location providers rely on probabilistic modelling and pattern recognition to address this, whereas Weve has an actual telco truth set to verify against." Simon Bailey, CEO, Axonix adds: "By comparing GPS co-ordinates with signals from cell towers, we can identify instances where an app publisher's GPS signal tells us one thing but the devices' cell tower location, its true location, tells us another. The value of telco-verified data is becoming ever clearer, giving assurance in the ability to verify audiences and real-world behaviour."
Bitposter Doubles Number of Buyers
In the last six months, OOH specialist Bitposter has doubled the number of buyers on its platform. With the latest addition of Rakuten Marketing, Equimedia, and Greenlight, the number of buyers is now up to 40, the company says.
Via Bitposter's marketplace, buyers can access OOH inventory from 97% of the UK's OOH media owners, the company claims. Buyers can leverage their online data assets in order to make buying decisions, as well as book OOH ad space through the platform. The Bitposter platform also allows access to metrics that have been updated with facial-recognition technology, vehicle recognition, and day-part targeting.
Commenting on the news, Craig Mytton, CRO, Bitposter tells ExchangeWire: "With GDPR on the horizon, and the impact it's set to have on digital advertising, we are hopeful that an increased number of media buyers and advertisers will recognise the huge opportunities available through OOH media (particularly digital OOH) and that these buyers will see Bitposter as the natural partner to help with this transition."
"Through our General Marketplace we have removed the barriers to entry into OOH media buying. As a result, companies like Rakuten, Equimedia, and Greenlight are able to use the data they have from the online world to deliver highly targeted OOH campaigns."
Native Mix Works Best
A mix of native ads, such as recommendation widgets, in-feed, and in-ad, generate the highest engagement for marketers and the biggest revenue for the supply side, according to native advertising platform my6sense. Analysing billions of ad units served via my6sense's programmatic native ad platform in the last six months of 2017, the company finds that recommendation widgets are the most profitable among the native ad units for the supply side, followed closely by in-feed ad units. In-feed ads, on the other hand, earn the highest revenue per ad, but generate a lower RPM for publishers. This is due to recommendation widgets including multiple ads in the same ad unit.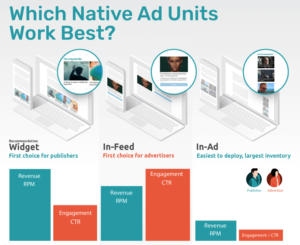 Comparing the three primary native ad units, in-ad units generate about one quarter of the revenue of recommendation widgets, but outperform traditional banner ads in terms of revenue and user experience. From the perspective of the demand side, in-feed ads generate CTR and user engagement that is 2.5 times greater than ads in recommendation widgets. Compared with in-ad units, CTR and engagement are even 10 times higher.
The analysis also finds that recommendation widgets are the most popular form of native ad units (38%), followed by in-feed units (30%), and in-ad units (25%). My6sense concludes that native ad campaigns perform best for advertisers when running them with optimised A/B creatives in recommendation widgets, in-feed, and in-ad units. On the supply side, the combination of all three ad units results in the greatest revenue rates for publishers.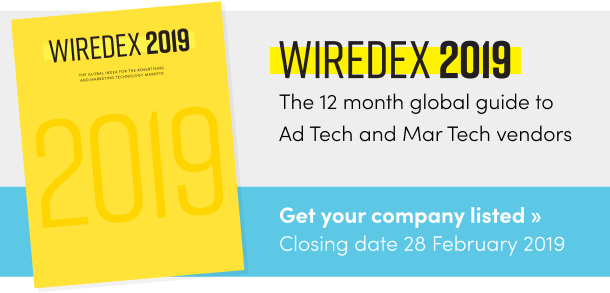 TagsAd TechAdvertiserAudienceDemand SideEMEAInvestmentMartechMobileNativeOOHProgrammaticPublisherSupply SideTargetingTechnology