Jordan Khoo Regional Director, APAC, MediaMind On The DG Acquisition, Optimising TV Ad Spend & Data Driven Display In APAC
by Ciaran O'Kane on 25th Jul 2011 in News 3 Comments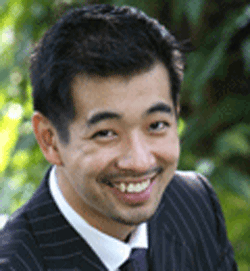 Jordan Khoo, MediaMind's Regional Director for APAC, discusses how DG and MediaMind bring the ability to traffic online and TV video assets through one vendor, the strong growth of video and mobile in the region and the challenge of scaling data-driven display in Australia and APAC.
Can you give an overview of MediaMind's offering in Australia and the wider APAC region?
MediaMind's focus in APAC is to be the campaign management platform of choice for leading agencies in the region. We started with rich media and quickly expanded to offer cross channel 3rd party ad-serving across display, search, in-stream & mobile. We have also recently launched our full service DSP solution in APAC.
 What is your role and remit for MediaMind across the APAC region?
My role as the Regional Director, APAC requires me to provide leadership and support to the 14 offices that we have in the region. 75% of my time are spent travelling across the different markets, engaging with key clients on digital challenges and the best way for digital to move forward. My personal mission is to grow online spend in the region to a decent double digit % across the board.
It was recently announced that DG acquired MediaMind.  What does this recent acquisition mean for MediaMind on a global scale and within the APAC region?
 The DG acquisition offers our customers 3 primary benefits, namely:
– Expanded capabilities and services from the combination of 2 highly regarded, complementary platforms
Through UniCast, our publishing customers can access innovative custom rich media solutions offered through a white glove service
Through MediaMind, UniCast customers can access an improved ad serving, reporting and analytics platform
Together DG and MDMD offer even greater reach, creating a global powerhouse.
Delivery of TV and online video assets through one single vendor accelerates the path to the convergence of TV and online
– An independent, neutral, platform that offers even more scale and a powerful alternative to Google
DG and MediaMind are committed to offering technology services and products that are free of any media related conflicts
In a world where data is an advertiser's and a publisher's primary asset, our neutrality continues to be a major point of differentiation from the competition
DG is committed to maintaining and accelerating MDMD's position as the most trusted large scale advertising platform in the industry
– An exciting and more tangible path to the convergence of TV and online and a revolution in TV
For the very first time, we offer the ability to seamlessly and more efficiently traffic online and TV video assets through one single vendor
The development of more interactive and engaging TV formats that leverage the rich media heritage of DG and MediaMind
The promise of more targeted and measurable TV advertising borrowing from the targeting and optimization capabilities of online ad serving
Can you provide an insight into media buying and how it works with ad networks and publishers across APAC?  Do media buys vary across different regions in APAC?       
Other than your regular CPM buys, Media is also bought on a cost per day (CPD) basis in some parts of Asia ( mainly China, South Korea and some parts of SEA). In some emerging markets, publishers still hardcode the banners in the website itself and set auto-refreshes every 15 seconds to increase the level of impressions. Click frauds are still relatively high and internet advertising is still at its educational and experimental stage. Lastly, the Norm of the day is not the Norm of the day in APAC. While Google & Youtube is popular globally, in key markets in Asia, we have local equivalents such as Baidu (CN), Youku (CN) & Naver (KR) totally dominating their own markets.
– The Australian Buy Side Discuss Growing Publisher Opposition to Programmatic Buying And Refusal To Sell To Agency Trading Desks

– Arshan Saha, Regional Director, SEA, Innity Discusses The Evolution Of RTB, Exchange Trading & The Impact of Online Video & Mobile in South East Asia
Has the arrival of international platforms like Google and Facebook, YouTube had much impact on media buying strategies in the APAC region?
Google & Facebook separately at the different stages have created great impact for online advertising in APAC. Google introduced efficiency in online media buying ( Search mainly) catered to direct-response minded advertisers while Facebook just opened up traditional advertisers who have been very TV focused predominantly. With Youtube & other video portals, we believe will create a 3rd phrase of demand for online advertising which we are seeing it happening now in Australia and advance markets in Asia.
How active are Ad Exchanges and Demand Side Platforms in Australia and APAC?  Do you think data-driven display buying will increase buying efficiency and scalability?
Ad Exchanges and DSP in APAC is creating a-lot of buzz. The buzz is created from a PR angle as well as top down instruction from the global bosses to the local markets to get on with it (literally). From a take up rate perspective, Australia is leading the demand as the timing, infrastructure & availability of resources are appropriate. However, in Asia, while there's great will by the agencies to execute, we believe that infrastructure and resources would be the main challenges they will face when it comes to crunch time.  
There is no doubt that data-driven display buying have increased buying efficiency and scalability as several campaigns that we have delivered have proven itself performance wise. The bigger challenge would be scaling it, as the disappointing reality is that most campaigns in Asia are still based on a single digit % online spend vs the entire campaign budget. Without the budgets, you really can't demonstrate the real efficiency and scalability.   
What is MediaMind's ad exchange strategy in Australia and the APAC region?
We sit on a huge amount of performance and historical buying data for our agencies and we want to help them make better use of it.
We can offer our agency clients solutions which help them plan, buy and optimize inventory on both the traditional Premium (ie Direct Sales channel) or emerging Secondary (including Exchanges) markets. We can help our clients make use of the valuable performance data we hold on their behalf to make more intelligent planning, buying and optimization decisions. In the Exchange space we are at the forefront of helping our clients transition from buying content as a proxy for audience to actually buying the specific audience they want.
What are going to be the real benefits of more rich media inventory being available on ad exchanges for Australian and APAC advertisers?  Will expandable banners and video inventory allow advertisers to drive better performance?
The advantage will be a more advanced Creative Optimisation solution. We will offer capability to create ads on the fly by matching assets depending on who is being reached and what has worked best in the past.
 Will media agencies need to evolve and become more entrepreneurial and data focused? How will agencies plug the skills shortage gap in this new area of display?
Media agencies globally have setup trading desks to cater for the growth of DSP. Almost every single conversation that we have had with senior agency folks involved data portability, dashboards, analytics and other data solution. So this is definitely panning out the be the year of DATA for us.  Agencies regionally are facing a staff crunch with regards to online advertising, let alone trading. Adding on the high level of skillsets required in trading, agencies will need to restructure and train internally to cater for this growth. There's just no resources available in the market to poach from ! 🙂
Are your clients aware of ad exchanges? Do they see the benefit of real-time audience buying?
Exchanges and trading desks are becoming common speak in Australian agencies as we see the global agency buying solutions open in this market. Some advanced advertisers such a DR focused advertisers, e-commerce retailers and travel related industry would be most interested and most relevant to them.
How active is MediaMind in behavioural targeting, re-targeting and dynamic creative optimisation?
MM have a complete end to end solution in behavioural targeting, re-targeting and dynamic creative optimisation for agencies to utilise. We believe that RTB and DSP would not perform well without these components to close the loop.
What is MediaMind's data strategy? Are you using third party data in any of your media buys?  Do you see the data market growing this year?
MediaMind have always been developed with 2 data focused criterias in mind, namely, OPEN API & Advanced Analytics. We work with various data & integration partners to provide the best of breed data solution that the client desires. Demand for data market this year have been more of discussion and planning stage this year but we should see more demand coming in the next 1-3 years time.
What growth plans are in store for MediaMind for the next year in Australia and the APAC region?
Continuing with our strategy of leading with Data Driven Products.
Additionally with the acquisition by DG, we will be creating  a one-stop shop for clients whose advertising needs encompass television, online or both.  We will now be able to offer our clients a single solution for advertising creation, distribution, and monitoring for global cross-platform campaigns.
Over the next 12 months what kind of trends will we see in the display market in APAC e.g. mobile apps, video and 'social casual gaming'?
We believe that Video & Mobile advertising will take flight with strong growth in the APAC region providing the 3rd leg for the growth of online advertising in the region. At MediaMind, we will continue to offer cross channels solutions to our agency partners that will help them deliver better campaign performances for their clients.
TagsAd NetworkAd ServerAdvertiserAgencyAnalyticsAPACChinaCreativeDataDisplayDSPExchangeIndustry InfrastructureMeasurementMedia SpendMobilePerformanceProgrammaticPublisherSearchTargetingTechnologyTVVideo