How The Asian Programmatic Market Can Realise Its 'Dynamic Growth'
by Ronan Shields on 7th Jul 2014 in News

The APAC programmatic industry is poised for a period of marked growth, but skills gaps in the region, along with a more defined role for ad tech players and agencies need to be addressed if this potential is to be fully realised, according to speakers at today's ATS Singapore event. 
The issues were raised by representatives at this morning's (7 July) ATS Singapore event  where representatives from Google, PwC, MediaMath, AppNexus and The Trade Desk relayed their vision of how the market will develop in the near future. 
Mobile first
Greg Unsworth, PwC, partner, APAC, presented his company's findings from a recent global survey, telling attendees that by 2018 digital advertising will outstrip TV for the first time in terms of media consumption. 
However, in "dynamic growth" markets – those that are growing at a rapid rate (which includes Singapore itself) – only 13% of total ad spend will be spent on digital on average in that time, according to the data. 
During his presentation he also highlighted that ad tech players in APAC will have to address issues around consumer reliance on mobile devices for their media consumption. 
In a separate presentation, Ryan Ferguson, DoubleClick, head of platform solution & innovation, SEA, presented insights from a regional-specific ExchangeWire poll, conducted in partnership with Google, identifying mobile as a key concern.  
"More than 40% of you highlighted that mobile is a key concern, and that's massive," he said.
"But really it's about understanding how mobile affects programmatic, as we're a mobile-first region," he said.
A further look at the survey's findings can be read here.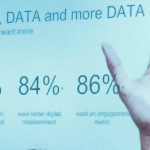 Impact of regional skills shortage
Addressing creative agencies, Ferguson raised how an over-reliance on developing ads using flash software (which notoriously doesn't work on mobile) means that almost one-in-five ads are not seen on the devices they are 'served' on. 
He went on to explain Google's advocacy of HTML5 software (which is optimised to work across fixed-line and mobile screens), further highlighting that earlier studies demonstrate that such ad units performed better (in terms of click through rates) than those developed with the more widely-used flash software.  
"This means that agencies can pivot their strategy towards a 'seeing strategy' on movie using HTML5 software," according to Ferguson, adding that Google is spreading it programmatic message using the mantra 'See, Think and Do'. 
He then went on to highlight that many of the survey participants claimed they work with a plethora of digital advertising platforms leading to vast inefficiencies in their operations.
Almost half of all respondents (43.64%)  said their company users 'five-or-more' technology platforms to 'manage and execute media across various channels and point solutions', he told attendees. Such a scenario is "way too fragmented" if the industry sector is to advance rapidly.
The creation of disparate data within organisations' existing structures can lead to duplication of labour, as well as further operational issues around technology integration, he said. 
"This is affecting attribution, and understanding how these platforms work together," added Ferguson.
Alignment needed
Fellow keynote speaker, Greg Williams, MediaMath, SVP, OPEN partnerships, argued that marketers in the region need to align their goals with their technology team's working processes by investing in consolidated technology stacks. 
"Display shouldn't be separate to search, separate to social… working towards separate goals, instead marketers need to align their goals with their technology team's working processes," he said.   
"The design of internal teams directly affects the value you will be able to extract from programmatic… They need to share their view of the data across the organisation… the future marketer is a data-driven marketer."
This enables marketers to focus on strategy, analytics and usage of data to better target buyers across channels and formats, instead of wasting resources on time-consuming, manual tasks, he added. 
ATS Singapore continues.  Follow #ATSS14 on Twitter throughout the day to learn more. 
Ad NetworkAdvertiserAPACAustraliaChinaCreativeCross-ChannelDataDigital MarketingDisplayExchangeIndustry InfrastructureLocationMartechMobileProgrammaticTargeting